Notre Dame Football: 2011 Fighting Irish Defense Leaves a Lot to Be Desired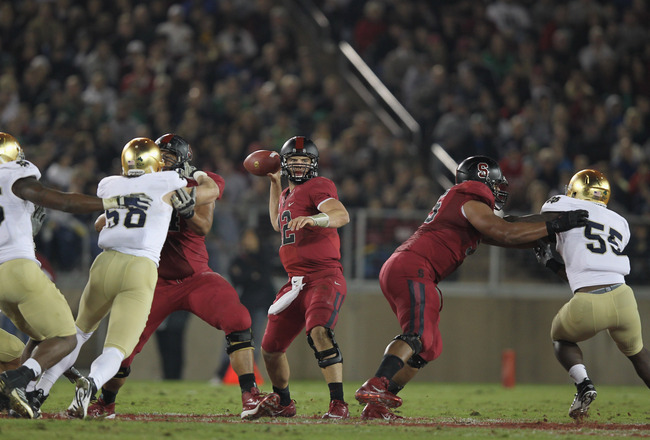 ND had a lot of trouble stopping that thing called a "pass."
Ezra Shaw/Getty Images
"Hey Dan, didn't you say ND's defense was going to be special this year?"
Coming into this year, I was ready for the 2011 Irish defense to kick some gridiron ass, and for good reason. Notre Dame had finished 2010 strong and had nine starters back on D with a boatload of 5-star recruits chomping at the bit to release hell.
The numbers stood as mute testimony to a crushing defense that had returned to the welcoming arms of Touchdown Jesus.
The 2010 defense under new defensive coordinator Bob Diaco was dramatically improved in almost every major statistical category: scoring defense (from 63rd in '09 to 23rd in '10), pass efficiency (82nd to 25th) and rushing defense (89th to 50th).
In the final three games of the '10 regular season, Diaco's defense limited teams averaging at least 31 points per game to 22 combined points—the fewest points allowed by a Notre Dame defense in three straight games since the 1993 season. In fact, only four touchdowns were scored against the Irish defense in the final five games of the regular season.
Friggin' USC took four downs to score its only touchdown from the 2.
In the Sun Bowl, a helpless Miami offense scored two TD's in garbage time against the seventh-string defense, two cheerleaders and my trusty dog Sparky, and only scored because Sparky took a couple plays off to go pee on the Hurricane's duck-like excuse they call a mascot.
By then it was clear the Irish D would be rock solid in 2011. Offenses weren't just being slowed, they were being mugged.
The Irish defense at the end of 2010 was extremely un-Christian to opposing offenses.
Jonathan Daniel/Getty Images
Small children were no longer allowed to watch NBC on Saturday afternoons due to excessive violence on TV. ND's defense was so damn brutal that several times I just had to look away from the inhumanity of it all.
The Fighting Irish were brawling again, and with nine starters coming back, it was only going to get better.
But it didn't get better.
Notre Dame Defense Declined in 2011
"Hey Dan, if you look at the rankings the Irish defense was pretty good in 2011."
Indeed, the numbers for the 2011 Irish defensive report card are nothing to hide from your mom; however, Diaco's defense took a step back in several key statistical categories: scoring defense (from 23rd in '10 to 26th in '11), pass efficiency (25th to 55th) and rushing defense (50th to 56th).
These numbers aren't damning, but they aren't what was advertised going into Diaco's second year.
Always the first to cheat, Saban tried to steal our secrets before we even had any.
Kevin C. Cox/Getty Images
The problem is that the new-fangled 3-4 attacking scheme was supposed to be second nature by year two, and with so many returning starters and the shiny new recruits all hell was supposed to break loose. Teams were supposed to cower before the brutal onslaught; there was even talk the NCAA may have to institute a new mercy rule if things get out of hand.
Rumor has it Nick Saban, being the sneaky man he is, clandestinely sent his assistant to take copious notes on how the Irish destroy college offenses. Based on the early press releases, Notre Dame had six extra Catholic priests in the press box to administer last rites on opposing offenses if it came to that.
Instead, sacks declined from 27 to 20 despite a deep and talented rotation. A veteran secondary watched as interceptions fell from 18 to 8 and coverage ranged from OK to atrocious. Tackles for loss fell from 69 to 62. Fumble recoveries dropped from 7 to 5.
ND wasn't getting into the backfield to disrupt plays, ball-jarring hits were rare, and the rumors of things like "jumping routes" remained just that. The relentless disruption that is the heart of the 3-4 defense was more of a season long pillow fight interrupted by an occasional trip into the backfield to break the monotony.
There was more chaos trying to get the whiskey bottle back from my 90-year-old mom every Friday night than there was on most ND Saturdays.
ND held Boston College to 14 points. My mom's bridge club held them to two late field goals.
Jim Rogash/Getty Images
What the numbers mean
"Hey Dan, aren't you being a bit critical? These numbers aren't so bad."
Maybe you're right, Mr. Conscience, maybe I'm too hard on Bob Diaco. But maybe I'm not. You see, dear reader, my problem with all this is that the 2011 Irish only played five winning teams all year.
Yes, my friends, out of 12 bitter adversaries in 2011, Air Force, Michigan, MSU, USC and Stanford are the only Notre Dame opponents with winning records. No other team on the schedule won more than it lost, so the Irish played a lot of real duds and their defense still declined when it was supposed to have a breakout year.
And yes, ND had a scoring defense that only gave up 20.9 points and 349 yards a game in 2011; however, the teams with winning records averaged 28.0 points and 449 yards per game against the Irish. Not surprisingly, they went 2-3 in those games.
What that means is the Irish defense bullied a lot of bad teams and generally couldn't stop anybody good other than MSU, which had 358 yards but only 13 points.
If you omit the one good defensive game of the year at home against Sparty, the numbers for winning teams playing the Irish defense get uglier than Snooki on the third day of a Vegas bender --- averaging 472 yards and 31.8 points per game - hardly the elite defense we thought was being developed.
Notre Dame's outside linebackers had some minor mobility issues throughout 2011.
This also tells you that the success of the Notre Dame defense was more dictated by the quality of the opponent than the quality of the D. When you couple this with the decline in forced turnovers, sacks and tackles for loss, it is clear the Irish defense is clearly headed in the wrong direction.
In general, the Irish defense was a shining example of peaceful resistance Gandhi would have not killed for.
Forget the numbers
We all know numbers in college football rarely tell the whole story, and that certainly is the case this year. The real problem with Notre Dame's defense in 2011 is that it looked nothing like the Notre Dame defense in the second half of 2010.
Over a summer reading press clippings outside linebackers somehow forgot how to tackle in space. Watch any Notre Dame game and the Irish linebackers look hopelessly confused in pass coverage, whether man or zone, and worse, so did the secondary. Defensive backs got burned for huge gains when they lost the ball in the air or just by blowing coverage on anyone that was in the mood to try a double move.
Jamoris Slaughter has been relatively consistent all year, but his relatives were not very good. Zeke Motta got burned badly two weeks in a row and has been generally dismal, and despite some good stretches Gary Gray made enough bad plays against Michigan in the fourth quarter to make his own lowlight reel. Robert Blanton played solid most of the year with just an occasional sizzling, and Harrison Smith has done nothing special to stop the madness.
Notre Dame linebackers generally got there just in time to get an autograph.
Jonathan Daniel/Getty Images
Notre Dame's secondary required a particularly awful opposing QB to make it look respectable, which wasn't that often. The Irish had trouble with the short passing game week after week against anyone that had the ingenuity to have its QB throw the ball at the receivers that stood waving at them for hours on end.
Compounding the problems in the secondary, the pass rush was marginal and the cornucopia of blitzing schemes was rare, unimaginative and generally ineffective against the better teams. Protecting against the Notre Dame rush by USC and Stanford was often the equivalent of putting your hand on your little brother's head when he's trying to punch you.
The aggressive, hard-hitting, attacking, relentless defense that rose from the ashes in the second half of 2010 took the year off in 2011 for the most part and was replaced by a vanilla game plan that often just waited for the other team to shoot themselves.
Whenever that didn't happen ND took the bullet.
What went wrong
"C'mon Dan, we have almost all of our killer D back from last year. What's the deal?"
Lots of things made Notre Dame's defense barely more than pedestrian in 2011. One of the main things is that a number of injuries made Diaco play a boatload of true freshmen, and in some cases the freshmen got hurt. While there was more attrition than the Russians saw at Stalingrad as the year wore on, ND wasn't particularly dominating when the starters were getting all the reps.
The Gug had to be renovated to accommodate the 2011 Irish.
As the year progressed another thing that became painfully obvious is that the secondary lacked the speed to press coverage. Any time a Notre Dame corner was on the bubble or the safeties were isolated against seam routes the results were hard to watch against any quarterback that could hit a barn two out of three times.If I had a nickel for every time a ND defensive back got burned when he lost the ball in the air I'd own a brewery right now. A big one.
Most disconcerting was the play of the linebackers in pass coverage. In most instances, Diaco may as well have blitzed all four backers because they rarely did more than try and chase after under-routes until a safety came up to make the stop.
In four- and five-receiver sets our OLBs looked like they had never seen a wide receiver until that very day, and the Chinese fire drills that ensued when the ball got snapped bordered on comical.
In man coverage linebackers looked like they were chasing after live chickens, and were generally in the wrong zip code for zone coverage; in any event, the best result was almost always the linebacker making a tackle for a five-yard gain.
What's even more frustrating is that any play that worked in the first quarter of any game was sure to be run 212 times that game, and Diaco rarely figured out how to stop it, whatever the hell it was.
Believe it or not, Diaco made this guy look like a genius.
Jonathan Daniel/Getty Images
This is the second year in Diaco's defense for most of the players. I don't think I'm shocking anyone when I say either Diaco is unable to effectively teach his scheme or the players are simply unable to execute it. Either way, Notre Dame had a hard time defending the short passing game all year, and the rushing defense took a huge step back in 2011. The defensive debacle against Michigan in the fourth quarter defies explanation.
Worse, none of the carnage and chaos that is the lifeblood of a 3-4 defense is happening. Diaco's purported uber-aggressive defense has been extremely conservative, and it shows in the lack of big plays, turnovers, and negative yardage. While that has worked fine against the poorer teams, it has been a bad strategy against the better opponents.
Summary
The Fighting Irish finished 26th in the country in scoring defense, that alone tells you they did a lot of things right.
They also have a number of freshmen like Aaron Lynch, Stephon Tuitt, and Troy Niklas that have gotten starter's minutes, and several others that have gotten significant time and appear to be extremely talented with lots of potential.
To add to the mix, ND has a couple mammoth D-linemen coming in this recruiting class and some rockets for DBs that are committed, all of which should solidify this defense even more once they develop.
Notre Dame has some big boys coming in 2012.
Still, the 2011 Irish defense was not the dominating group we saw coming out of 2010, as the lack of big plays for the 3-4 scheme means the scheme is not being used properly or the players are unable to execute it.
If you don't believe me, watch any quarter of Pittsburgh Steeler football and then watch the quarter of your choosing for ND - it takes a couple cases of Schlitz Malt Liquor to make it look like they're running the same scheme.
It's alarming the linebackers and DBs were consistently exposed even against some very mediocre passing offenses, and more alarming that the LBs and DBs seemed confused and may have even regressed as the year went along.
All in all, Diaco has yet to show he can consistently compete against the better offensive coordinators with better athletes, and for the most part, in 2011 he was unable to take advantage of the aggressive nature of the 3-4.
Diaco is only 38 and is in his fourth year as a defensive coordinator for a major college, a relative pup in the world of college coaches.
While he has his good days, it is abundantly clear he is still learning on the job, and it is not clear at all whether he can run a 3-4 defense effectively at this level.
After watching the Irish struggle defensively against every quality team on their schedule, it remains to be seen if he has learned from 2011 or whether we'll see more of the same in 2012.
This article is
What is the duplicate article?
Why is this article offensive?
Where is this article plagiarized from?
Why is this article poorly edited?

Notre Dame Football: Like this team?