Trent Richardson: How Well Do You Really Know the Man Behind the Jersey?
November 30, 2011
Larry Burton (Syndicated Writer) It's really hard for a full-time student to also be a full-time athlete. The demands on your time, not to mention your body and mind are sometimes numbing. Then there's the school work on top of all that.
But what if you're a father also?
Now you really have to juggle your time, your attention, your guilt in sacrificing time at one endeavor for the sake of another. 
Case in point, Trent Richardson, a father of two girls—three-year-old Elevera and five-year-old Taliyah. This adds to how Richardson is pulled in many directions right now and faced with many responsibilities.
One of his biggest responsibilities is being a father, something he's doing out of instinct alone, since there was no father in much of his childhood, just an uncle that gave him the resolve to have faith in himself and the resolve to find faith in God.
Richardson says that his mother was also like his father in many ways.
His mother taught him the importance of putting family first. Trent is the youngest of six kids, three from his mother and the other three his mother adopted that were her best friend's. Then came Trent's children that his mother also took in to help Trent raise.
Often there wasn't much to go around to feed so many hungry mouths and his mother and grandmother worked a lot of jobs to keep things together and food on the table, even if a lot of times it was just peanut butter and jelly sandwiches.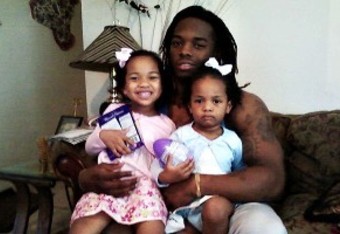 Trent tried to help by working at a buffet restaurant in nearby Orange Beach at the age of 16. So juggling school work, sports and working is nothing new to Richardson. He's always been driven and he has never had time to just relax or just enjoy being a football star. 
Trent had an older brother who also excelled at football, signed a scholarship to play defensive end with the Ragin' Cajuns of Louisiana—Lafayette in Lafayette, Louisiana. He left the house in 2005 to start his college career, which gave Trent the idea that maybe football could give him a way to get a college degree and a better life, but in 2005 that seemed a far away dream.
That was his freshman year and injuries kept him from really becoming a star. The same thing happened in his sophomore year. Richardson almost gave up on his dream. He had ankle problems that continually plagued him.
But it didn't affect him in the weight room, where he would go to prove he could still do something well. He was a star on the weight lifting team and running in the sand in Pensacola helped him rehab his ankle.
By his junior year, his light finally got a chance to shine as a running back and by his senior year, he was the number one running back prospect in America. Now every college in the country wanted to offer him a scholarship. His dream of getting that degree was now assured and there was the possibility of so much more.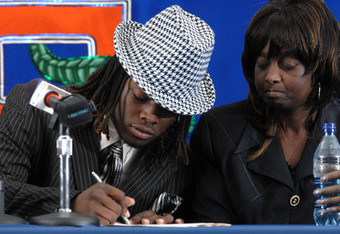 But no matter if he ever plays a day in the NFL, Richardson wants to earn his degree.
His mother, his brothers and his uncles have all told him how important that is. And so has the coach that has come to mean so much to him.
He still leans on them all. He calls his uncle each week before a game to hear his assurance of how things will work out for the best.
Richardson told me in an interview once, "You're just one good lick from not having football anymore, but an education and degree lasts forever. I want to be as good a student as I am an athlete."
If he does in fact accomplish that, being as good a student as he is an athlete, he may be the next Shakespeare, cure cancer or be a Nobel Laureate, because that's just how good he is as an athlete.
Richardson said that it's important to him, his mother and his daughter all equally to finish his degree. There is guilt over the time that he can't spend with his daughters, but he knows that life is about priorities now.
Perhaps he is just the kind of man who finishes what he starts, who wants to set the right example to his own children and student athletes everywhere. This is in fact the reason why student comes first in the phrase student athlete. That's just how good an athlete he is.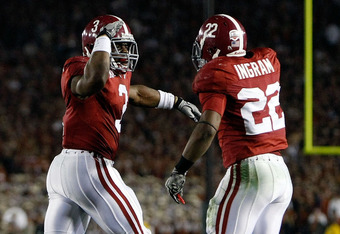 It's refreshing to see a man who has a clear picture of life and a game plan to get there.
Just as he knew as a young high school student that to strengthen his legs and ankles that running up a hill of sand over and over would help him get where he wanted to go, as a man, he learned what else he had to do first to make everything else work the way he wanted.
In an interview once, I asked him what accomplishment he was most proud of at this point of his career. 
Without hesitation, Richardson replied, "Becoming a Christian." And with his eyes misting just a little and after a pause to catch his breath continued, "After that, everything else just sort of fell into place."
Maybe that's how Richardson can juggle the toil of being a football star, a media presence, a student, a role model and a father.
He has his priorities in order. He made mistakes along the way, but like the football injuries he's endured, he overcame them, he learned from them and they made him stronger and wiser.
Winning the Heisman Trophy would be nice for Richardson, but it's not an obsession or a must have in his life. Winning another national championship ring would be great, but it would mean more to him to have helped his team earn their rings than just have another one himself.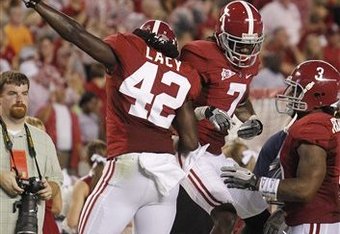 Signing a pro contract for millions is something that will help provide for his family sooner, but he is glad to have the opportunity to be close to a degree that could do that also.
Whether Trent stays for his senior season or not, it's obvious to me after getting to know him, that he will finish his degree.
He is currently a football player pulled in many directions, but he's focused on being the man his daughters will be proud of, to be the son his mother knows he can be and to plan for the long run in life, not just short-term goals.
Saban may have been surprised to hear he was thinking of coming back for his senior season and knowing Saban, he may advise him like he did Mark Ingram, to take up the next challenge in life and do it as well as you've handled this one.
Mark Ingram told me last year that he knew he was leaving the team in good hands. Trent will do the same. His mentoring this group of running backs leaves both a great standard to maintain and an example of how to achieve it just as Ingram did for Trent.
Yes, Trent Richardson is a great young man, a great son, a great father, leader, friend and role model for people like him, who have made mistakes and overcome them.
And he is a pretty fair football player too.