Nebraska Football: Heroes Game Not a Rivalry Until Iowa Wins
November 30, 2011
Eric Francis/Getty Images
ri·val·ry /ˈrīvəlrē/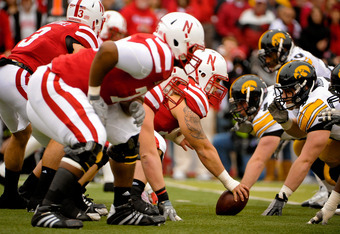 Eric Francis/Getty Images
Noun: Competition for the same objective or for superiority in the same field
So, is the Heroes Game between Nebraska and Iowa a rivalry yet?
It's got many trappings of a rivalry. It's the last game of the year, on a special day. It's got a trophy to exchange (actually, two trophies plus a gavel, just for good measure). It's between teams with two fanbases that live amongst each other.
It's between teams competing for the same division and same conference titles. It's between teams that take their football very, very seriously.
So, is it a rivalry yet?
On the day after Thanksgiving, Nebraska beat Iowa 20-7 in the inaugural Heroes Game, ending the season with a 9-3 record and getting the opportunity to parade a trophy around Memorial Stadium on Senior Day. The win was a balm for Nebraska fans still stinging about NU's elimination from the Legends Division title and an appearance in the first Big Ten title game.
There was lot of ceremony before the game started—anytime there are three trophies being exchanged, the ceremony is going to take a while. And the fancy Heroes Game logo was flashed across the scoreboard throughout the game, to remind the fans that this game was something special.
So, is it a rivalry yet?
The game itself was a pretty dour affair, with the first touchdown coming as the first half expired. Iowa's offense was stuck in neutral for almost the whole game, and Nebraska fans never felt that the Hawkeyes were going to be a serious threat to win the game. Some fourth-quarter yardage and a late touchdown made the statistics more respectable, but that only masked how significantly Nebraska dominated the game.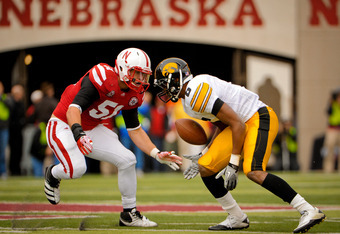 Eric Francis/Getty Images
So, is it a rivalry yet?
It has been my experience that Iowa fans have never been particularly fond of Nebraska. I remember going to a game in Iowa City, wearing black and gold and not betraying my Nebraska allegiances.
Nebraska was playing Virginia Tech at the same time Iowa was playing Arizona. The games ended at almost the same time as well, with the Hawkeyes knocking off the Wildcats and the Huskers losing a heartbreaker to the Hokies in Blacksburg.
Taking a shuttle back to my car, I listened to the Hawkeyes fans talking after the game. To my surprise, there was at least as much discussion (with no lack of schadenfreude) about Nebraska's loss as there was about Iowa's win.
So I think the pump is definitely primed on the Iowa side for the Nebraska-Iowa series to be an honest-to-goodness rivalry. And the swarm of black and gold in Memorial Stadium for the game certainly gave the contest an energy that few other games in Lincoln have had. Walking into the stadium, Iowa fans were in full-throat with their "let's go Hawks" and "I-O-W-A!" chants, challenging Nebraska fans to respond.
So in that sense, the seeds of a rivalry have been planted. And those seeds will be very good for a Nebraska fanbase that tends to be complacent in its self-superiority.
Nebraska fans traveling to Madison were treated to an active and engaged fanbase that sang and danced in unison. If Iowa fans can make Nebraska fans rise to the challenge and become more engaged in the game, then it will be good for everyone.
So, is it a rivalry yet?
Not yet. Iowa fans are ready to engage Nebraska as a rival, but I don't think the Children of the Corn are there yet. Nebraska fans, in general, still do not see Iowa as being on the same level of prestige as Nebraska. Remember, most of those fans grew up thinking their rival was Oklahoma, a national powerhouse against whom they competed for conference and national titles.
Nevermind the fact that Oklahoma has always seen Texas, not Nebraska, as its true rival. When the Big 12 was formed, Oklahoma put the kibosh on continuing the NU-OU series.
To some Nebraska fans, ascribing a rival status to Iowa would be lowering Nebraska's program to Iowa's level of prestige, and those Nebraska fans feel NU is above that.
Let's be clear—I don't agree with that. As a man who was born in Iowa City, is married to an Iowa fan and has a family full of Hawkeyes fans, this disclaimer is pretty much mandatory.
Does that mean there can't be a real rivalry between the schools and that the result of the Iowa-Nebraska game won't cause joy on one side of the Missouri and despair on the other until next Thanksgiving?
Absolutely not.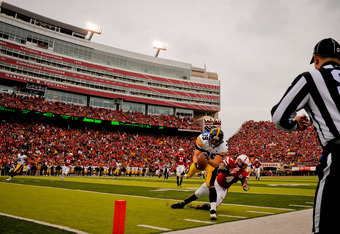 Eric Francis/Getty Images
I think the Nebraska-Iowa rivalry will be a honest-to-goodness, for-real, talk-about-it-all-year rivalry between the schools … once Iowa beats Nebraska. It will just take one victory, one image of a Hawkeye holding a trophy in the air while a Husker dejectedly walks by, for the die to be cast.
After that win and the year of gloating Hawkeye fans will rightfully enjoy after the victory, Nebraska fans will be fully engaged and the rivalry will truly be on. If the win happens to knock NU out of the Big Ten title game or send Iowa to Indianapolis instead of Nebraska, that will make the nascent rivalry that much better.
So, while I won't be rooting for Iowa at any point in the series, once Iowa does knock Nebraska off (and it will happen at some point, rest assured), part of me will be pleased that the seeds planted this year will finally bloom into a beautiful, spite-filled, two-way rivalry that will nurture football fans on both sides of the Missouri for years to come.
Although dealing with my wife for the year to follow might be a little challenging.
Like what you read? Follow me on Twitter @patrickrunge to track my thoughts and observations about college football—and one or two other topics—throughout the year!
And if you would like to contact me directly to schedule an interview, ask a question or to get my recipe for a killer peach cobbler, you can send an e-mail to patrickrunge@gmail.com. (DISCLAIMER: Peach cobbler recipe might not be all that killer.)