Georgia vs. LSU: TV Schedule, Live Stream, Radio, Game Time and More
November 30, 2011
Chris Graythen/Getty Images
No. 1 LSU will likely remain the top team in the nation regardless of what happens in the SEC Championship against No. 14 Georgia, but Les Miles and the Tigers don't want to leave anything to chance.
LSU is bound for the BCS Title Game, while the Bulldogs' Bowl fate is anything but set in stone. A win would have them in the Sugar Bowl, while a loss would likely mean they would be headed for the Cotton Bowl.
With SEC supremacy on the line, we're going to see the best that both of these conference juggernauts have to offer.
Let's take a closer look at this matchup to see who has the upper hand.
Where: Georgia Dome (Atlanta, Georgia)
When: Saturday, Dec. 3, 4:00 p.m. ET
Watch: CBS
Live Stream: CBSSports.com

Listen: Free Football Radio
Betting Line: LSU -14, According to SportsBook.AG
This line screams "take the points", but it's imperative that you don't. Georgia is a talented team, but LSU has a knack for dismantling teams and blowing them away even when the opposition keeps it close for the majority of the game.
Like Arkansas last week, Georgia isn't going to be able to hang with LSU for four quarters.
Key Storyline: Will LSU finish out their undefeated season?
Georgia has more on the line in this game, but going undefeated en route to an SEC and National Championship would allow LSU to achieve perfection.
Les Miles' LSU squad will be wanting to run into the National Championship with a full head of steam and blowing away Georgia in the SEC Championship would be the perfect way to do so.
Who Might Not Play for Georgia:
Isaiah Crowell, RB, (Ankle) Probable
Malcolm Mitchell, WR, (Hamstring) Questionable
DeAngelo Tyson, DE, (Ankle) Questionable
Jordan Love, CB, (Hand) Questionable
Austin Long, T, (Ankle) Questionable
Richard Samuel, RB, (Ankle) Questionable
Dallas Lee, G, (Lee) Out for Season
Trinton Sturdivant, T, (Knee) Out for Season
Rantavious Wooten, WR, (Concussion) Out
Kolton Houston, T, (Eligibility) Out
Jakar Hamilton, S, (Ankle) Out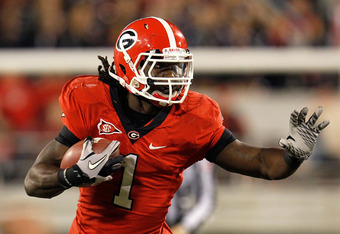 Kevin C. Cox/Getty Images
Who Might Not Play for LSU: 
Eric Reid, S, (Quad) Probable
Jarrett Lee, QB, (Academics) Questionable
Josh Dworaczyk, G, (Knee) Out for Season 
Injuries according to USA Today

BCS/Top 25 Implications
As long as LSU doesn't sustain an embarrassing loss here, they're a lock for the No. 1 spot. They have so many quality wins to their name that sustaining a loss in the SEC Championship would still leave them with the most impressive resume in the nation.
Georgia would skyrocket up the rankings with a win. A victory would give them 11 straight wins and an SEC Championship to their name. Losing wouldn't push them too far down the rankings, but winning would mean everything.
Georgia Player to Watch:
Isaiah Crowell has been banged up and sat last week. Not only do the Bulldogs need him to play, they need him to dominate. Crowell has the ability to take over a game and has rushed for over 100 yards four times this season.
The Bulldogs need him to do so in this one, as they can't hope to get involved in a defensive struggle like Alabama did if they want to notch a victory.
LSU Player to Watch

Tyrann Mathieu is the best player on the best team in college football. If he hadn't been held out of the Auburn game, he could easily be in the Heisman race and he continues to show us on a weekly basis what makes him so special.
Georgia needs to avoid him at all costs, but he's able to contribute in so many ways that it's tough to keep the ball out of his hands. When LSU goes on one of their signature runs, Mathieu usually finds himself in the mix. Expect him to do so again this week.
Key Matchup 
Georgia's offense vs. LSU's defense
If Georgia can protect the ball and make smart decisions offensively, they'll avoid letting LSU blow the doors off of this game. It's not about what the Bulldogs can do with the ball, but rather what they can do to keep from making the critical errors that LSU is so great at forcing.
Prediction
LSU 35—Georgia 17