Vanderbilt Basketball: Commodores Desperately Need Festus Ezeli Back
November 30, 2011
Joe Robbins/Getty Images
The No. 19 Vanderbilt Commodores (5-2) had high national expectations heading into this season, and were ranked seventh overall in the preseason.  However, Kevin Stallings' experienced team has dropped two of its first seven games—all without their best player, and all before SEC play.
Festus Ezeli has yet to play this season.
The Commodores' signature post player has been out of the lineup all season with a sprained knee.  His absence has left the down-low position up for grabs, as multiple Commodores have tried to fill Ezeli's big shoes. 
Last season, Ezeli averaged 13 points a game and tallied a remarkable 87 blocks, the fifth most in the SEC.  His pure power and ability to finish plays gave Vanderbilt a big advantage at the post position, not to mention his blocking ability.
Steve Tchiengang and Lance Goulbourne have had to pick up the load down low.  Goulbourne has not been playing badly as Ezeli's replacement, and is averaging 11 points and 7.4 rebounds a game thus far.
Monday night, Vanderbilt suffered its second loss of the season to No. 11 Xavier (5-0) in overtime, 82-70.  The Commodores gave up a 10-point second-half lead and failed to score in the final 3:36 of the game.
Ezeli is most missed on the defensive side of the ball.  Xavier snagged 25 offensive rebounds, compared to Vandy's mere nine offensive boards.  Also, Vanderbilt gave up 28 points in the paint and 15 second-chance points in the loss. 
SEC-leading scorer John Jenkins single-handily kept the 'Dores in the game by draining ridiculous threes (as usual).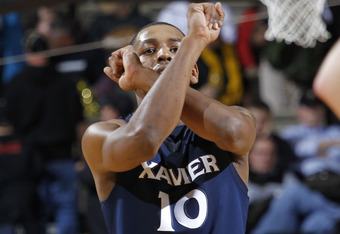 Joe Robbins/Getty Images
But the Commodores cannot rely solely on their three-point shot to keep them in games.  Without Ezeli banging bodies down low, Jenkins has resorted to taking long, unbalanced three-pointers.
Goulbourne finished the game with 18 points and seven boards, but it proved not to be enough.
Vanderbilt's recent mediocre post-play has resulted in home losses to Cleveland State and Xavier.  Jeffery Taylor's abilities have not been utilized due to Vandy's inability to dominate the post.  Because Vandy lacks a post threat, there has been very little room for Taylor to penetrate to the hoop.
Now, defenses have two objectives against Vanderbilt: (1) Play tight defense on Jenkins and don't allow him to get space, and (2) apply pressure and prevent Taylor from powering through the lane.
Ezeli was suspended for the first six games due to an NCAA violation of accepting gifts.  However, his injury would have caused him to miss the first six games anyway, and he's still absent from the lineup.
He is expected to miss another week and a half.
Vanderbilt faithful hope to see the big man recover quickly and get back on the court.  When Ezeli gets healthy, look for the "Big-Three" (Ezeli, Taylor and Jenkins) to start clicking and feeding the ball down low more often.
SEC play is a long, arduous road, and the 'Dores have already suffered two losses.
Oh yeah—and Vandy travels to No. 7 Louisville on Friday, and will be without Ezeli yet again.