NFL Week 13 Picks: Arizona Cardinals Can Upset One-Time Rival Dallas Cowboys
November 29, 2011
Rob Carr/Getty Images
Here comes America's team.
The Cardinals' old semi-rivalry will be reunited this Sunday when the Cowboys come to town. I say semi-rival because to be a true rivalry there has to be some balance.
When the Cardinals shared the NFC East with the Cowboys, it was a one-sided thrashing, both on the field and in the stands. When the Cardinals played at Sun Devil Stadium and could barely draw 40,000 fans, the annual game against Dallas would fill the stands.
Of course most of the seats were occupied by people wearing Troy Aikman or Emmitt Smith jerseys, but they bought tickets.
The dynamics of this rivalry have changed recently though.
The Cardinals have sold out every game in the University of Phoenix Stadium and no longer need the Cowboys to sell tickets.
The Cardinals are also showing up on the field.
They have won the past two head-to-head meetings and have won more playoff games in the past three years than the Cowboys have in the past 10.
This year though, the Cowboys are the favorites, as they have won four in a row and sit atop the NFC East.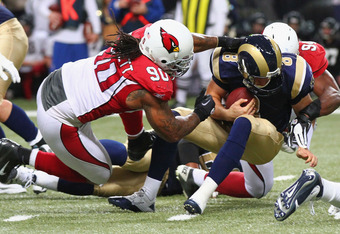 Dilip Vishwanat/Getty Images
This will be a good measuring stick for the Cardinals, who are winners of three of their past four games.
The Cowboys have a good record, and on paper have one of the most productive offenses in the NFL. However, the only team with a winning record the Cowboys have beaten is the 49ers.
With a win over the Cowboys, Arizona will gain its first victory over a winning team, and there is reason to think the Cardinals just may pull off the upset on Sunday.
Kevin Kolb should be back giving the team a boost offensively.
The critics were on Kolb early and often, which is par for the course when one is the return in a big trade and signs a large contract prior to the season. As the band Cinderella once sang, "You don't know what you got till it's gone."
John Skelton started the past four games for the Cardinals and yielded four touchdowns with seven interceptions and an average of 168 yards per game. While Kolb might have struggled at times, the offense was non-existent under Skelton.
The Cardinals will also be playing the game at home, which should provide a boost to a defensive unit that has been playing good football as of late. The Cardinals' defense has given up more than 20 points only once in their past four games.
If Kolb can provide a little more offense and the defense can continue to play well, the Cardinals have an excellent chance of making it three wins in a row over their one-time semi-rivals.
Prediction: Cardinals 30, Cowboys 27