Florida State Football: 5 Best Moments of 2011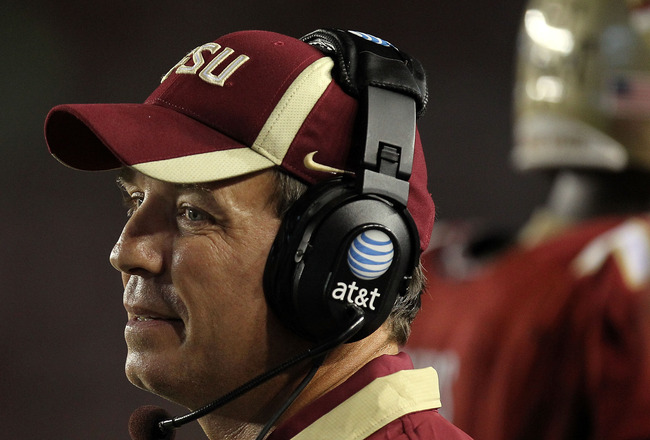 Despite failing to meet preseason expectations, the 'Noles rebounded to win their second consecutive state championship, and are poised to make a serious run in 2012
Ronald Martinez/Getty Images
Fresh off a 21-7 win over the rival Florida Gators, the Florida State Seminoles are now left to await their postseason destination.
Wherever they land—most projections have them either in the Chik-fil-A Bowl or the Champs Sports Bowl—it will not meet their preseason expectations for the program's first BCS bowl bid since 2005.
The season took a turn for the worse with a three-game losing streak beginning with a hard-fought loss to then No.1 Oklahoma.
However, the 'Noles bounced back from a 2-3 start to win seven of their last eight games, highlighted by claiming the unofficial state title for the second consecutive season with wins over in-state rivals Miami and Florida.
Here are Florida State's five best moments from the 2011 season.
Rashad Greene TD vs. Oklahoma Ignites Doak

Highlights of the FSU crowd erupting after Greene's TD tied the score at 13 late in the 4th quarter

Florida State fans circled Sept. 17, 2011 on their calendars for many reasons.
That is when the top-ranked Oklahoma Sooners would visit Doak Campbell Stadium, and when the nation's eyes would once again shine on a prime time showdown with their beloved 'Noles in the spotlight.
It was a hard-fought, physical slug-fest that saw FSU starting quarterback EJ Manuel leave in the second half with a shoulder injury.
Trailing 13-6 early in the fourth quarter and facing a 3rd-and-28 near midfield, freshman backup quarterback Clint Trickett threw a desperation heave into double coverage, and true freshman Rashad Greene snared it and raced into the end zone for a 52-yard touchdown that tied the game and sent the Garnet and Gold faithful into hysteria.
Although Oklahoma would go onto win the game, the fourth quarter of this matchup brought out the loudest moments in Doak Campbell Stadium for 2011.
EJ Gets His Groove Back

EJ Manuel eludes defenders for an amazing escape against NC State

After missing all or portions of three consecutive games (all losses) earlier in the season, EJ Manuel recovered from his shoulder injury in time to lead the 'Noles on a season-long five-game winning streak.
Throughout the streak, Manuel flashed the potential that many observers expected him to deliver on all season long.
Perhaps his finest performance of the season came against NC State when he went 25-for-34, for 321 yards and two touchdown tosses.
During the times of the season when the offense performed at its peak, it was due to the balance they were able to achieve, mostly because of Manuel's ability to beat defenses with his arms and legs.
Defense Shuts out Wolfpack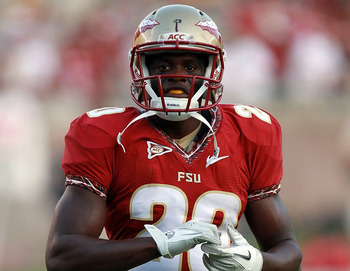 Lamarcus Joyner and the 'Noles defense smothered NC State in its 34-0 victory over the Wolfpack
Ronald Martinez/Getty Images
After allowing fellow Atlantic division foes Clemson and Wake Forest to gain a combined 834 yards of total offense in back-to-back losses, defensive coordinator Mark Stoops engineered a huge turnaround in the second half of the season.
When NC State came calling on the last weekend of October, the 'Noles defense swarmed the Wolfpack, only allowing 166 yards of total offense and coercing them into three turnovers.
It was a dominating effort that set the foundation for their strong play throughout the remainder of the season.
Greg Reid Punt-Return TD Dooms 'Canes

Greg Reid's 82-yard punt return for a touchdown helped the 'Noles defeat the 'Canes 23-19

Although the 'Noles entered this contest on a hot streak offensively, it almost seemed inevitable that their luck would run out against in-state rival Miami.
Florida State's offense struggled to sustain any momentum, and with their defense bending more than usual, it was their special teams unit that rose to the challenge.
After an electrifying performance in his first game as a Seminole in a losing effort against the 'Canes in 2009, Greg Reid lifted his team with his third punt return for a touchdown in his career (first in 2011), and essentially buried the hated 'Canes in a hole they were unable to maneuver out of.
FSU would hold for a 23-19 win, which is the first win by the home team in this series since 2005.
Terrance Parks Interception Return for Touchdown Seals Win over UF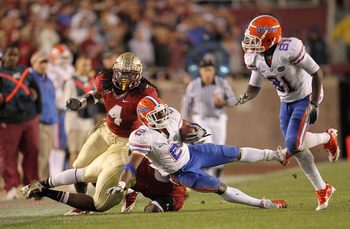 Parks returned his first career interception for a TD to finish off a dominant effort against UF
Mike Ehrmann/Getty Images
Coming into their season finale against Florida, Florida State's defense knew it had to atone for its poor effort on the final drive in the previous weekend's loss to Virginia.
The angry 'Noles defense rolled into the Swamp and the despised Gators—with their anemic offense— provided the perfect opponent for a signature performance.
The secondary picked off Gators starting quarterback John Brantley three times in the first half, but with their offense stuck in neutral and nursing a 14-0 fourth quarter lead, safety Terrance Parks picked a fine moment to record his first career interception.
The senior would grab an errant pass by Gators backup quarterback Jacoby Brissett and rumble 29 yards for a score to put the exclamation point on a dominating effort in their 21-7 victory.
Despite failing to reach its most lofty goals, by winning its second consecutive state title, FSU is firmly entrenched in its position as the dominant program in the state of Florida.
Keep Reading

Florida State Football: Like this team?