Kansas City Royals Will Compete for the AL Central Crown in 2012
November 30, 2011
Hannah Foslien/Getty Images
Basement dwellers. The Kansas City Royals along with the Pittsburgh Pirates are perhaps the most accurate modern definitions of baseball mediocrity. The Royals haven't had a winning record since 2003 (83-79), have not had a 90-win season since 1989 (92-70) and have not been to the playoffs since 1985, when they won the World Series over the St. Louis Cardinals.
Despite boasting one of the better farm systems in the majors year in and year out, the Royals have not been able to field a successful team in decades. There are many reasons for the franchise's ineptitude, from poor management to poor finances, but no matter which way you cut it, the Royals simply have not been good.
But finally, for the first time in many long, fruitless years, the Royals are putting together what may end up being a very competitive team.
The Royals have been surprisingly active so far this offseason, and as far as substance, they have improved more than any other team in the majors up to this point.
Their problem last season wasn't offense... with players like rookie phenom Eric Hosmer (.293, 19 HR, 73 RBI), Alex Gordon (.303, 23 HR, 87 RBI), Billy Butler (.291, 19 HR, 95 RBI) and Jeff Francoeur (.285, 20 HR, 87 RBI), the team has a solid core of youthful talent that is beginning to show how deep their farm system has been over the years. 
The Royals also had solid relief pitching last season, led by Aaron Crow (62 IP, 2.76 ERA, 65 K), Greg Holland (60 IP, 1.80 ERA, 74 K) and Joakim Soria (60.1 IP, 4.03 ERA, 60 K, 28 SV) in what was admittedly a down year for someone who is normally lockdown closer.
The Royals have also signed closer Jonathan Broxton to a one-year deal at a relatively low price of $4.5 million. Broxton is a prototypical risk/reward player. The Royals are obviously hoping they are getting the Broxton of 2006 to 2009 when he was one of the premier relievers in the game, and had a K/9 well above 11.0. The risk comes from what Broxton has been lately... in the past two years, Broxton's ERA has bloated to above 4.00, his K/9 has dropped and last season, he only pitched in 12.1 innings before a shoulder surgery sidelined him for essentially the entire season.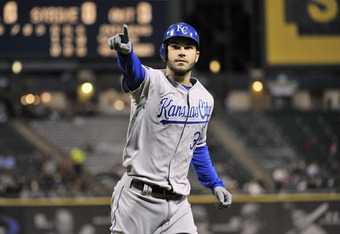 Brian Kersey/Getty Images
Assuming the Broxton experiment works out, this gives the Royals two closers, and a few intriguing options.
They could do what the Milwaukee Brewers did last season and insert one of them into the eighth inning as a setup man, but with the wealth of talent already in the bullpen, I don't see that happening. I think the Royals are going to dangle Soria as trade bait to get a replacement in center for Melky Cabrera. The Royals aren't entirely sold on prospect Lorenzo Cain's offensive ability, and Joakim Soria would get a pretty solid offensive player in return. 
The real problem last year for the Royals was starting pitching. Not a single starter logged 200 innings, only one had an ERA below 4.00 and only one starter had a WAR above two. If the Royals had even a decent starting rotation, they very likely could have competed in what was a weak year for the AL Central.
Bruce Chen put together a fine year posting a 3.77 ERA over 155 innings pitched while striking out 97, and the Royals made the right move to sign him for another two years at a bargain price. On the Royals staff last year, Chen was the clear No. 1 starter... on most other rotations, he would have been a good No. 3 or 4 starter.
Luke Hochevar has shown promise for the Royals and has proven that he has the longevity to be a starter. He pitched in a team-high 198 innings, but had a bloated ERA of 4.68. Hochevar has good stuff with a fastball in the mid-90's and a very good slider in the mid to upper 80's, but he has not yet honed his talents in the majors. If he can improve his control and stop giving up home runs, Hochevar has the potential to be an ace. As of right now, he is still a project for the pitching coaches.
The Royals have just recently traded Melky Cabrera to the Giants for starter Jonathan Sanchez, which in my opinion, was a steal for the Royals. Sanchez (like Broxton) is something of a wild card, but at his best he can be the frontline starter that this team desperately needs, and at the very least he represents an upgrade on what was a very inconsistent starting rotation last season.
There are still holes to fill, and the Royals are still in a good position to fill them. If they are serious about making a run at the playoffs next year, they need another top starter. There have been talks that they may be a player for Roy Oswalt. Oswalt probably is not the long-term answer for the Royals, but if they can sign him to a deal no larger than three years, they would be foolish to pass him up. At 34, Oswalt has shown signs of aging, but his veteran presence would be invaluable to the Royals as they try to work their way out of the cellar, and he is still very capable of putting together great years.
The other starting options for the Royals are there, but with the free-agent market so thin this year, they would probably have to spend a lot to get a little. Oswalt will probably come at a bargain, and with prospect Jake Odorizzi probably only two years away from the majors, the Royals just need a temporary fix.
I am feeling optimistic for the Royals in 2012. I am a huge Brewers fan, but I can't help but look at the Royals as sort of the American League counterpart of the Brewers. The similarities are pretty apparent, when you look at it. The Royals have been at or near the bottom of their division for two-and-a-half decades, they are trying to build up a team in a relatively small mid-western market, and are relying on stars from their farm system, trades and bargain free agents. Not to mention the super-exchange of players between the two clubs last offseason.
The Brewers proved last year that if you are crafty and smart, you can do a lot in a small market, and I think the Royals may have noticed.
If the Royals play their cards right, and get all of the value out of the risky additions of Broxton and Sanchez, they are going to be right in the thick of the AL Central race next year. I certainly hope they are a little more successful than a certain other baseball team from the state of Missouri.