Purdue Football: Did Being Bowl Eligible Buy Danny Hope More Time?
November 29, 2011
Jonathan Daniel/Getty Images
Purdue football is at one of those points in a programs' history where the team is having some success on the field, but the fan support just isn't there. 
With the Boilermakers averaging less than 50,000 people in attendance at a stadium that holds 64,000, it's obvious that the fan support is lacking.
With Purdue finishing 6-6 in regular season play including exciting victories against Ohio State and Illinois, who also finished 6-6, they are bowl eligible.
The lack of success of the program has been completely placed on Danny Hope these last few seasons.
Not making a bowl game was unacceptable to the Purdue faithful until the change of guard in 2008. Most Purdue fans realize there needs to be a culture change in the school that was once a football school, and is now a basketball school. 
The question is, is Danny Hope the man to change the culture of the program and build it back to the hype surrounding it during the Tiller era?
Sure, being bowl eligible buys Danny Hope some time, and the likelihood of his firing is slim at this point, but he just isn't the man for the job.
He has lost the school countless games on lack of discipline and just downright awful play-calling.
The fact of the matter is, Danny Hope needs to go for this program to thrive and build itself back up.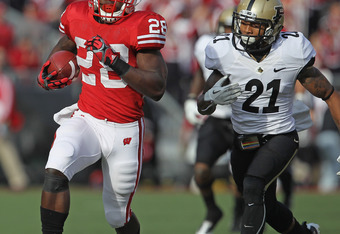 Jonathan Daniel/Getty Images
Purdue is a team that cannot recruit nationally all that well, so why get all of the roster from Florida? Why not try to get some decent recruits from Indiana?
Besides Notre Dame, who focuses more on the national level, Purdue has free reign on recruiting in this state and needs to get a handle on it before it's too late.
Hope may have bought himself some more time after two dismal seasons, but it's hard to consider this season a success when the combined record of the teams Purdue beat was 21-49. On top of that, no team the Boilermakers beat had a winning record.
So yeah, at first glance Purdue football may look like they have a successful season, but if you look a little closer, it wasn't very spectacular.