Alex Ovechkin and Bruce Boudreau's Divorce Is Equal in Magnitude
November 29, 2011
Jim McIsaac/Getty Images
By now, every Washington Capitals fan knows that Bruce Boudreau was fired yesterday and replaced by former Capitals great and former team captain Dale Hunter.
According to a poll currently being conducted online by the Washington Post, 51 percent of 4,000 participants believe Bruce Boudreau had to go and Dale Hunter is a good replacement. Whether you agree or disagree with the move, one thing is for sure: There is certainly plenty of blame to go around, but that blame is confined to a few players and Boudreau himself.
Boudreau's firing may not be the right move, but at the moment, it is the move general manager George McPhee (GMGM) had to make. McPhee wasn't going to dismantle the upper echelon of this roster just yet, at least not without a second opinion first. Who better to give that opinion than the man former Caps captain Rod Langway says will," ruffle some guys' feathers."
When asked during an interview yesterday about what Dale Hunter will bring to the Caps bench, the only man that wore the "C" longer than Hunter said of his former teammate, "As a player, he won your respect by the way he worked so hard, and if you didn't give it to him, he'd challenge you," said Langway.
"I'd think he's the same way as a coach. Honest, straightforward – that's the type of guy he is. And he's probably going to ruffle some guys' feathers."
The popular saying, "it takes two to tango" is very relevant in the firing of Bruce Boudreau. During any divorce or breakup, and assuming infidelity was never an issue, each party must take a step back and self examine what their responsibility was for the failure of the relationship.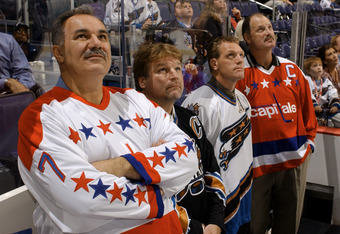 Mitchell Layton/Getty Images
Sports are funny in that head coaches take their jobs knowing that one day, they will be fired. Unless the team is a complete failure, the men that lead teams into battle usually fall victim to their own principals and philosophies. Messages get stale, and that is exactly what happened with Boudreau.
It is hard to believe, but Gabby, as he was known for his willingness to talk, was the fifth-most tenured head coach in the NHL after a little over four years behind the bench. Ironically, Boudreau coached his final game behind the Washington bench against the current longest tenured coach in all of the big four sports.
Lindy Ruff of the Buffalo Sabres is in year 14 with his team. That is unconscionable to think these days, especially when you consider that Ruff has never won a Stanley Cup and has only played for one.
George McPhee said all of the right things during his press conference yesterday. He seemed honest and straightforward when he said, "The reason for the change was we weren't winning, obviously, and this wasn't a slump. You can ride out slumps. This was simply a case of the players were no longer responding to Bruce".
"Bruce did a terrific job here," McPhee added, "but when the players aren't responding, you have to make a change."
GMGM finished with a different way of telling reporters Boudreau's ways and methods had grown stale.
"Bruce emptied the tank, he gave it everything. He pushed every button he could push."
You can't blame McPhee for yesterday's turn of events. All McPhee did this past offseason was acquire one of one the hottest free agents on the markets in Joel Ward, stole an all-world goalie for $1.5 million and traded an average goalie in Semyon Varlamov for a potential top-five pick in this year's draft. McPhee improved the Caps on-ice personnel and set his franchise up to be one of the teams that force others watching from afar to mutter, "The rich keep getting richer".
You cannot blame owner Ted Leonsis. The former AOL conglomerate is the perfect fans owner and the anti-Daniel Snyder, the embattled owner of the often overpaid, underperforming Washington Redskins. Leonsis is an educated extremely rich fan himself, who is living out every diehard fans' dream of owning a sports team. He wants nothing more than to win championships and communicates almost daily with the fanbase. Leonsis believes in letting the hockey people do their jobs.
Sometimes, you can blame the fans and the media, but certainly not in this case. Caps fans are educated fans and know their hockey as well any fan that cheers for one of the original six. Washington fans rock the red nightly and are currently working on their 118th consecutive sellout at Verizon Center.
That's why Alex Ovechkin's comments about the Boudreau firing seemed patronizing when he said to Lindsay Applebaum of the Washington Post yesterday, that he was "shocked". He denied any rift with his head coach, but it doesn't take a rocket scientist to know that Ovie isn't exactly being forthcoming.
That may not be a bad thing, why kick a dead horse, but I'm not so sure that was his intention. Like a spouse during the separation phase of a marriage, Ovechkin's comments seemed to be more in denial of the recent turn of events, which may have begun following the Caps sweeping loss in the playoffs last season.
Ovechkin has been unhappy with Boudreau for most of this season. Gabby's new accountability policy, which began at training camp, allowed for players on his third and fourth lines to garner more ice time because of their hard work on and off the ice. This no doubt endeared himself to his grinders while possibly putting space between him and his superstars, most notably The Great 8.
Ovechkin's ice time has dropped significantly this season, and after averaging almost 23 minutes per game during his career, isn't even hitting the 15-minute mark this season.
The young guns—as they used to be called when Boudreau was hired almost exactly four years ago to the day he was fired—Ovechkin, Alex Semin, Nicklas Backstrom and Mike Green comprise the group that many believed would lead Washington to the promised land of hoisting Lord Stanley.
Backstrom came to camp in shape and looks great this year. He appears to be playing stronger in front of the net and in the corners and is currently the team's leading scorer; Boudreau never had an issue with him. Mike Green cannot stay healthy, and while this may be a direct reason for the Capitals on-ice struggles, Green worked hard last season to become a better defenseman when Boudreau changed his coaching strategy.
That leaves the two Alex's as the primary culprits, and you can eliminate Semin from this equation because he will no doubt become a quick causality under the new regime. There is no way No. 28 makes it in Washington with Dale Hunter behind the bench. So that leaves the Great 8, and his role in this failed relationship that will ultimately be seen as a wasted four years of precious time.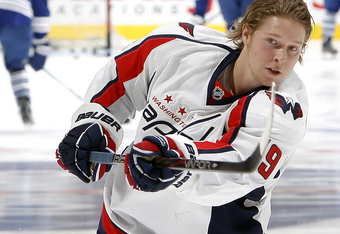 Abelimages/Getty Images
Boudreau should be credited with helping to restore order to a franchise in turmoil; he will go down as having done no more for this organization than Jim Schoenfeld, the Murray brothers and Ron Wilson, who led the Caps to their lone Stanley Cup appearance in 1998.
In fact, Boudreau should go down as the best regular season coach in the history of the franchise, as both he and Ovechkin own personal accolades that not many in the history of the game accomplished as fast as they did.
This will sting for a while deep into Gabby's heart. He spent a lot of time developing most of this roster, as he started in Hershey with many of these players; however, Boudreau won't be unemployed for very long.
In his four-plus seasons behind the Capitals bench, Boudreau posted a regular season record of 201-88-40 in 329 regular season games, recently becoming the fastest coach to record 200 regular season victories. He won four consecutive division championships, a President's Trophy, two regular seasons Eastern Conference banners and guided the Caps to their best record in team history during the regular season.
He also won the Jack Adams award as coach of the year in 2007, when he took over a last place Washington team at the end of November and guided them to the first of four Southeast Division titles.
Ovechkin's personal resume is equally impressive. The Great 8 won three consecutive Ted Lindsay awards as the league's most valuable player voted on by his peers, two goal scoring titles and one scoring title. He is still the current active leader in goals per game (0.62), and fifth all time. Ovechkin has led the league in shots in every year of his NHL career, and has scored the most even strength goals during three of the past four seasons.
However, I'm sure both would tell you that they would trade all of those awards and honors for just one Stanley Cup. Maybe. The loss to the Tampa Bay Lightning in the playoffs last season should have been when GMGM fired Boudreau. Bringing Gabby back may be the one glaring mistake McPhee has made in all of this, as Boudreau returned and tried to implement a new accountability policy this season.
This was in due in part to comments made by former members (Matt Bradley and Dave Steckel) of the Capitals. Now with the Florida Panthers, Matt Bradley, said during an offseason interview that Boudreau's locker room wasn't as disciplined as it could be. Bradley called out Semin and said the Russian did not play hard all of the time. Comments like that from former players make a head coach look bad.
Bradley even mentioned that although his captain (Ovechkin) was all in, "he has some growing up to do as far as taking care of himself." Boudreau decided not to wait for his captain to mature and took matters into his own hands by implementing this new accountability policy for their play on the ice and their actions off of it this season.
The problem with the new policy was that after four years of less-than-stellar discipline from Boudreau, how was he going to expect middle 20-something rich athletes to conform overnight? This new policy would prove especially difficult when their ringleader is the team captain and biggest party animal of them all. Ovechkin still packs his packs his PS3 for road trips and loves the nightlife.
The rift between Boudreau and Ovechkin began when Boudreau called out his superstar following a sloppy 6-5 win earlier this season over the same Lightning team that swept the Caps out of the postseason last year.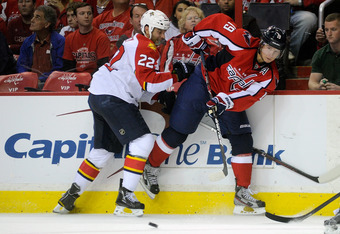 Greg Fiume/Getty Images
Boudreau said, "I think he's got a long way to go to get to where he needs to be and should be. He's our No. 1 player, but he can be better, there's no doubt about it."
The pouting and moping from Ovie was instantaneous, and when asked for his response by Chuck Gormley of Comcast Sports Net in Washington, Ovechkin was quick and to the point, "I think everybody can be better. I think that has to be between me and him (Boudreau) and I don't want to comment on it."
Then, the water began to boil a bit, when on Nov. 1 during a game vs. the Anaheim Ducks at home, Boudreau left Ovechkin on the bench for the last three minutes of the contest following a timeout that lead to the tying goal. The Caps went on to win during the extra session as Ovechkin remained firmly planted on the pine.
Immediately following that timeout, and after Boudreau told Ovechkin he still wasn't going back into the game, Ovie fired the first big shot across the bow of Boudreau's ship by muttering the words "fat F***, which if you read lips, can be seen by clicking here. The blatant disrespect by Ovechkin upset former tough guy head coach Mike Keenan, who had this to say on the Versus telecast following that game, "
"When is a teacher a great teacher? When the student is ready to learn," Keenan said. "In this case, Alex Ovechkin has to show a lot more respect to his coaching staff and to his team. There's a response here that's not a positive response. I give Bruce Boudreau a lot of credit for this decision. He's delivering a message to a star player and his team. That kind of behavior on the ice is not acceptable."
Even Barry Melrose, the most laid back head coach in the history of the game noticed something was no longer quite right about the great 8.
Speaking to the Washington Post recently, ESPN NHL analyst Barry Melrose had this to say, "When Alex was fighting with [Sidney] Crosby as the best player in the world, I thought Alex was one of the hardest-working players in the world," 
Said Melrose when I spoke to him earlier this month, "I don't know if Alex is one of the hardest-working players in the world right now."
Adding that Ovechkin needs to alter his game, Melrose added, "I'm not slamming Alex; I love him. But when I talk about great players, I always say, 'To those who are given the most, the most is expected.' When you are given as much as Alex, being average isn't good enough, and right now, Alex is average."
When you consider that Ovechkin posted career lows in points (85) and goals (32) last season, and is again on pace for a career low in points with 68, and possibly goals, the frustration was becoming very visible. Despite his team's growing frustration and having just lost three straight games on the road by a combined score of 13-3, Boudreau continued with his new get tough policy and made an example out of Ovie's best friend and countryman Alex Semin.
After taking a minor penalty in seven straight games and mired in a scoring slump himself, Boudreau made Semin a healthy scratch last Monday night prior to a win over the Phoenix Coyotes when the Capitals returned home for a three-game holiday home stand. Semin was not even issued a jersey for the game.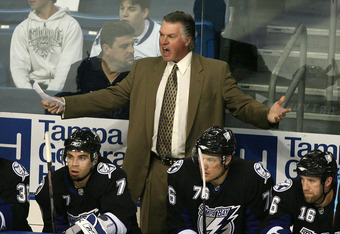 Doug Benc/Getty Images
Two nights later, Joel Ward took Semin's place, as he overslept and missed team meeting. The Capitals won both games the players were scratched in, but Ovechkin was still nowhere to be seen.
His struggles are becoming mind numbing, and when you consider that Ovechkin has refused to do certain things like change the predictability in his game, one has to wonder if Ovie just gave up on Boudreau.
Ovechkin has fewer goals than Jason Chimera, and on Friday, scored his first goal at home this season. Hard to imagine when you consider Ovechkin has scored a goal in every Caps home opener in his career and has 10 goals total in six home openers.
Simply put, did Ovechkin want to get Boudreau fired? The answer is probably no, but according to a recent article by Tarik El-Bashir of the Washington Post, Ovechkin refused to do many things his coaching staff needed from him. The refusal to do these things raises some serious questions about his commitment to the overall goals of the team, which delivered the first ever $100 million contract in NHL history to him in 2008, and has him locked up at $9.5 million per year through the 2021 season. Here are several issues El-Bashir listed as problems between Ovie and the coaching staff.
"Boudreau moved Ovechkin to the wall on the power play. Ovechkin has said he feels more comfortable on the point. Boudreau and his coaching staff have implored Ovechkin to change his strategy on the attack for more than a year. Go wide instead of cutting to the middle, they've told him. Use teammates instead of squeezing off low-percentage shots. Their words, though, have fallen on deaf ears.Boudreau and his staff have begged Ovechkin to be more responsible in the defensive end, yet he still routinely floats in Washington's zone and leaves it prematurely. Through the season's first 22 games, he has the second worst plus-minus rating on the team at minus-7."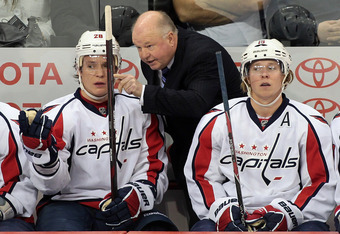 Marianne Helm/Getty Images
Even the hard body checks he's delivering, which once seemed part of a vicious two-way game, now seem desperate, undisciplined and even reckless. He's playing more like a spoiled hockey brat than a consistently hard working superstar that's looking to better his game. Ovechkin has averaged 1.27 points per game during his career, and although he's still a point-per-game player, it certainly seems like he is playing more like the Average 8 than the Great 8.
Boudreau is not innocent in this; he catered to the superstars during much of his tenure behind the bench, and for all of his regular season success, he could not succeed in the playoffs. He relied entirely too much of the four horsemen in the postseason, and when Ovechkin, Semin, Backstrom and Green struggled, or as it turned out, all of them struggled, the Caps became an easy out.
Boudreau continued to implore an individual type of game during a time of year when players unite and play as one cohesive unit. In other words, Boudreau could not get the young guns to play a team game in the postseason, and they became easy to shut down. The Capitals never adapted, and that falls on the shoulders of Boudreau, which is another reason he should have been fired following the Tampa loss.
Boudreau never really stood a chance this season, especially after the Caps squandered the best start (7-0) in franchise history. Superstars generally only buy in one time per coaching tenure. Ovechkin did that last year when Boudreau changed the run-n-gun offense of the Caps to a defensive system that resulted in the best goals against average in team history. Ovechkin was the first to tell anyone that would listen that the reason for his offensive woes was his commitment to a more defensive style of game.
This season, he was never going to get the ultimate Russian Playboy to buy into becoming a more disciplined player off the ice. Ovie simply loves to party and is not bashful about telling you as proof in the 2010 GQ article, From Ovechkin with Love. Ovie's after-hours exploits are not for the faint of heart, nor should you allow a child under 16 to read the article.
It should be no surprise to many that watch him play that The Great 8 has started to age very quickly. Ovechkin has ranked in the top 10 in hits delivered in three of his first six seasons, and not counting the postseason, has doled out 1,245 body shots, or 207.5 hits per season. Add in the postseason, and Ovie is well above 230 15-25 mph car crashes per year. The two-time goal scoring champ does not seem as quick, nor does he poses that blazing first step Caps fans have come to know and love.
I recently saw this stat, and it's worth repeating. It's also important to know that Alex Ovechkin turned 26 years old the day the Capitals opened training camp this season.
Just one prolific scorer in NHL history had his greatest goal-scoring season after the age of 25, and that was Brett Hull, who scored 86 goals at 26 years of age. Gretzky's record 92 goals in the 1981-82 season, and Mario Lemieux's 85 goals in 1990-91 came between their 20th and 25th birthdays.
Now, this is not to say that Ovie cannot be a prolific 40-to-50 goal scorer for a few more years to come, but there is one thing that names like Crosby, Gretzky, Lemieux and even Mike Bossy of the Islanders dynasty all have in common. They all won their first Stanley Cup before the age of 26, and if you take out Lemieux, the average age of the other three is just 23.6 years aged.
The hiring of Dale Hunter means more changes are imminent. Let's face it, Caps fans, Boudreau's tenure will be considered a lost opportunity, and if the Caps are going to get back on track, the on-ice issues still must be fixed.
Hunter's tough approach will weed out those problems and players. He wasn't brought back to Washington to teach the new generation of Capitals how to skate around the ice with the Stanley Cup. In fact, Hunter owns the NHL record (186) of having played the most playoff games without winning Lord Stanley.
Old No. 32 was a good choice right now, and with the talent on this team, has a shot this year to become the first rookie head coach to take over during the season and win a Stanley Cup since Dan Bylsma took over the Penguins job in 2009 with 25 games remaining and led Crosby and company to a Stanley Cup championship.
Hunter is a winner. He was the fastest head coach in OHL history to record 300 and 400 career wins. However, that is as high as Hunter has ever coached. This fact will not deter him from the hard-nosed, hardworking team concept he will institute.
He never played with as many skilled players as this team possesses. He never skated alongside players like an Ovechkin, Backstrom, Semin or Green. Sure, he may have one or two that could score goals, but for the most part, Hunter's Capitals were a hard-nosed bunch that earned everything in the corners, in front of the net and by being responsible with their assignments. He will require this skilled bunch to play hard and tough hockey the same way, every night, and for 60 minutes.
He will not tolerate goals in the first or last two minutes of a period, he will not accept standing around between the circles as players score goals (See Luke Adam skate past Ovechkin on Saturday night), nor will he tolerate a player, no matter the magnitude of contract or stardom, not to change a style of play that no longer works within his system.
Hunter said yesterday, "I don't believe in run-and-gun hockey."
This could be kind of fun to watch if you ask me. 
Ovechkin has to take half the blame in the Boudreau firing; he was the coach on the ice wearing the "C," and after all, Ovechkin is the Washington Capitals. Many will label Ovie a coach killer for this situation, but like I said, this was a 50-50 situation.
GMGM has closed an escape hatch for some of the Washington Capitals players by firing Boudreau. The patsy is gone so to speak, and now, Alex Ovechkin carries more pressure than ever before during his six-year career. It's time for the Great 8 to grow up and work towards bringing the great hockey fans of Washington D.C. what they deserve: the elusive Stanley Cup we all crave.
While Ovie gets to keep the marital assets in this divorce, Boudreau gets the fresh start. However, it's a good bet that if Ovechkin continues down the path he is on, his time in D.C will also be cut short. Only time will tell if this was the right move for Washington, but for now, it was the only hand George McPhee could play.
Ovechkin could make amends, not for Boudreau's firing, but for his stubbornness and poor play, and do for his rookie head coach what his arch rival, Sidney Crosby, did for his back in 2009 by winning the Stanley Cup. The ball is squarely in Ovechkin's court, and what he does with it will determine if he finishes his career, or even the next two seasons, in Washington.
Right now, I have my doubts.