Chicago White Sox: Winter Meetings Preview According to TPR
November 29, 2011
Tasos Katopodis/Getty Images
It is debatable whether Ozzie Guillen was beneficial to the White Sox over the past several seasons. He was a polarizing figure in Chicago and out. He has gone to Miami, and Robin Ventura will take over. At least the focus will be on the roster and not what Ozzie said on his Twitter account.
The news in Chicago is both good and bad. The bad news is that they dumped a ton of money on a few players who really haven't produced. The good news is that at least a couple of those guys are being replaced. In particular, there were three in the regular lineup last season that were an out and out disaster.
When that happens, you can do one of two things. You can keep them with the knowledge that they can't get any worse or perhaps get a little better. Your other option is the replace them with someone who is even just mediocre. Mediocrity, in this case, is a huge improvement. In the White Sox's case, it could be enough to challenge for the division crown.

Infield
I've never been sure what to classify the designated hitter as. Gimmicks are always hard to deal with. In Chicago's case, we can paraphrase Shakespeare: Feces by any other name wouldn't smell so bad. Adam Dunn had one of those seasons that defy description. I'm not sure whether to admire him for continuing to go out there, or chastising Guillen for continuing to throw him out there. Last year, he managed the improbable combination of being a zero-tool player.
Then there is the curious case of A.J. Pierzynski. I've seen this before in Houston. There were three other catchers that played here and there, and all of them would have been better options as a regular according to TPR. Yet, he is a veteran and pitchers are familiar with him. The Astros had the same in Brad Ausmus. The difference is that Ausmus was actually likable.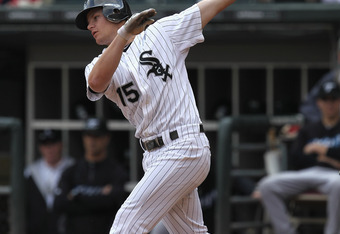 Jonathan Daniel/Getty Images
The rest of the infield was just fine. Brent Morel struggled early, but he is young and his strong September provides some hope. Meanwhile, Gordon Beckham turned in another strong defensive campaign, but he needs to show why the Sox picked him so high. Paul Konerko and Alexei Ramirez are as steady as they come.
Player to Watch: Adam Dunn

Outfield
If the infield is a spot of concern, then the outfield is a place of great hope. Juan Pierre and Alex Rios stunk up the joint last year, but Pierre's embarrassing contract finally ran out. They aren't so lucky with Rios, but they may have found something in Alejandro De Aza. The question will be whether he takes over for Pierre or whether he pushes Rios to the bench.
They need to find someone to take that other slot if they want to bench Rios, but Rios was so bad that they shouldn't have much trouble doing that. Carlos Quentin is an underrated player in right field. Some dismiss him because of a low batting average, but he gets on base and provides a great deal of power.
Player to Watch: Alejandro De Aza

Starting Rotation
If we can say anything positive about Kenny Williams, it's that he knows how to build a pitching staff. Mark Buerhle is a free agent, and while losing him would hurt, they have the numbers to absorb the loss. In fact, there is talk of trading Gavin Floyd or John Danks to ease some of the payroll concerns.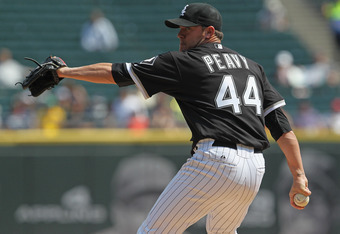 Jonathan Daniel/Getty Images
Philip Humber was a revelation last season, and even Jake Peavy began to show signs of life. Late last season, they acquired Zach Stewart in a trade with the Blue Jays. Look for him to slide into the rotation if and when they lose one or more of their veterans.
Player to Watch: Jake Peavy

Bullpen
Some folks will talk about the San Francisco Giants' pen or the Texas Rangers' pen as the best in baseball, but my money goes with the White Sox. Normally, Jason Frasor is a very good middle reliever, and if he returns to that stature the Sox will have five very good relief pitchers. Very few teams can put up that kind of record.
Both Sergio Santos and Chris Sale are legitimate closer candidates. Santos did it last season, but there is no reason to think Sale can't do it. Jesse Crain and Matt Thortnon are excellent relief pitchers as well. Add it all up and you have what I think is the best pen in the American League at least.
Player to Watch: Chris Sale

Winter Meetings Win
Williams may be forced to dump some salary in order to account for disappointing attendance figures. Still, there isn't much he has to do to win this next week. All he has to do is keep from shooting himself in the foot. Dunn can't be as bad as he was last year. If they let Pierre go and keep Rios off the field, they will improve a great deal simply by cutting dead weight.