Detroit Red Wings: Unlike Boudreau, Wings' Ego Keeps Babcock off Hot Seat
November 29, 2011
Jim McIsaac/Getty Images
Recently, NHL fans have watched several head coaches get the axe. The most notable of these was Washington Capitals coach Bruce Boudreau.
Boudreau, seemingly just "lost control" and his "tank was empty" according to Washington GM George McPhee.
Detroit Red Wings coach Mike Babcock has gone through some similar rough patches this season—including a 0-5-1 stretch after the Red Wings had five straight wins to start. But Babcock remained calm during the Red Wings' losing streak. When they won, he voiced his feelings:
I don't get the feeling we're not working. I don't get the feeling we're not trying or that we're balking at what's going on or pointing the finger anywhere else.
And that, right there, is the difference. The Capitals gave up their coach because their collective ego is too big.
After an injury-plagued last season, Alexander Ovechkin has fallen from prominence. His struggles have continued this season.
Ovechkin was seen arguing with Boudreau a substantial amount this season and was benched multiple times. Some of those benchings came during key points in games, too.
But Ovechkin isn't the only one with a big ego.
Alexander Semin has only 10 points in 22 games. He is a minus-three overall and has a surprising 32 penalty minutes.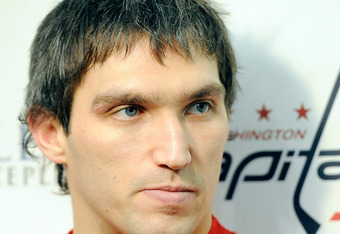 Patrick McDermott/Getty Images
Nicklas Backstrom has 25 points in 22 games, but he is a minus-six overall.
Losing seems to be the Capital's theme right now, as they have gone from a 7-0-0 start to winning just five of their last 15 games.
And in the end, it all comes down to the egos of the players. Semin's 32 penalty minutes seems like a selfish move to me. Ovechkin—who raked his coach over the coals after he was on the bench when the game-tying goal was scored—seems pretty selfish to me as well.
But Mike Babcock will not have to deal with all of that egotistical garbage—at least, not this year while Nick Lidstrom is around.
Detroit has been to the top, and knows how to get back there. The Red Wings were just one win away from advancing to the conference finals last year.
Detroit has been a streaky team this season. It is easy to get on the bandwagon when they're a hot team, and hop off it, citing their age, when they start losing games.
For Detroit, it will always come back to team and doing the little things right—whether it's watching Pavel Datsyuk stick lift someone on a backcheck, Lidstrom make a nick poke-check on an odd-man rush, or Darren Helm try and flatten someone with a body check.
Detroit does the little things right. Even when the puck doesn't seem to be going in the net, there is always a light at the end of the tunnel.
That light at the end of the tunnel is why Babcock likely has the best job safety in the NHL and why he won't be going anywhere. He'll be staying behind the Red Wings bench for the next few seasons.
Follow Isaac on Twitter for more article updates.