Chicago Cubs: Winter Meetings Preview According to Total Player Rating
November 29, 2011
Jonathan Daniel/Getty Images
There is a new sheriff in town and it has been a long time coming. The Cubs have gone out and gotten themselves a brain trust. They went from having one of the worst GMs in baseball (Jim Hendry) to Theo Espstein and Jed Hoyer. They will need every last brain cell and IQ point to move the team into the first division.
Hendry saddled the team with a ton of bad contracts. In the short-term, that means they will have to let players like Aramis Ramirez and Carlos Pena go. At least, they will have to to if they want to make any other splashes this offseason.
The roster isn't terrible, but when you look at the list of names, you would think they should do more. That is one of the great things about total player rating. It strips a player down to his very core. The Cubs have been more hype than substance over the past several seasons and until any moves are made, they will still be more hype than substance.
Infield
When we throw in Geovany Soto into the infield mix, we find the biggest group of underachievers and overhyped players this side of New York. Geovany Soto must be a Star Trek fan because he is abiding by the Trek rule of even numbers. The even number years are good and the odd number years are abysmal. Lucky for the Cubs they are moving to an even numbered year.
The best two players are likely both gone. This leaves Darwin Barney and Starlin Castro. Barney is serviceable enough across the board, but Castro is one of those over-hyped players I referred to earlier. TPR demonstrates the dichotomy that exists with some players; Castro is a nice offensive performer, but his defense brings down his overall value to just above average.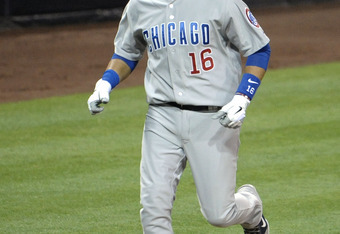 Denis Poroy/Getty Images
The fates of Aramis Ramirez and Carlos Pena are unclear. The good money has them both departing, but there are some whispers that Ramirez could return. Of course, with Prince Fielder available, the Cubs are saving their eggs for that basket. The upshot is that they may end up signing neither and be left holding the bag.
Player to Watch: Geovany Soto
Outfield
The outfield is another spot where bad contracts lie. They finally rid themselves of Kosuke Fukodome, but the brutal irony was that he was actually better than Alfonso Soriano and Marlon Byrd. He still wasn't worth the money. Soriano's contract was one of those contracts GMs come up with when they are drunk with money. Eight years is too long for anyone and especially so for a player that has part of his value tied up in speed.
Marlon Byrd's contract doesn't jump off the page, but it is another contract that was ill-conceived from the moment the ink dried. He had exactly one good season in Texas and that warranted a three year deal somehow. Fortunately, he has been better than many in the numbers game predicted, but not nearly enough to justify a big contract.
There is a hole in right field big enough to drive a Buick through. The competition seems set between Reed Johnson and Tyler Colvin. That position battle will not exactly excite the fan base in Spring Training. Colvin is a good defender, but he was dreadful at the plate. Johnson can at least hit some, so if past performance holds, he should win the job.
Player to Watch: Alfonso Soriano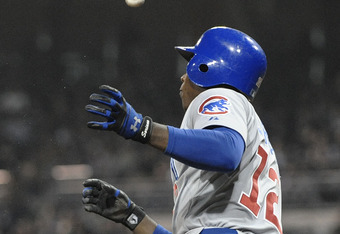 Denis Poroy/Getty Images
Starting Rotation
Hoyer and Epstein will earn their money with the rotation. Carlos Zambrano will be the biggest headache. With a new manager (Dale Sveum) and new management, he could conceivably return, but most want him gone.  Meanwhile, they must decide whether to try to compete now and prepare for when they have more money available.
Matt Garza is their best pitcher and their best trade piece. He could bring in a number of prospects, but he also is a legitimate Cy Young candidate. The rest of the lot are examples of mediocrity and overhyped and overpaid second class pitchers. Ryan Dempster and Randy Wells are prime examples.
If they can trade Zambrano they will rid themselves of a big clubhouse cancer, but also limit themselves to three experienced starters. So, while they have holes at first, third, and right field, beefing up the rotation is likely the first order of business. Added to the other holes, it is also the best example of why Epstein and Hoyer will choose the rebuilding route.
Player to Watch: Matt Garza
Bullpen
This is one of the areas of mismanagement that likely cost Mike Quade his job. Carlos Marmol has been one of the best closers in the NL, but last season some bloom left the rose. In fact, a lot of bloom left the rose. Meanwhile, Sean Marshall turned in a brilliant campaign. Yet, Marmol kept the closer job all season.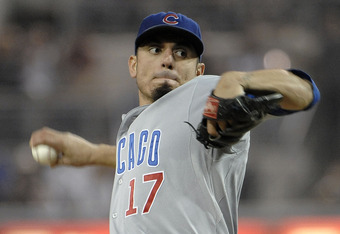 Denis Poroy/Getty Images
Kerry Wood is expected to return to reclaim his setup job. So, the Cubs' bullpen is in surprisingly good shape. They aren't loaded like the Giants or Rangers, but they do have a few good arms in there. If Sveum turns the reigns over to Marshall, the Cubs should see a slight bump in production. It won't be enough to finish above fourth or fifth, but it will be something.
Player to Watch: Sean Marshall
Winter Meetings Win
Epstein and Hoyer didn't fall off the turnip truck. They know this team is a few years away from truly competing. They aren't going to tie themselves to anything unless that player will be an integral part of their team in the middle of the decade. If they can trade Carlos Zambrano it will be a huge win. Beyond that, I wouldn't expect too much.