10 Biggest Traitors in MLB History
Ezra Shaw/Getty Images

Could David Ortiz really play for the New York Yankees next season? Surely not. The Boston Red Sox's longest-tenured leader would be an incongruous fit for the Yankees anyway, given his lack of athleticism, his left-handedness at the plate and his inability to play the field.
Even if that were not the case, however, it would be hard to imagine him in pinstripes. He is a Boston icon, Big Papi, the Moses of Massachusetts. He was the man who led the Sox back from down three games in the 2004 ALCS, the one who helped them fell the mighty Yankees and end the dreaded Curse that so plagued them.
More directly, though, it comes down to this: Great Red Sox are not supposed to go on to play for the Yankees. The reverse is also true. Same for the Dodgers and Giants (the more so back when the two teams shared New York City) and the Cubs and Cardinals. Treachery is ill-tolerated by the home folks.
Treachery in sports is interesting, because the expectation thereof implies an expectation of fealty to the uniform. That's probably not a delusion anymore; it was probably a delusion even as far back as 1974, when Cubs legend Ron Santo showed it anyway by retiring rather than play a second miserable season for the hated White Sox.
Still, many fans expect it; it's certainly still expected in the clubhouse. Loyalty to teammates is more important to most baseball people than loyalty to the team itself. One way or another, loyalty is expected of everyone who dons a uniform, but there are guys (like Ortiz, perhaps, but certainly like some of his sometime cohorts) who don't buy into it, or who outright rebel against it.
Here are the 10 biggest traitors in the history of MLB.
Begin Slideshow

»
Jim McIsaac/Getty Images

Ensconced in this Tim Kurkjian story from December of 1992 is a fascinating tale about Paul Molitor, Man About Town:
On Dec. 7, at 11:25 p.m., the Milwaukee Brewers announced that they had offered free-agent infielder Paul Molitor salary arbitration. The announcement offered hope that the Brewers could re-sign Molitor, who had played all 15 of his big league seasons in Milwaukee and has been a hero and a community leader there. Brewer general manager Sal Bando was briefing the media about Molitor's situation when representatives of the Toronto Blue Jays blew through the door and announced that they had signed Molitor to a three-year contract for $13 million. All color vanished from Bando's face as the Blue Jays walked off with his best player.
Molitor got over 2,200 hits for the Brewers. The 1992 team on which he starred finished 92-70, just four games behind Toronto. He had the city by its heartstrings; in fact, Kurkjian also reproduced a quote from Molitor some six months before leaving.
"I want it to be in Milwaukee," he said of a potential World Series title. "Any place else just wouldn't be the same."
Not only did he leave for the money, but he ended up winning that title, and after that three-year deal expired, Molitor signed on to play for the hated Brewers rivals, the Minnesota Twins. Without the six solid years he put in for those two teams, he probably would not have reached the Hall of Fame. At least he went in there as a Brewer.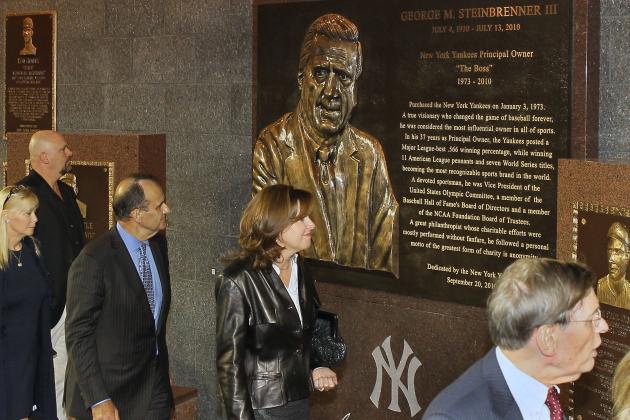 Jim McIsaac/Getty Images

Early in his tenure as Yankees owner, Steinbrenner was downright mean. He strung along the likes of Billy Martin and Buck Showalter in insulting fashion, but his most hideous betrayal was that of Dave Winfield.
Steinbrenner signed Winfield to a 10-year contract in late 1980, one that paid the slugger handsomely. Too handsomely, as Steinbrenner saw it. Escalators based on inflation allowed the deal to far outstrip the initial estimate of its worth.
That made the Boss mad—so mad that he gave this infamous quote to Murray Chass of the New York Times:
Where is Reggie Jackson? We need a Mr. October or a Mr. September. Winfield is Mr. May. My big guys are not coming through. The guys who are supposed to carry the team are not carrying the team. They aren't producing. If I don't get big performances out of Winfield, Griffey and Baylor, we can't win.
With that—calling his best-paid and highest-profile star "Mr. May"—Steinbrenner declared war. He did it so callously, too, that the back-stabbing quip still goes down as the most snide snipe any owner has ever made at his own player.
For good measure, and lest the latter-day Yankees fans only remember the championships that rolled in once Steinbrenner shut up and got out of the way, he would also go on to drag beloved skipper Joe Torre through the mud as he pushed the man out of the manager's seat. Still, Winfield's embittering experience looms as a beacon of back-handed ownership meddling.
Drew Hallowell/Getty Images

Ryan Theriot had all sorts of reasons for donning both the Cubs and Cardinals jerseys and for not minding the transition. For one thing, he was no longer wanted or needed in Chicago. Starlin Castro has replaced him. The Cubs dealt him in July 2010 to the Dodgers, who in turn traded Theriot to the Cardinals in December.
For another, Theriot is a native of Louisiana. He's Southern by birth, and the Cardinals are the team down there. He had every right to be excited to play for the Cardinals, largely because it meant getting a chance to start again in the big leagues.
That's what makes his comments immediately upon arrival all the more insulting and irritating.
"I'm finally on the right side of the Cubs-Cardinals rivalry," he told a St. Louis radio station a day after being traded.
It was all so easy. Theriot, who was immensely popular during his time in Chicago and became a sort of team spokesman, should have known better. That goes double because Theriot, a fringy player already as he turns 30, probably need not burn any professional bridges. He might not have a job next season.
Maybe he did know better, though. After all, Theriot did win a World Series the first year in Cardinals red. Maybe he was motivating himself. Hopefully, he can keep himself happy with being on the right side of the rivalry, because for the foreseeable future, the other side is going to hate his guts.
Jonathan Daniel/Getty Images

Deion Sanders felt he was being wronged during the first month of the 1993 season. The Atlanta Braves refused to pay him what he felt he was worth on a multi-year deal, but as Sanders saw it, he was losing playing time because of the standstill in negotiations.
So he left. A day after his father's funeral, Sanders ditched the 11-13 Braves and declared himself a holdout, of sorts.
To his teammates and coaches, it felt more like he was AWOL. They depended on what little positional depth they had to help boost an offense struggling to keep the game's best pitching staff afloat. The team was seeking its third straight pennant, and fellow players were making sacrifices left and right.
Sanders was still a relative low man on the totem pole, or so it ought to have been—he had scarcely more than a year of playing time under his belt to that point and was not a really special player. Moreover, he was fighting for outfield action with Ron Gant, David Justice and Otis Nixon, three markedly better and more accomplished players.
Still, Sanders left. He held out for some three weeks, until he got his new deal. In the meantime, the Braves went 12-5. His return did not quickly ingratiate him to anyone.
Nick Laham/Getty Images

Not much to see here. Houk was, by all accounts, a good man and a good baseball soldier. The only treason he committed was in search of good work. He just looked for it in unsavory places, as far as Yankees fans are concerned.
Houk spent three decades in the Yankees organization. At the time, he did so without having a healthy sense of the rivalries the Yankees considered sacred is a mystery.
Still, one way or another, Houk managed the Detroit Tigers after leaving the Yankees in the mid-1970s. That was curious enough. The Tigers had been the foremost competitors to Houk's Yankee teams for pennants in the early 1960s, and the fact that they now had a job of rebuilding to do did not quiet many critics.
Those critics must have really loved him in 1980, then, when Houk came out of retirement to manage the Boston Red Sox. The man simply did not pledge allegiance to his uniform.
Jim McIsaac/Getty Images

Houk is in the minority when it comes to Yankees-Sox defections. Many more happened the way Boggs' did. After a frustrating 1992 season in Boston, Boggs got a better offer from the richer Yankees, and he ditched the Sox for the Pinstripes.
Boggs was a strange man, meticulous and borderline obsessive about the game, often off-kilter away from it. He was most famous to non-baseball fans for being disloyal in another, more dire way, so perhaps playing for both sides of the Rivalry was not such a big deal for Boggs.
Justin Sullivan/Getty Images

Bonds, more than anything else, betrayed the trust of baseball fans. Sure, it was only the naivete of the public that kept steroids off the front burner for the first decade in which they were prevalent, but Bonds took advantage of that with greater vulgarity—and at higher stakes—than anyone before or since. He cheated, but worse, he lied about it every step of the way.
Al Bello/Getty Images

Not long after the Idiots tore down the walls and busted the curse and made the Red Sox champions again, they all began to go their separate ways. Doug Mientkiewicz, Dave Roberts, Mark Bellhorn, Kevin Millar and even Pedro Martinez were soon gone.
But King Idiot's departure hurt more than all those combined. Johnny Damon was Caveman, the hairy antithesis to the law-and-order Yankees Red Sox fans so despised. He was the outlaw, and when the Yankees convinced him to go clean-cut and deputized him, it was crushing for Sox fans.
Tug McGraw was late-game pressure and big pitches and a brazen approach and "Ya gotta believe!" He was an invaluable leader for the New York Mets in the 1970s, especially for the pennant-winning 1973 squad. The Mets eventually traded him to the Phillies, but since the Phillies were usually doormats, Mets fans could cope with the loss.
Then, suddenly, the Phillies were good. They had a losing record in 1974, before acquiring McGraw. From 1975 to 1984, though, with McGraw in the fold, they never had a sub-.500 record. In fact, they won the 1980 World Series. That gave McGraw a chance to say this, a line not soon to be forgotten by New Yorkers or Philadelphians.
"All through baseball history, Philadelphia has had to take a back seat to New York City. Well, New York City can take this world championship and stick it! 'Cause we're number one!"
Enough said? Enough said.
Rick Stewart/Getty Images

The man simply doesn't seem to be loyal to anything.
He pushed his way out of Boston. Whatever Sox fans thought of the team's feeble effort to re-sign Clemens after the 1996 season, it was Clemens who scoffed at all sorts of offers from the Sox for as much as a year prior to the expiration of his contract.
Clemens took the most money he could get that winter, signing with Toronto for $40 million over four years. Two years in, however, he pressed to be traded. He got his wish, landed with the Yankees (surprise!) and won two World Series there.
Clemens' selfishness and treason to Bostonians might have been more forgivable if the pattern had stopped there, but he rapidly made a habit of rolling teammates under the bus as needed in order to put himself first. In 2006 and 2007, he put on a farce of insulting proportion when he signed pro-rated contracts to pitch partial seasons.