Ron Santo: Why Isn't Chicago Cubs Great in the Hall of Fame?
November 28, 2011
Ron Santo played third base in the Major Leagues from 1960 to 1974, 14 of those years with the Chicago Cubs. In his career, he compiled 342 HR, 1,331 RBI and had a lifetime batting average of .277.  He was in the top five voting for the Rookie of the Year. He was a nine-time All Star, a five-time Gold Glove winner and in the top 10 for MVP four times.
Third base is the hardest position to play to get into the Hall of Fame. Third base has the fewest representatives in the Hall. Why is this? 
To understand why this man has not yet been inducted into the Hall of Fame, the obligatory comparison needs to be made. Without further adieu…
Next to the 10 third basemen in the Hall of Fame, Santo compares favorably. This is not a guy who would be getting in by the skin of his teeth. His stats are better than many of the third basemen already in the Hall. If inducted, his stats would rank like this:
Batting average: 7/11
Home run total: 3/11
RBI total: 5/11
Slugging percentage: 4/11
Stolen bases: 7/11
Runs scored: 7/11
On base percentage: Tied 6/11
Based on these numbers, he would rank fifth in stats across the board when compared to the other third basemen in the HOF.
The next obvious comparison is with anyone who played in the same era. Balls have constantly evolved over time and gloves have changed dramatically over time. Ballparks change, strike zones change—there are a myriad of changes as the years go by.  All of these things are factors in understanding player ability across generations.  Only one third baseman in the HOF played in the same era as Santo—Brooks Robinson
Robinson's career overlapped with Santo's. Of course, Robinson played in the AL and Santo in the NL.  When comparing the primary stats, Santo comes out ahead, despite having played seven fewer years.  Seven years!
                                   Santo          Robinson
BA                               .276                .267
HR                                342                .268
RBI                              1,331              1,357
SLG                              464                .401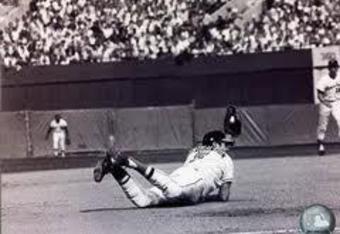 Gold Gloves                  5                    16
Robinson is widely considered the best fielding third baseman to ever play the game—a sentiment I whole heartedly agree with. But, last time I checked, induction into the HOF was not just about fielding your position. If you look at their careers in totality, Santo gets the edge—far greater production in far less time.
The one difference you'll notice between Santo and the other third basemen in the HOF, the glaring difference, is playoff and World Series appearances. Santo's Cubs teams never even made the playoffs. He never got to smell the grass in October. This fact is the basis for my third comparison. It's the extraneous variable; the one the voters must be looking at when deciding to leave Santo off of their ballots.
Of 10 third baseman in the HOF, nine played in the playoffs—many making indelible marks on the biggest of stages. Robinson was a two-time World Series champion and the MVP of the 1970 World Series. Eddie Matthews is also a two-time World Series winner.
George Brett is a World Series winner and 1985 ALCS MVP. Wade Boggs is a World Series winner and was in the playoffs numerous times. Ditto Mike Schmidt, who also has a World Series MVP to his name.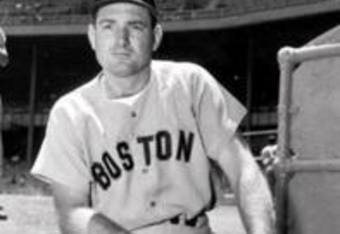 Frank Baker is a three-time World Series champion. Pie Traynor, Jimmy Collins and Freddie Lindstrom all are World Series champions.
George Kell is the only third baseman in the Hall who never played in the playoffs. In careers that both spanned 15 years, Kell and Santo's stats—with the exception of the Golden Glove award, because it was not introduced until the last year of Kell's career, 1957—compare like this:
                                 Santo        Kell
BA                             .276          .301
HR                              342           78
RBI                            1331          870
SLG                            .464         .414
Gold Gloves                 5            N/A
Santo beats Kell in every category except average. Kell has a distinct advantage there. 
In comparing against the whole (all third basemen in the HOF), comparing against a "like" subset, (Robinson) and comparing against an interesting shared variable (Kell, no postseason), Santo proves his merit every time.
I am simply lost as to why this man is not in the Hall of Fame. He isn't under scrutiny for substance abuse. In fact, he played most of career with Type 1 diabetes! Now he has passed, and to great tragedy, never saw his dream fulfilled.