Urban Meyer to Ohio State: Twitter Erupts with Reaction to Done Deal
November 28, 2011
Al Messerschmidt/Getty Images
Urban Meyer has officially accepted the job at Ohio State, which caused a social media outburst early Monday morning. 
On the heels of the Buckeyes' worst season since 2004, many fans are pleased of the new hire. In order to see how they really feel about it, look no further than Twitter, which is where most people seem to express themselves these days. 
Meyer has a great history with coaching college football, and his past accolades will certainly help bring in many recruits to the Buckeyes. Even though the school will be sanctioned by the NCAA, his presence at Ohio State will benefit the Buckeyes tremendously. 
ESPN's Mike and Mike was one of the first to break the news via Twitter. 
John Buccigross, an ESPN anchor, let his followers know about the Buckeyes' hire but also had to point out how bad Ohio State has been this season.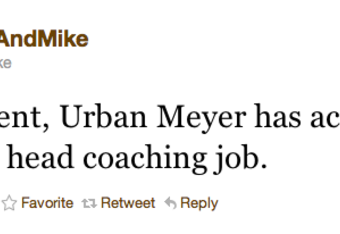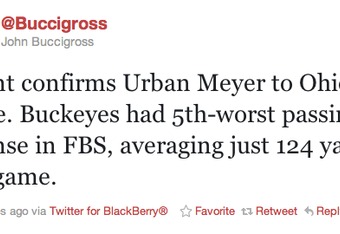 It was a rough year for Ohio State under interim head coach Luke Fickell. Without star players for half of the season, the offense took a major hit. 
Freshman quarterback Braxton Miller showed signs of greatness this season, but he still needs a lot of work.
He has the speed and is dangerous on the run, but his decision making, arm strength and accuracy are all in question. 
With Meyer headed to Ohio State, Miller will undoubtedly get better. Sports reporter Andrew Adams tweeted his thoughts on Meyer and Miller working together. 
It's not a bad call because Meyer and his system will work wonders in the Big Ten. If he can keep defense a priority for the Buckeyes, it won't be long before the team is in contention for the title. 
There was much speculation about Meyer and Ohio State during the week of Thanksgiving, but the retired coach was adamantly denying he would be coaching the Buckeyes. 
One fan tweeted how humorous this ordeal was in their eyes.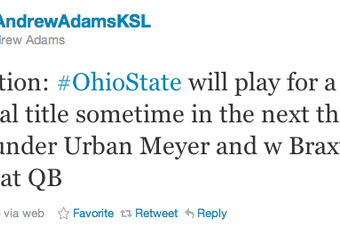 Everybody knew it was inevitable, and now the Buckeyes will be serious contenders for quite some time. 
Sportswriter Samuel McKewon tweeted how well off the Buckeyes are now with Meyer as their head coach considering how bad 2011 was shaping up to be for Ohio State.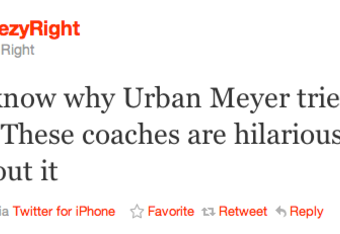 Sanctions may be a stinger for Ohio State, but with Meyer as head coach, the Buckeyes still have a bright future. 
Rich Eisen of the NFL Network quickly reminded all the Ohio State fans of how Meyer left his last job.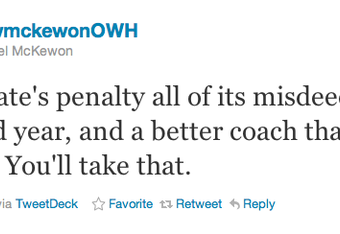 There were a lot of cracks on Meyer about joining the Buckeyes because of the reasons he left the Florida Gators. 
He claimed he wanted to rest his health and spend more time with his family. You can't deny him that, as coaching in any sports can be very stressful. Meyer had immediate success, and there was a lot of pressure to stay as the top program every year. 
After retiring, Meyer jumped on board with ESPN as a TV analyst. So much for spending time with family I guess.
This prompted some hate from Florida fans.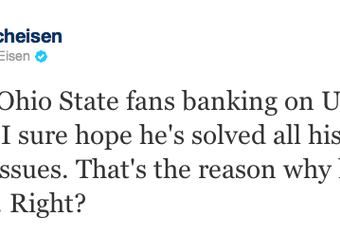 They have a right to be upset, as their season was also bad this year. Still, though, the Gators' future will be fine with Will Muschamp at the helm, so they shouldn't worry too much. 
Now that Meyer is coaching again, several people weighed in on Meyer and his family.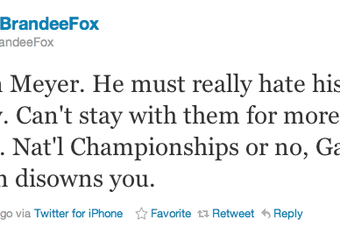 The reports are that Meyer will be signing a seven-year deal worth $40 million. 
Still, the jokes about him and his family kept coming.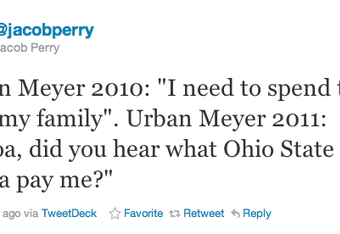 And again.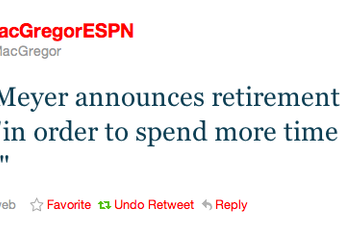 Meyer has to know coming in that the most important game of the year for Ohio State is always against Michigan. The Buckeyes had been dominant over the Wolverines, winning the last seven in a row. 
That is, until this past weekend. However, one fan points out how nervous Michigan fans should be moving forward.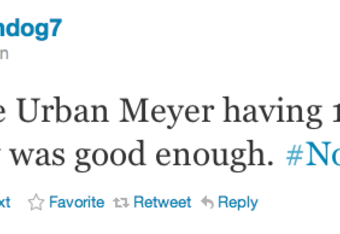 Of course, Michigan fans also had to voice their opinion on Meyer being named head coach at Ohio State. Some were harsh, but others were good. 
This fan shares how he's always viewed Meyer, until now.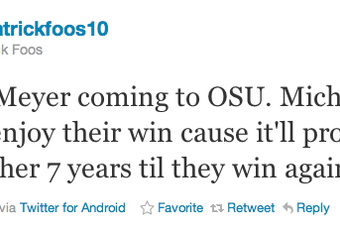 There's no denying this a great hire for the Buckeyes. The future looks good at Ohio State because Meyer excels at what he does.
They may not win big right away, but the chances of national titles are soon headed the Buckeyes' way.