BCS Bowl Predictions: Champions Being Excluded from a BCS Bowl?
November 27, 2011
Jeff Gross/Getty Images
While the debate over a potential LSU-Alabama rematch in the BCS National Championship Game rages on, the other eight spots in the BCS are still far from determined.
At this point, no team from any of the BCS conferences has clinched a BCS bowl bid.  Four of the conferences—ACC, SEC, Big Ten and Pac-12—have championship games to be played next week.  The Big East and the Big 12 still have regular season games to be played next week. Those games will eventually determine who receives the league's automatic bid.
Among the possible schools who could still receive a spot in a BCS bowl game:  Clemson, West Virginia, Cincinnati, Louisville and UCLA.  The former two are currently just inside the BCS Top 25 (No. 20 and 23 respectively). The latter three are not ranked at all. 
UCLA's situation is particularly mind-boggling. 
If the Bruins were to lose to Oregon next week in the Pac-12 championship, then they would not even be bowl eligible.  A team is bowl eligible at 6-6, which UCLA is currently, but not at 6-7*. 
This is a first in the BCS-era:  A team that is one game from playing in a BCS bowl or in no bowl at all.
Granted, the Pac-12 situation this year is a bit unique—USC is ineligible to play in the league championship since they are on probation.  The Trojans, at 10-2, would have made a terrific opponent for both Oregon and the Big Ten champion in the Rose Bowl.  As a result of USC's ineligibility, UCLA won the Pac-12 South division through a tiebreaker, despite four conference losses.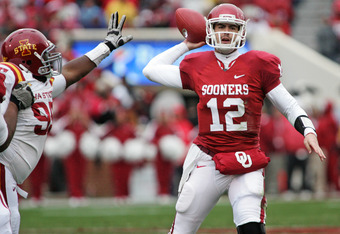 Brett Deering/Getty Images
The BCS requires a team who receives an at-large (any non-automatic qualifier) BCS bowl berth to be ranked within the Top 14 of the BCS standings.  This helps to ensure that each BCS bowl is a highly competitive matchup between two teams who played at a consistently high level throughout the season.
The BCS should extend this provision, at least in some degree, to any automatic qualifier as well. 
If a team from a BCS conference wins their league championship, they should have to be ranked, say, in the Top 16 as well.  If the would-be automatic qualifier is outside the Top 16, then their spot should open up to the pool of at-large eligible teams who are ranked 14 or higher in the BCS.
Suppose the unlikely does happen, and UCLA pulls off an upset in Eugene to earn the Pac-12's automatic BCS berth? 
The Rose Bowl will have a 7-6 team play against an 11-2 team, in either Michigan State or Wisconsin.  For UCLA, a chance to play in their home stadium against a team with four more wins than them would pretty much be the college football equivalent to winning the lottery. 
While the Rose Bowl will always be a sellout in terms of ticket sales, a matchup like that could negatively impact TV ratings.  
Compare UCLA to a number of other teams who cannot earn an automatic berth:
If Virginia Tech were to lose the ACC Championship Game to Clemson, they would still be a borderline Top-10 team, with a terrific following as well.
The loser of the Oklahoma/Oklahoma State game—which will decide the Big 12 champion—would also be a great draw in terms of both ticket sales and television ratings. 
Stanford, a team that beat UCLA by 26 points in Los Angeles earlier this year, could qualify as an automatic if they can creep up one spot to No. 3 in the BCS.  Otherwise, they would have to qualify as an at-large.  The Cardinal does not have the same fan following as the aforementioned schools, but would help create a great matchup against Wisconsin or Michigan State in the Rose Bowl.
Don't forget Boise State, who would certainly be another at-large option, currently ranked No. 7 in the latest BCS standings.
The teams listed above will likely finish in the Top 14 of the BCS standings, barring a dramatic shift in the rankings.  As long as the conference they are in does not already have two teams in the BCS, they should be eligible to take the place of an automatic qualifier who is not ranked 16 or higher.
Even if enacted, these changes couldn't take effect until after the 2013 season, the final year of the current BCS agreement. 
However, what's happening this year certainly could repeat itself in future years.  The number and quality of teams in the Big East has been significantly diminished.  There are more BCS-conference championship games, where one participant could be ranked significantly lower than the other. 
This certainly would not be a perfect solution—the BCS will never be a perfect system—but at least it would help create a set of BCS bowl games that will draw as much as national interest as possible. 
Having Clemson and Cincinnati in the Orange Bowl, or UCLA in the Rose Bowl, will not accomplish that objective.
*Note:  UCLA may still be able to play in a bowl with a record of 6-7.  However, they must be granted a waiver from the NCAA in order to do so.