Boston Red Sox: Winter Meetings Preview According to TPR
November 27, 2011
Rob Carr/Getty Images
Boston had one of the more impressive September collapses in baseball history. Yet, it has been the aftermath that has been even more impressive. Ben Cherington is now the general manager and they are looking for a manager. Meanwhile. players were supposedly drinking and eating fried chicken during the game.
The situation is almost like a bad movie. Paranoia sets in, everyone starts pointing the gun at each other and before you know it everyone is dead. In the end, the culprit is very easy to spot, but when hysteria sets in, there is no telling who will survive and who won't.
The Infield
The Red Sox might have the deepest lineup in baseball. It appears that Jarrod Saltalamacchia has finally arrived as a regular. He isn't the star that people thought he would be, but he is decent enough on both ends. Meanwhile, Adrian Gonzalez and Dustin Pedroia were legitimate All-Stars. Kevin Youkilis looked like he would be the third member of that group, but missed the last couple of months with injury.
The club brought Marco Scutaro back to solidify the shortstop position, so there really are no question marks on the infield. Really, there never were. Losing Youkilis down the stretch hurt. He will be entering his second season at third base, so expect him to look more comfortable over there this year.
Player To Watch: Kevin Youkilis
Outfield
Theo Epstein threw the Brinks truck at Carl Crawford and Jacoby Ellsbury ended up putting up Crawford's numbers. The deal was a horrible idea, but there is no reason why anyone should have expected last year to happen. He should bounce back in all three phases. The deal will look bad a few years from now, but for now, Crawford should be the Crawford he was in Tampa Bay.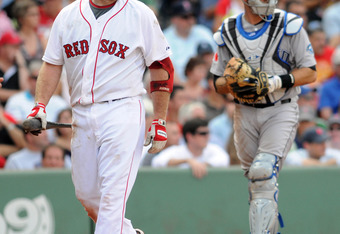 Darren McCollester/Getty Images
Ellsbury has blossomed into a star which leaves only right field as a question mark. Josh Redick performed ably when J.D. Drew pulled one of his disappearing acts. Cherington must decide whether to keep Redick in there or to go with one of the high profile free agents. The fans will clamor for Carlos Beltran, but there is enough evidence to suggest they would be better off with Redick.
Player To Watch: Carl Crawford
Starting Rotation
This is where everything went awry. A rotation that looked deep at the beginning of the season suddenly became paper thin. Josh Beckett had one of his better seasons and Jon Lester is as steady as they come. After that, it got shaky really quick. Clay Buchholz went down with an injury, so they turned to Erik Bedard. Someone breathed on him, so he couldn't finish the season.
Daisuke Matsuzaka went down and had major arm surgery. John Lackey had an historically bad campaign and now will have Tommy John surgery. As you might imagine, the Red Sox were using anyone they could find down the stretch and it got pretty ugly. Cherington needs to keep it simple and rebuild the pitching staff. Everything else is a distraction.
Player To Watch: Clay Buchholz
Bullpen
This is another spot where fans could overreact. Jonathan Papelbon flew the coop and went to Philadelphia. Throughout parts of the past two seasons, some believed Daniel Bard should be the closer. Well, now he could get his chance. Of course, if Red Sox fans had their way they would sign Heath Bell or someone like that.
The depth in the pen is sneaky. They had Dan Wheeler and Bobby Jenks in the fold, but neither did much last season. Who knows, maybe they will be heard from again. Alfredo Aceves was nails down the stretch as a swingman and Matt Albers was also solid. They will spend money on the pen, but they really don't need to.
Player To Watch: Daniel Bard
Winter Meetings Win
Ben Cherington could get talked into beefing up the bullpen or signing a marquee right fielder. He will win at the winter meetings if he keeps his focus on the rotation. If he can walk out of the meetings with one or two more solid starting pitchers the Red Sox will reclaim their spot as the favorite in the AL East.