UCLA Football: An Open Letter to Rick Neuheisel
November 27, 2011
Stephen Dunn/Getty Images
To whom it may concern (i.e. Rick Neuheisel),
Congratulations! In just one night, you managed to drag UCLA, the beloved alma mater that you and I share, to the nadir of its long and at-times illustrious history in college football while staining the very image of the university and leaving diehard Bruins like myself pining for the "good ol' days" of Karl Dorrell.
To be fair, it took you quite a bit more time than just 60 minutes of play to render such devastating harm to the Blue and Gold. This was the culmination of four years of blood, sweat and tears, of a concerted effort to humiliate the Sons of Westwood.
It was all there in microcosm against USC on Saturday night—the missed opportunities, the talent (and yardage) squandered, the gaffes by the poorly-coached players, the mismanagement from the sidelines.
And, of course, the beating administered by all the one-time recruits you and your patchwork staff could never seem to steer to the Westside.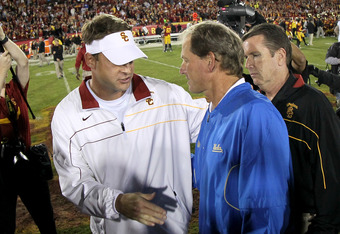 Stephen Dunn/Getty Images
Even after Pete Carroll bolted to the NFL. Even after 'SC hired Lane Kiffin, who came off as an impotent child during his one year at Tennessee. Even after the NCAA slammed the Trojans with a two-year postseason ban and three more years of scholarship reductions.
Somehow, even after all that, you not only failed to gain ground, but, more egregiously, gave up much more. You talked recently about "closing the gap" between us and 'SC, but have only widened it, if not fallen into it entirely. Kiffin has proven himself to be a solid coach, but your ineptitude across town has made him look like a Boy Wonder by comparison.
This, after you proclaimed that the "Monopoly" was over upon your arrival, though you have yet to pass go, collect $200 or even so much as make it past Park Place.
Beyond the charisma and the tough talk, your act proved only to be a fly-by-night operation. Triumphant as your return appeared to be, you were in well over your head, without so much as a strategy for success, not unlike President George W. Bush pushing the US into Iraq back in 2003.
Luckily for us, there's a clear exit strategy this time and you'd do well not to let it hit you where the good lord split you on the way out.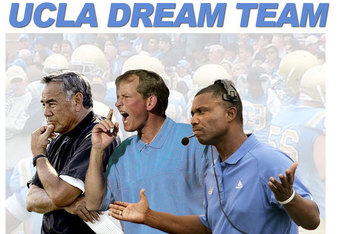 Your first bright idea was to compile a coaching staff of big names and even bigger pedigrees. You reintroduced yourself to the community at halftime of a UCLA basketball game in 2008, flanked by your "Dream Team" staff—Norm Chow as the offensive coordinator, DeWayne Walker as the defensive coordinator.
Both former assistants under Uncle Pete across town.
But that didn't quite work. Walker left for the head gig at New Mexico State, where he's since had about as much success winning people over as you have here. You butted heads with Chow, never truly wanting to cede control of the offense to a man who'd made a career of grooming NFL quarterbacks and organizing high-powered attacks.
So when that didn't work, you decided to reshuffle your staff and try a new offensive scheme—the "Pistol." It worked so well for Chris Ault at Nevada. Why not in Westwood?
Answer: because Chris Ault knows how to run it, and because he knows you're not supposed to put the quarterback in harm's way time after time.
Which is exactly what you did with Kevin Prince, an injury-prone quarterback coming out of Crespi Carmelite High School whose lingering fragility didn't mix so well with punishment on play after poorly executed play.
So when that didn't work, you brought in Jim Mastro from Ault's staff to be the "run game coordinator" and Mike Johnson from the San Francisco 49ers to be your "passing game coordinator."
Because, clearly, he had so much success with Alex Smith up in the Bay.
What's worse, you did all of this before you told Chow to beat it! The university, already strapped for cash, is still on the hook for his seven-figure salary.
As the late, great John Wooden once said, "Never mistake activity for achievement." In four years, you've "done" plenty—hiring and firing coaches, squandering 5-Star talent—but haven't achieved anything noteworthy.
Except for the most embarrassing loss to the Trojans since 1930 and, lest anyone forget, a spot in the Pac-12 Championship Game! Oh joy, what more could a Bruin like myself ask for than another opportunity to watch my football team get beaten out behind the woodshed by Oregon, another conference titan, on national television.
I can't wait. Or maybe I can. Or maybe I'd just rather not see you coach another game.
Never in my wildest dreams did I ever think a coach at UCLA would manage to combine all the worst elements of your two predecessors into one wholly unwatchable quagmire. Your players exhibited the same sort of negligent immaturity, both on and off the field, that ultimately got Bob Toledo canned, and they couldn't even win as frequently as Karl Dorrell's players did.
As though that should be the new standard to which the Bruins aspire.
You, my not-so-friend, are the Music Man of the Pac-12. You've flown into town at three different schools—Colorado (when it was in the Big Eight and then the Big 12), Washington and now UCLA—swindled their administrations for your salary and left things worse than you found them.
The Buffaloes regained some measure of success under Gary Barnett, though he was ultimately undone by his own transgressions. The Huskies are only now beginning to emerge from the swoon in which you left them, though even Steve Sarkisian, USC's other Boy Wonder, has yet to restore UW's once-proud football program to its former glory.
I can only hope my Bruins won't need a full decade to recover from your abuses. I can only hope the next guy up will be smart enough and pragmatic enough to clean up your mess before he gets sacked, too.
All I ask of you now, Slick Rick, is that you do the right thing—tender your resignation to athletic director Dan Guerrero, effective immediately. Don't wait for him to do a "full review" after another shellacking. Spare yourself, and us, the grief of having to watch you throw your arms up in helpless disgust, as though there never was a Plan B or C or D, for that matter.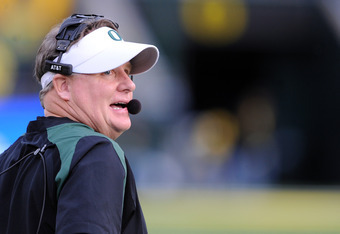 Steve Dykes/Getty Images
And if you do travel with the team to Eugene, stay there. See if Chip Kelly has a place for you on his staff, perhaps even as a graduate assistant. I'm sure you could learn a thing or two about coaching from a guy like him, who's well on his way to his third Pac-12 title in as many years at the helm.
Do the right thing, do what's best for the university that you say you love so much, and either refuse the money left on your deal or donate it back to the school, maybe even to a new scholarship fund.
Scratch that idea. We wouldn't want UCLA condemning its own students to a life of failure.
As is the case with any major university with as successful and visible athletic department as UCLA's, the football team is the image of our school that prospective students, wealthy donors and regional philanthropists are most likely to see. The football team is the most important advertiser of UCLA.
The message you've sent, in four years if not simply four quarters of putrid performance, is that UCLA is for losers. You've turned UCLA football, albeit not exactly the most highly regarded institution in college sports, into a sleazy infomercial.
The Vince Shlomi of coaching, and indeed, the product you sold was a ShamWow!
But mostly just a sham, and one that left more of a mess than it could ever hope to rectify.
So run, Rick. Run far, far away and don't ever come back. You're not welcome in Westwood anymore. Your stewardship of Joe Bruin has been a disgrace to the community, a blight to the university's reputation and a severe disappointment to all of us who want so desperately to to cheer on and support our Bruins.
You had your chance for a triumphant homecoming and you failed spectacularly in your efforts.
Good riddance.
Sincerely,
Bruins fans everywhere, the few of us that are left