USC Trojans Crush UCLA Bruins and Makes Pac-12 'Championship' Game a Joke
November 27, 2011
Stephen Dunn/Getty Images
The No. 10* USC Trojans (10-2, 7-2 Pac-12) buried the UCLA Bruins (6-6, 5-4 Pac-12) 50-0 and sent a message to the college football world.
Not only are the Trojans back in the top of college football, but the Pac-12 Conference "championship" game is meaningless because the best team is not there.
USC obliterated UCLA with an offensive performance that included:
* QB Matt Barkley (35-of-42, 83 percent, 423 yards, six TDs, zero INTs) tying his own USC single-game TD record and breaking the single-game completions record with 35 (last completion to his cousin walk-on WR Robbie Boyer who made his first reception) and the Pac-12 season TD record with 39; he also broke the USC pass completion percentage record with 69.1 percent
* Sophomore WR Robert Woods setting the conference single-season receptions record with 111 receptions
* Freshman WR Marqise Lee adding 13 catches for 224 yards and two TDs
* RB Curtis McNeal (12 carries, 124 yards, 1 TD) breaking 1,000 rushing yards
The Trojans defense shut the Bruins down most of the game and while they sometimes gave up yardage, there were no scores.
USC earned straight-A grades from ESPNLA's Pedro Moura.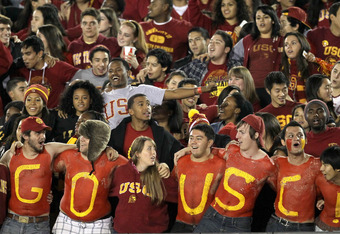 Stephen Dunn/Getty Images
The Trojans are ineligible for a bowl game due to the unfair NCAA sanctions so this game was played for pride, and Trojan fans could not be prouder of this team.
The Trojans are playing as good football as any team in the nation after beating the then No. 4 Oregon Ducks last week in Autzen to break their 21 consecutive home win streak and dominating the Bruins on Saturday.
This means that USC beat both the Pac-12 North and South division representatives in the "Pac-11" championship game the past two weeks.
This is Pac-12 Commissioner Larry Scott's worst nightmare.
Scott is the same guy who did nothing to help USC deal with the NCAA to avoid the most unfair sanctions in the history of college football, unlike his SEC and Big Ten counterparts who supported their schools.
We won't even discuss some of the ridiculous reprimands, fines and suspensions that he levied this season.
However, Scott's disdain for the Trojans is highlighted with the Pac-12 statement that "USC can say it finished first, but not champion [of the South division]."
Ted Miller of ESPN succinctly states, "USC can say it finished 'first,' if it beats UCLA. And the Bruins can call themselves 'champions' even if it loses."
Not only is this ridiculous, but the Pac-12 doesn't seem to understand the definition of a "champion."
Merriam-Webster defines "champion" as "a winner of first prize or first place in a competition."
So if USC can say it finished "first" then it is also the "champion."
The only rule in the Pac-12 rulebook that covers this situation is:
"Eligibility for Conference Championships.

An institution prohibited from competing in post-season competition by the NCAA or the Conference shall not be eligible for the Conference Championship in the cited sport(s), but its games against Conference opponents shall count in the Conference standings. Such an institution also may not compete in a Conference event that determines the Conference's automatic qualifier for the NCAA Championship in that sport. (12/81, 6/03)"
There is nothing in this rule that says USC cannot be the South division champion while still being ineligible for the championship game.
It is bad enough that the NCAA, Big Ten and SEC make up rules to serve their agendas, but you would think the Pac-12 wouldn't need to resort to this to attempt to legitimize the first conference championship game.
Congratulations to the USC Trojans for being the Los Angeles city champions, and first place and champion in the Pac-12 South division. You look good in your USC Football 2011 South Division Champions shirts.
At least the Trojans don't have to participate in a Pac-12-designed Friday night format in Eugene again after beating the Ducks there last week.
A by-product of this victory is that UCLA will probably be saying goodbye to Coach Rick Neuheisel. It is pretty clear now that the gap he says is narrowed with the Trojans is still an abyss.
While Trojans fans made it very clear to Matt Barkley that he is needed for "one more year," it will be a difficult decision for him. Both his Heisman and NFL stock have increased in recent weeks, and it will be difficult to put the NFL off another year.
However, it is also hard to pass up the once-in-a-lifetime experience that next season at USC would offer as a likely preseason top five team and run at the national championship. The Trojan offense would be the best in the nation with Barkley, and even OT Matt Kalil said he would return with him.
Barkley has earned the respect of all Trojans fans so let's support whatever decision he makes.
It is a good time to be a Trojans football fan.
*Week 13 AP ranking