Cleveland Cavaliers: How the Roster Looks Now and How It Could Change by March
November 27, 2011
Streeter Lecka/Getty Images
Now that the NBA Lockout has ended (finally) and teams are free to start talking free agents and trades before the new deal is officially ratified by the majority of the players and the owners, I figured it was an appropriate time to take a closer look at the Cleveland Cavaliers roster.
As of right now, the Cavs are obviously facing an uphill battle before the season even starts. They will be relying on young players and guys past their prime to get the job done more than anything else.
As far as the roster looks, it's pretty straightforward; we're in for a struggle.
The Cavaliers Roster Right Now
As it looks today, the Cleveland Cavaliers have a lot of pieces to a puzzle, but they don't have the box to look at and see where they fit. Hell, they don't even have the luxury of having any edge pieces to figure out where to start.
A starting five on day one will likely not include Kyrie Irving, as Byron Scott has always been a more traditional coach, but I do see him getting worked into the starting lineup a few weeks into the season.
The first five on the court on Day One should be Ramon Sessions (I see amnesty coming for Baron Davis), Anthony Parker (all signs point to him being re-signed, but if not, Boobie Gibson could get the nod), Omri Casspi, Antawn Jamison and Anderson Varejao.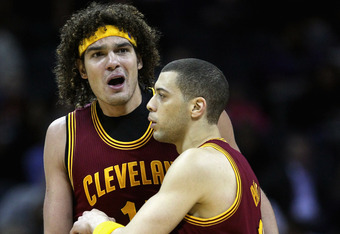 Streeter Lecka/Getty Images
Obviously, this lineup seems like a mash-up of playing styles and personalities, with Sessions, a good teammate and a point guard who is still learning and Parker, a grizzled veteran rounding out the frontcourt.
The backcourt features three very different playing styles and three different nationalities. Omri Casspi, from Israel, is an analytical small forward who plays with the flow of the game, rather than controlling it like many small forwards these days.
Antawn Jamison is a no-defense volume shooter who works best as the third or fourth option on a good team; and Anderson Varejao is a defensive stalwart who has grown beyond his reputation as an energy player.
How these five blend together is beyond me. It could be nice cosmopolitan of styles and personalities that they have a nice, scrappy cohesive unit, or it could blend together about as well as a steak-and-banana milkshake.
The bench would feature two players who should eventually be in the starting lineup with Kyrie Irving and Tristan Thompson, who should make big impacts. After that, Gibson and Christian Eyenga should be the next two off the bench.
Promising young Samardo Samuels should compete with Ryan Hollins for minutes and then Joey Graham, Alonzo Gee and Manny Harris will round out the rotation, with Luke Harangody getting a minute or two here and there along with Semih Erden when he returns from his injury.
Look for many growing pains from this group of guys, but growing pains are better than no pains at all.
Cleveland After the Trade Deadline
The trade deadline this year looks to be pushed back to March, which gives the Cavs plenty of time to decide what to do with their roster.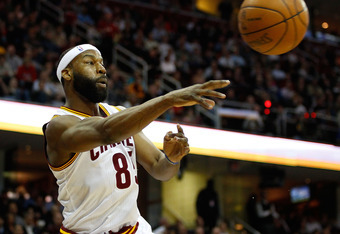 Jared Wickerham/Getty Images
The three best candidates to end up on a new team would be Sessions, Jamison and Davis.
First Sessions, who is almost guaranteed to get traded. The Cavaliers have a logjam at the point guard position, something that we have been harping about ever since they drafted Irving back in July. Sessions is the obvious candidate to be on the way out because of the value he has right now.
Cleveland put him in a position to excel and he did just that, so he should be worth something around a first-round pick from a title contender. Most likely I see the Lakers, Heat and Knicks showing interest in him, although he could end up in many cities.
Antawn Jamison will likely end up finding a new home because he still holds some value in the league. He's still able to shoot the ball and if he's on a team that's competing for a playoff spot, he's not absolutely useless on defense.
Cleveland will give him up if they get what they're looking for, but they could end up just letting his contract run out and taking the cap space. I'd say there's a 50-50 shot Jamison gets shipped out.
The ever-puzzling player continues to be Baron Davis. On one hand, it seems obvious that they should use their amnesty on Davis. However, when you look at the fact that they're going nowhere fast this season, and the fact that his attitude seems to be changing a bit, he could end up being valuable next season.
Sure, Cleveland could cut his salary and, with Jamison coming off the books in June as well, could end up with a salary under $30 million by the time free agency starts. However, if they don't see it possible to sway a major free agent their way, they could hang onto him to trade next season.
In the end, I see the Cavs taking the safe route and using the amnesty on Davis, which could end up being bad or good.