Washington Huskies Football 2011: What We Learned in Week 12
November 27, 2011
Keith Price was back to his usual antics as he tossed three touchdown passes in a 38-21 victory over rival Washington State (4-8, 2-7)
Those three touchdown passes catapulted Price in to Husky record books as he surpassed Cody Pickett in total touchdown passes in one season with 29.
Washington (7-5, 5-4) set the mood defensively after a blocked punt that was returned by running back Jesse Callier, putting the Huskies up 7-0 early in the first quarter.
The Cougars hung with the Huskies up through the half until Kasen Williams stole the show.
After a 16-yard touchdown grab early in the first quarter, Williams hauled in another ball, this time a casual screen pass and hurdled over Cougar defensive back Nolan Washington on his way to a 18-yard gain.
Williams wasn't done showing off this drive as the next play resulted in a 21-yard touchdown reception, putting the Huskies up 21-14 heading in to halftime.
It was all Huskies in the second half as they outscored the Cougars 17-7 and came away with their third straight Apple Cup victory.
Now what have we learned after this victory?
1. The offense got back in to the flow that got them five wins in their first six games and it all started with No. 17, Keith Price. Price has not been 100 percent healthy all season and it has showed in recent games and kept him out of the game last week against Oregon State. This game was a well needed pick me up for Price as far as confidence goes heading in to a bowl game. The offense leaned on Chris Polk to keep drives going as he ended the night with 136 total yards of offense, 100 coming on the ground. Polk reached the end zone once through the air and another on the ground. Polk will have to rush for 204 yards in the bowl game in order to surpass Napoleon Kaufman on the school's all-time rushing list.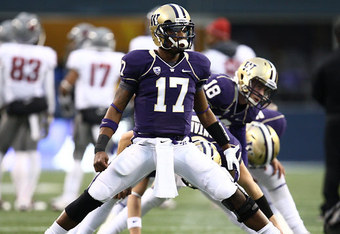 2. The defense is continuing their bend but don't break attitude. The Huskies gave up 344 yards through the air and gave up five 25 plus yard plays to the Cougars. But the Huskies made plays when they needed to. The Huskies forced two turnovers, blocked a punt and sacked Marshall Lobbestael seven times. The Huskies needed to finish the season on a good note defensively to build confidence heading in to December football.
3. Kasen Williams had his coming out party against the Cougars which makes Husky fans that much more excited for his future in this program. Williams had a career day hauling in five passes for 74 yards and notched two touchdown receptions. With Jermaine Kearse and Devin Aguilar graduating after this year, expect Williams to step in to the number one spot on the depth chart next year. But as for right now, Williams is becoming the Huskies' most reliable receiver. He has big play ability not necessarily with his speed, but with his size which allows him to break tackles and move up field.
4. A lot of questions are looming around the Huskies' offense line. After a season ending injury to starting left guard Collin Tanigawa, the Huskies have been shuffling around players the past two games. Rumors swirled around early this week that right tackle Erik Kohler might be switching to left guard and redshirt freshman Micah Hatchie could start at right tackle. That wasn't the final verdict as Erik Kohler started again at right tackle and senior offensive lineman Nick Wood stepped in at left guard. Throughout the game the Huskies shot themselves in the foot with holding penalties and couldn't get Chris Polk going early in the game. That needs to be changed and fast if the Huskies want to win their second consecutive bowl game.
5. Senior defensive back Quinton Richardson is obviously the weakest link in the secondary, if not in the whole defense. Richardson was put up against Cougars wide receiver Jared Karstetter the majority of the game and in that time he allowed Karsetter to haul in nine receptions for 82 yards and a touchdown. But Richardson's worst play of the night came on a forced fumble and Richardson had an opportunity to jump on the ball but instead tried to play hero and pick up the ball only to be knocked back by Cougar quarterback Marshall Lobbestael who ended up recovering the fumble. Other than Richardson, the defense played extremely well, most notably being redshirt freshman defensive end Andrew Hudson who finished the game with five total sacks.