NFL Injury Report: The Key Injuries That Could Cripple Your Fantasy Team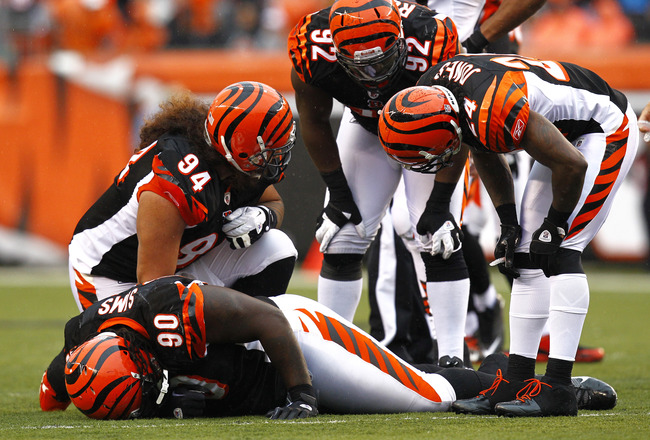 Tyler Barrick/Getty Images
Andrew Garda is a staff writer at Footballguys.com. Check them out for rankings, projections and player analyses. More than 50,000 pages of content every year to lead you to the championship.
As we close in on the fantasy playoffs, there are still some studs we could mark "Missing in Action." Guys we were either counting on staying healthy or returning from injury in time to carry us to the fantasy playoffs—and a title.
Instead, we have several elite players either still out with a lingering injury or just now getting banged up right when we need them.
We can only hope that at least a few of the following players rebound, and quickly. Otherwise all our careful planning and scheming will be about as useful as tofurkey at...well most people's Thanksgiving dinners.
Here are five players who are looking to give you post-Thanksgiving indigestion.
Micheal Vick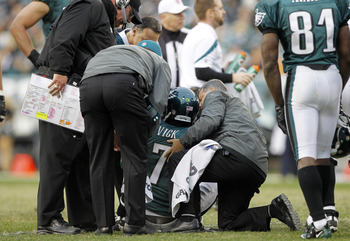 Rich Schultz/Getty Images
The news this weekend is hopeful: Mike Vick could very well start Thursday's game against the Seattle Seahawks. The bad news is, he's definitely out this week.
Vick hurt his ribs at some point in the Week 10 game against the Arizona Cardinals and has been healing since. He hasn't practiced in some time and we won't know for sure what his status is until Wednesday. If he practices on Wednesday there's a chance...but even if he does it's no sure thing.
On a practical fantasy football level, this is about the worst time for such uncertainty. You're gearing up for the playoffs and you could use the points now. So it'd be great to see him out there. On the other hand, it's a rib injury and Vick leaves himself open to some whopping hits.
I see a distinct possibility that Vick aggravates—or worsens—the rib injury he has.
If you own Vick, chances are you paid a handsome price for his services, either in the form of a high draft pick or multiple players in trade.
You did it because you were convinced that he was going to have a phenomenal season that, forgoing a top running back or wide receiver or giving up a stud at another position, would be offset by the totals a phenomenal running quarterback like Vick could get you.
I was always dubious of this and here's why. The man just gets hurt too much. Hopefully you planned for this eventuality and have a very good backup who you have been using the past couple of weeks.
The reports are he is getting better and that's a relief. However you have to be ready for him to go down again and every week from here on out is a critical one where his loss could cost you your fantasy season.
Adrian Peterson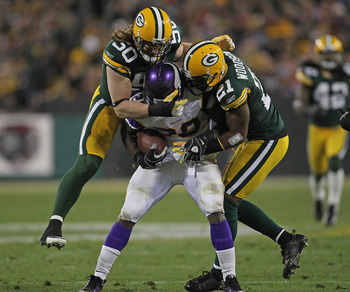 Jonathan Daniel/Getty Images
Like Michael Vick, Adrian Peterson is a guy you took high in your draft and were depending upon to carry you through the fantasy season and playoffs.
Unlike Vick, he's a guy who does not have much of an injury history. Yet his loss will hurt you just as much.
Peterson appears to have a high ankle sprain, and according to head coach Leslie Frazier, he was far from ready to go for Sunday's game.
"When he got up on his toes to plant or make a cut, that's where he had trouble," Frazier told the St. Paul Pioneer Press.
Nothing worse for a back than being unable to make sharp cuts and breaks. Not only that, but this will hurt his acceleration and burst as well.
Peterson is one tough hombre and was boasting he would be back soon, but a high ankle sprain can sideline a player for weeks.
I would rather see Peterson shut down for a couple of weeks and try to muddle along without him than lose him for the fantasy playoffs.
Of course, not having him now might make the playoffs hard to get into in the first place.
Fred Jackson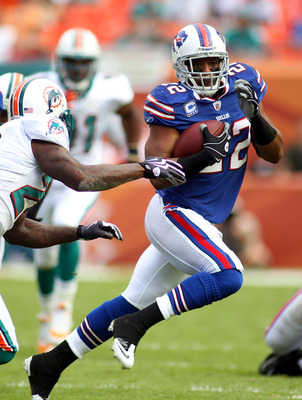 Marc Serota/Getty Images
Of all the recent injuries we've talked about in this column, no injury has gone from bad to worse quicker than the one Bills running back Fred Jackson sustained.
First, it was his calf. Then he missed Wednesday's practice. That same day he was ruled out of Sunday's game against the Jets. Then the reports came in that it wasn't his calf but his fibula.
Then before you could say Ron Burgandy, Jackson was placed on injured reserve.
Jackson was the No. 3 overall fantasy football running back. Sure, you got him at a bargain compared to the first two guys on this list and compared to most other running backs. However, I'd bet good money that he was integral to your fantasy success so far.
To lose him so close to playoffs is devastating and it's not going to be easy to replace him. C.J. Spiller has looked terrible so far this season (and had a whopping 2.9 ypc against the Jets Sunday), rookie Johnny White is very green and Tashard Choice has had less than a week to get up to speed on the offense. It showed as he had negative eight yards (with a long carry of negative three) on two carries.
Even with some good matchups, I'm not sold on any of them as a replacement.
The outlook is grim for Jackson owners.
Ahmad Bradshaw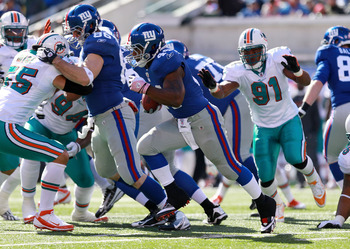 Nick Laham/Getty Images
Ahmad Bradshaw has been in this column before—which makes sense since he's been down for the count since Week 8.
That's already brutal for owners but I don't think I feel much better as he didn't practice again last week.
So this lingering injury remains a huge burr in your saddle as we approach the fantasy playoffs and the question is, will you have to do without him during those playoffs? If you don't have Brandon Jacobs there's not much else there to draw from. DJ Ware is hurt and Da'Rel Scott didn't look great last week.
Bradshaw's initial injury was downplayed by the media and team but it always looked bad to me. Any time you see a guy re-injure a foot he's already hurt before it can't be good.
The longer it goes, the worse it seems for owners.
Matt Leinart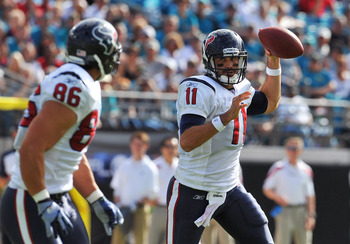 Al Messerschmidt/Getty Images
Now you are going to ask me how an injury to Matt Leinart—a guy who it's unlikely was high on anyone's "stud" list even in this offense—is going to submarine your fantasy season?
Well it's less about Leinart and more about the ripples his injury sends out.
First of all, the Texans will look to rookie TJ Yates, a middle of the road prospect really more a placeholder quarterback than someone who can step right up and fill in. He lacks the size and athleticism teams look for in a starter (or even a developmental prospect) and his arm strength is average at best. Yates also is prone to bouts of inaccuracy.
You can't plug him into your fantasy team and I'd argue he's not even worth a roster spot.
Yates' presence could change things for a few of your other fantasy studs as well—and not in a good way.
Andre Johnson
Things looked bad enough with Leinart not stretching the field in the first half and replacement Yates' statline was not much more encouraging, as he went 8-of-15 for a whopping 70 yards in just over two quarters. On top of that, Johnson was targeted just three times.
Johnson will undoubtedly have better games and as Yates gets first-team reps, might bond with the new quarterback. However, I am very concerned that his output will be very streaky the rest of the way and that could hurt owners who have been hanging on for his return from injury, hoping he will start putting up 100-yard games.
Arian Foster
Teams will not back off the run until someone beats them through the air. The Jaguars were without key defensive linemen like Terrance Knighton and Aaron Kampman and yet they still managed to slow Foster down and bottling him up for just 65 yards on 22 carries. Foster added a touchdown and then some nice receiving yards but with Yates (or backup Kellen Clemens or whatever veteran they grab off the street) and not Schaub in at quarterback, Foster will be facing some tough stacked fronts.
Of course, we know the Texans will run the ball early and often, so that's good for Forster and his partner, Ben Tate. The yards could be tough to come by though.
Keep Reading