Andres Iniesta, Lionel Messi: Is Iniesta More Valuable to FC Barcelona?
November 27, 2011
David Ramos/Getty Images
The gap at the top of the La Liga table is now six points. Real Madrid won convincingly in their derby match 4-1 against Atletico Madrid, with Cristiano Ronaldo scoring two penalties and Angel di Maria and Gonzalo Higuain adding the other two goals.
Meanwhile, Barcelona, needing to keep pace, traveled to the Coliseum Alfonso Perez and suffered a shock defeat to Getafe, ending their 27-game unbeaten streak.
For Barcelona, the story was a familiar one this season: dominate possession, create chances, but fail to capitalize. On paper, Barcelona looked the much stronger side, but in the match, one key player was missing—Andres Iniesta—and it showed.
In fact, out of the five matches in which Barcelona has dropped points, Iniesta missed two games, was a late substitute (81st minute) in another, and played out of position in a fourth. Most people agree that Messi is the key to this team, but it's easy to overlook just how important Iniesta is as well.
By now, most soccer fans are familiar with Barcelona's free-flowing, attacking, tiki-taka style of play. The style requires players comfortable playing in multiple roles, comfortable with the ball at their feet and willing to put the team ahead of themselves.
This exemplifies Andres Iniesta.
A graduate of Barcelona's famed youth academy, La Masia, Iniesta has won just about everything there is to win in soccer (he scored the winning goal for Spain in the 2010 World Cup final), minus world player of the year. But on a team with players like Lionel Messi, David Villa, Xavi and Cesc Fabregas, his importance is easily overlooked at the club level.
That's a big mistake.
Another critical part of Barcelona's playing style is the need for players who can dribble at defenders with pace in order to create space. Lionel Messi is the world's best at this, but on Barcelona, Iniesta is quickly becoming a close second.
In comparison, Thiago still needs time, Alexis Sanchez is still getting used to the system, Pedro lacks the on-the-ball skill, David Villa is much better off the ball and Cesc Fabregas lacks the pace.
When both Iniesta and Messi play, teams can't just focus on stopping Messi's runs, but when Iniesta doesn't play and teams shut Messi down, Barcelona's attack stagnates.
Especially with the reliance Barcelona places on playing from the back, Iniesta, like Messi, is able to accept the ball in tight areas in midfield, make a move, and explode forward toward the opponent's back line in one fluid motion. With Xavi linking up the back line and midfield, Iniesta provides another outlet for creating space in the opponent's attacking third.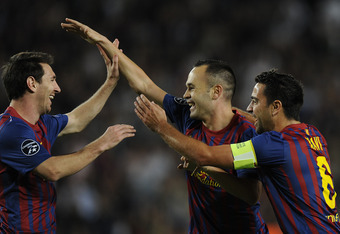 David Ramos/Getty Images
This season, Barcelona's poor play without Iniesta is even more obvious than in other years. There are several reasons for this.
First, without Pique and Puyol's (both have had injury issues) covering, teams have been taking advantage of Dani Alves' gallops down the right sideline (Valencia was masterful at this). Mascherano has done a great job filling in, but still, Dani Alves has had to stay home, eliminating the one-twos he plays so well with Messi.
Second, in tight games, Barcelona has lacked finishing. Although the team is still creating chances, it isn't putting away the difficult chances as well. Part of this is Pedro's injury, part of it is David Villa's lack of form, part of it is Alexis Sanchez's poor finishing but most of it is that teams just can't rely on putting difficult chances away.
Without Iniesta, Barcelona just doesn't create as many good chances.
And finally, teams have started to figure Barcelona out. Attacking Dani Alves is an example, but that's something teams have known for years. Other examples include pressuring Mascherano when he's on the ball, staying with Villa on his diagonal runs better and exploiting space created by Barcelona's pressing.
Of course, let's not get carried away—this Barcelona team is still a great team and will likely figure things out come the Champions League knockout stages. But this year, more than ever before in Pep Guardiola's tenure, Barcelona is missing the spark that Iniesta can provide when teams shut Messi down.
It's no wonder that last year, Messi, Xavi and Iniesta were the three finalists for player of the year, and with a team mentality like Barcelona's, it's clear that the three of them playing together still gives Barcelona their best chance of catching Real Madrid in the league and capturing another Champions League title.
Messi may be the world's best player, but Iniesta is just as vital to Barcelona.