Arsenal vs. Manchester City: Carling Cup Preview and Predicted Starting XI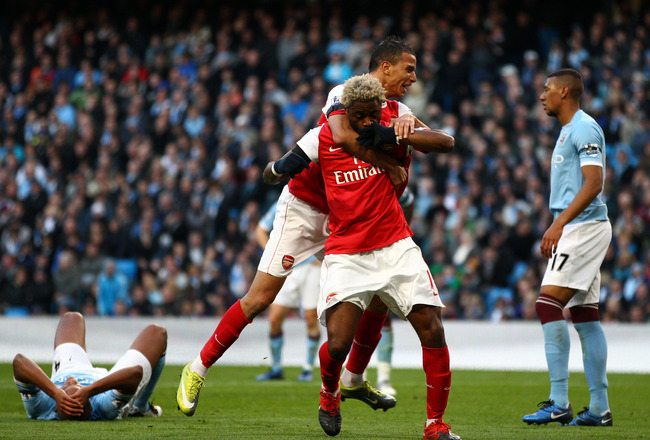 Richard Heathcote/Getty Images
The must anticipated collision course between Arsenal and Manchester City in the quarterfinals of the Carling Cup is finally upon us. Arsenal supporters have been relishing for this match to come ever since the departures of both Samir Nasri and Gael Clichy.
Many Arsenal supporters still haven't forgave the two, as they believed the two both quit on the club and the supporters when they selected to move up north during the summer transfer window. It was Nasri and Clichy that left Arsenal for the money and believed Manchester City were in a better state of winning silverware than Arsenal.
Many people that support Arsenal, and even the people who work at Arsenal believe Manchester City doesn't deserve the accolades that they have been receiving. Arsenal supporters are angry at what Manchester City are accomplishing because they haven't put in the hard work or sacrifice that other clubs have made in order to get to the top.
Anyway, let's get back to the preview.
Arsenal are coming into this match with a disappointing draw against Fulham this weekend. Many believe Arsenal were once again robbed at the hands of official Mike Dean. Arsenal have yet to win in the last 10 games in which Dean has officiated, which makes many Gunners believe there is a conspiracy going on.
Ever since their lost to Tottenham in early October, Arsene Wenger's side have been able to turn it around and have yet to lose since then. The new arrivals seemed to have gelled well with the squad and Arsenal has been able to overcome the losses of players like Bacary Sagna and Jack Wilshere.
Manchester City has been an unstoppable force in England this season. Roberto Mancini's side has been unbeaten in the Premier League this season through 13 games. However, their luck in European competition hasn't been the same as they are on the brink of elimination in Champions League.
This is the perfect opportunity for Arsenal to beat Manchester City, as Roberto Mancini's club has struggled in the previous week.
Even though both sides won't field their best lineups, this Carling Cup contest will be extraordinary.
Team News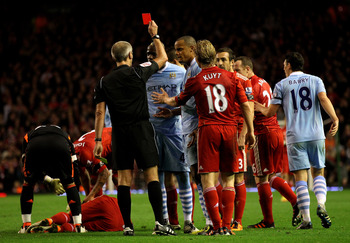 Balotelli was sent off during the weekend
Alex Livesey/Getty Images
Arsene Wenger recently said that some of his players are in need of a rest and will miss out of this epic clash with Manchester City.
Players set to miss out on this clash includes the likes of Robin Van Persie, Theo Walcott, Per Mertesacker and Johan Djourou.
Also, with the tragic death of Wales manger Gary Speed, Aaron Ramsey will not play, as he is coping with Speed's death.
Bad luck always seems be the issue with Abou Diaby, as the French midfielder picked up another injury. Wenger has explained the injury to only be a minor muscular setback, which means Diaby is very doubtful in this game.
Manchester City will be without Mario Balotelli and Gareth Barry, as both players will be serving suspensions. However, it seems that Owen Hargreaves will be fit in time for this encounter.
Now lets take a look at what lineup Wenger will field in this Carling Cup quarterfinal.
Goalkeeper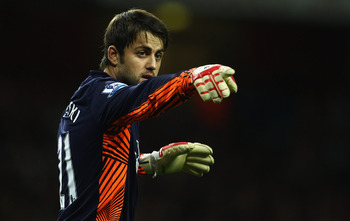 Julian Finney/Getty Images
Lukasz Fabianski
Wenger will most likely play Lukasz Fabianski for this game to give Wojciech Szczesny some much needed rest.
Wenger has had a history of always starting is back up keeper in the Carling Cup, so there is no reason to believe Fabianski won't get the start against Manchester City.
The Back Four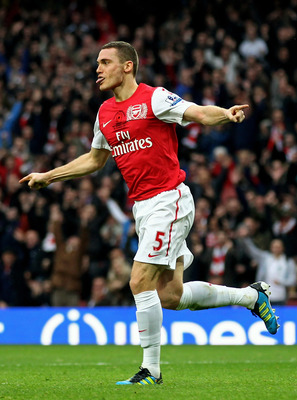 Julian Finney/Getty Images
LB: Ignasi Miquel
CB: Thomas Vermaelen, Laurent Koscielny
RB: Nicholas Yennaris

Wenger will probably field a very strong back four for this important of a game. WIth Thomas Vermaelen only returning from injury less than a month ago, he will be fit enough to captain the side against Manchester City. Vermaelen will be able to be part of a strong partnership, as Laurent Koscielny is also set to feature in this fixture. Koscielny was rested for the Fulham game in order to deal with this strong Manchester City attack.
With Johan Djourou, Per Mertesacker and Andre Santos all being rested for this match, Wenger will also field a couple of youngsters in defense, as Nicholas Yennaris and Ignasi Miquel could feature in this match.
Yennaris will get the start at right back since both Bacary Sagna and Carl Jenkinson are still recovering from injuries. And with the injury to Kieran Gibbs, Arsene Wenger may have to depend on Ignasi Miquel to fill in at the left back position.
I expect these two youngsters to cope well knowing that they have Vermaelen and Koscielny playing by their side.
The Midfield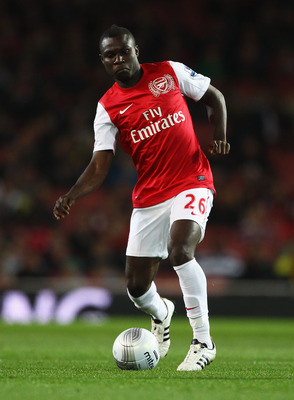 Julian Finney/Getty Images
CDM: Francis Coquelin, Emmanuel Frimpong
CAM: Tomas Rosicky
Wenger will most likely field a more defensive midfield in order to help out the defense to contain this high-octane Manchester City defense.
He will most likely field two defensive midfielders in Francis Coquelin and Emmanuel Frimpong to create a brick wall in front of the defense in order to rest Alex Song and Aaron Ramsey.
Frimpong has been relishing the moment to go up against Samir Nasri since he left Arsenal. Frimpong believed Nasri was very greedy and will be hoping to teach the French midfielder a lesson or two ahead of this match.
The other man who will join them will be Tomas Rosicky. Rosicky will have a lot of responsibility in the midfield for Arsenal. He will have to be the creative force in the midfield with players like Arteta and Ramsey not being used.
Instead of Coquelin, Wenger could play Yossi Benayoun in this match to give Arsenal a much needed edge in the attack.
If Rosicky is having trouble breaking through the Manchester City back four, expect Wenger to put in Arshavin to help Rosicky create chances for Arsenal from the middle of the field.
The Attack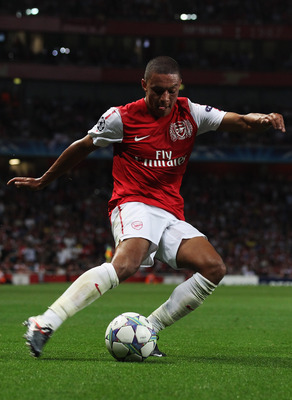 Clive Rose/Getty Images
Wingers: Gervinho, Alex Oxlade-Chamberlain
Forward: Ju-Young Park
With Robin Van Persie getting some much needed rest, Chu-Young Park will be the man to replace the Dutch striker.
Alex Oxlade-Chamberlain is also set to feature in this match as Theo Walcott has deserved some rest as well. Oxlade-Chamberlain has impressed many since his arrival, and could be a huge threat to the Manchester City defense.
I believe Wenger will play Gervinho for this contest. The Ivorian attacker came off the bench during the weekend and is fit enough to feature in this fixture.
Substitutes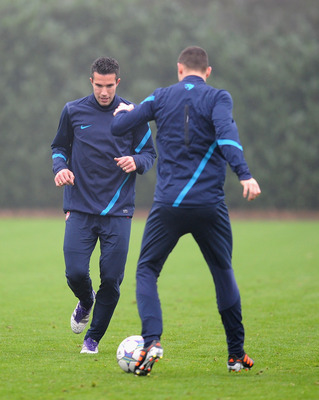 Mike Hewitt/Getty Images
Vito Mannone (GK)
Daniel Boateng (DEF)
Marouane Chamakh (ST)
Oguzhan Ozyakup (MID)
Andrei Arshavin (MID)
Robin Van Persie (ST)
Yossi Benayoun (MID)
Can Arsenal Dethrone City?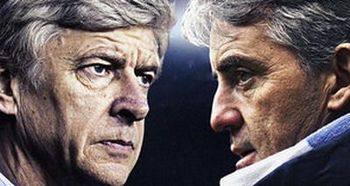 These two clubs are very different in their philosophies.
The Arsenal philosophy is about financial stability and not overspending on transfers. It's about creating a team by using the youth system as your foundation. The Manchester City philosophy is about building the best side possible with an unlimited amount of money.
Both sides will be looking to make amends for their performances during the weekend.
Many questions arrive in this thrilling encounter between these two sides.
I expect the atmosphere at the Emirates to be amazing, the quality of football to be top notch and the match to be one to remember.
Who will come out on top? Arsenal or Manchester City? Comment below.
Keep Reading

Arsenal: Like this team?