WWE: Jim Ross Needs to Be the New General Manager of Monday Night Raw
November 26, 2011
I grew up a huge fan of the WWE.  Prior to Monday Night RAW, I watched even when the only program to watch was Superstars on Saturday afternoons.
I have watched from when RAW began, and to this day, I watch every Monday.
No, the program is not what it used to be. Though some people didn't care a lot for the Attitude Era, personally I believe that was when it was at its best.
What we have seen over the course of the last decade is nothing short of a joke.  It seems that Vince McMahon is trying to rebuild what was happening in the Monday Night Wars, but the talent to do so simply is not there.  And I am not talking about the wrestlers.
I am talking about the General Manager.
Right now, the "Interim" General Manager is John Laurinaitis.  I am not sure exactly why the WWE would even give this clown a job, let alone give his character such an important position?
CM Punk pretty much nailed it when he said Laurinaitis does not even know how to hold a microphone.  Every time he comes out, it seems like he is struggling to remember his lines, he steps all over the person he is talking to, and honestly he does not even look like someone who knows the business.
Whatever his real job is, they need to put him back on it, and get him off the TV as soon as possible.
Before Laurinaitis took over, the job belonged to Triple H.  Another colossal mistake.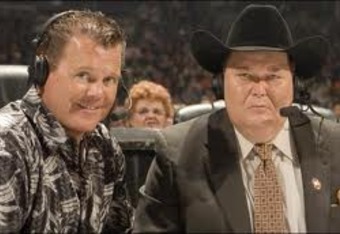 Was it just me, or did you think every time Hunter came to the ring in the suit and tie that he needed to be choked with it?  As great as he can be on the mic, he is nowhere near as good in a suit and tie as he is wrestling.
I know Vince McMahon may be upset because his son is such a disappointment by going out and getting a real job in the real world.  But trying to pass off your son in law as the next suit to run the company was just a bad idea from day one.
Before Triple H, we had the anonymous general manager for 13 months.  I am not sure what anyone was thinking, but this is the worst idea in wrestling since the six-sided ring in TNA.  To try and create tension between wrestlers and a computer was just flat-out stupid.
To this day, I am shocked that this went on that long.
Bret Hart lasted a month.  Considering he never had the greatest mic skills in the first place, this idea was doomed from the start.
Vickie Guerrero was and is a disgrace to the name of Guerrero.  Sorry if this offends anyone, but I think Eddie was one of the best all time, and to see Vickie and her "EXCUSE ME" bit makes me instantly change the channel and quit watching.
Guest hosts were fun.  For about a month.  Then even they got old.
Vince was a great character, but when his limo blew up with him in it, he should have just stayed gone.  There were rumors that Vince was actually killing his character off, and that was screwed up by Chris Benoit.  Thanks Chris!
Donald Trump?  Seriously?
Shane and Stephanie McMahon.  This was the most believable concept, but they even screwed that up.
Mike Adamle, Jonathan Coachman, William Regal.  All a total waste of time.
Eric Bischoff was a good idea.  But because there was no rival company to attack, he pretty much didn't have any ideas.
If the WWE wants to bring this "character" back, they need to bring back the position like it really would be in the real world.
The position needs to go to Jim Ross.
For starters, there are not too many non-wrestlers in the world who get the same type of respect as Good Ol' JR.  Anyone who has listened to him over the course of the last decade knows that he is without question the best there is.
To have someone with that type of talent would bring more credibility to the show instantly.
But what about former wrestlers?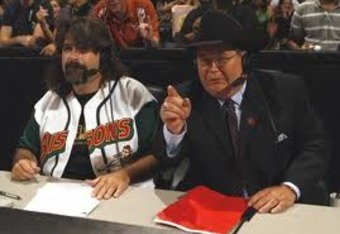 How many former NFL players make it in the NFL as Head Coaches?  Very few.  Why? Because they are not smart enough.  Same goes for wrestlers.
As fun as it would be to have The Rock as the GM, if he were, we would be waiting for him to get into a feud with anyone, just like Triple H did.
Giving the position to JR would make the position believable.
But what about the story lines where the GM gets beat up?
Look, the storyline of Stone Cold beating up Vince was one of the best ever.  Seriously though, what would happen in the real world if someone tried to beat up their boss?  Fired, on the spot.
JR being the GM could come out from day one, put someone like Michael Cole in his place and say if you touch me, you will be calling high school girls wrestling the rest of your life.
The GM position on the show should be treated with respect, and there is no person in the locker room that deserves it more than JR.
But how could JR do the announcing if he was the GM?
He couldn't.  He could come out at the beginning of every show, greet the crowd, explain what they are going to see, and get the card started.  They could even have wrestlers come out and try to bully JR, and have JR punish them, by putting them in a four-on-one match with four of the best in the locker room.
He could show that he is the boss, and still be JR.
I honestly believe that the biggest issue with the GM character is that Vince is trying to resurrect the success of the heel GM of the days of the NWO.  It worked then, but it doesn't work anymore.
I don't want to see the GM fighting, arguing, bullying people or talking trash.  If wrestling is supposed to at least be believable, then lets make the most important character like it would be in real life.  Someone who is really making the show what the fans want to see.
If Vince was a good REAL General Manager, he should have known this by now.  Hopefully, he will start to understand that he needs to make this right, by making it realistic.