Corey Hanrahan: Yes You Can Meet the Team Hoyt 2012 Boston Marathon Team
November 26, 2011
Both marathon fans and simply fans of the human spirit alike are more than likely to know the story of Dick and Rick Hoyt. The father/son team who make their home in scenic Holland, MA will be running in their 30th Boston Marathon this April. This in itself is a truly amazing accomplishment.
The milestone is made 26.2 times more amazing by the facts that the elder Hoyt, Dick, is 71 years old, and that his son, Rick, who will be celebrating his 50th birthday in January, has spent his life in a wheelchair and lives each day as a spastic quadriplegic with cerebral palsy, the result of oxygen deprivation at birth.
Dick pushes Rick in a wheelchair for each step of the 26.2-mile event to the delight of the millions of adoring fans who know their inspiring lifelong adventure. Their entire story of inspiration can be found on their website at www.teamhoyt.com or on the pages of their best-selling new book, Devoted-The Story of a Father's Love for His Son.
As they do each year, Dick and Rick Hoyt have assembled a team of runners from Australia, Canada and around the country who comprise The Hoyt Foundation 2012 Boston Marathon team. The team will be running to raise money for the Hoyt Foundation, a 501(c)(3) charity whose purpose is help integrate disabled people into everyday activities so they may live fruitful and productive lives.
Over the next several months, I will be introducing many members of the 2012 Team Hoyt Boston Marathon Team and sharing their motivating stories and experiences as members of this inspirational group during the continuing series entitled, "Yes You Can Meet the Team Hoyt 2012 Boston Marathon Team."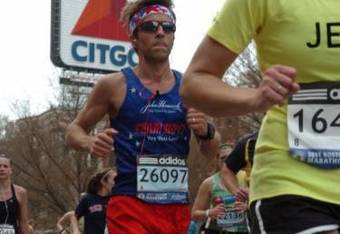 Like any team, of any type, there are multiple critical ingredients which must be added to the overall recipe for success. Having been the powerful driving pair of legs behind Rick Hoyt's wheelchair for 30 Boston Marathon events and over 1000 other athletic competitions, it would be difficult to argue that Dick Hoyt represents anything but the muscle of the Team Hoyt recipe. And for the millions who know the details of the inspiring Team Hoyt story, it is evident that Rick Hoyt adds a heaping helping of heart and spirit to the Hoyt's amazing saga. Watching Rick's nearly helpless arms flaying with enthusiasm to the delight of the onlooking Boston crowd is as much a part of the Boston Marathon experience as Heartbreak Hill itself.
After I had the pleasure of personally meeting and spending time with team member Corey Hanrahan during last year's 2011 Team Hoyt Boston Marathon festivities, it is clear that the diminutive legal professional from the left coast has taken on the role as Team Hoyt's personality and sense of humor. Wherever Hanrahan was spotted throughout the busy marathon weekend, he was surrounded by smiles, laughter and a lighthearted aura that eliminated any pre-race butterflies that the rest of the 20 Team Hoyt runners may have been experiencing.
Throughout the four-day festivities last April, which included a Meet and Greet luncheon, The Team Hoyt Inspirational Presentation, a motivational speech by Dick and Rick before several hundred Boston Marathon fans and a pasta dinner banquet exclusively for members of the 2011 Team Hoyt marathon team, Hanrahan incorporated contagious laughter, enthusiasm and a huge dose of his exuberant personality to the "Yes You Can " experience.
Often adorned with his trademark red, white and blue headband, his stylish Oakley shades and a carefree, windblown head of locks, Hanrahan introduced a West Coast sense of panache to the Team Hoyt throng of runners. By the end of the marathon weekend, several Hoyt runners, including Rick Hoyt himself, were similarly attired with Hanrahan's patriotic head attire.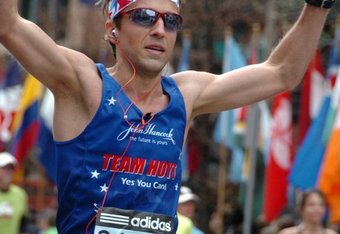 When asked what it felt like upon meeting Dick and Rick at last year's Boston Marathon, Hanrahan explained with an ear-to-ear smile, "I am truly in the presence of greatness... and I hope my hair looks good!"
The 30-year-old graduate of University of Minnesota and California Western School of Law is one of several West-Coast lawyers to make up the Hoyt team including Team Hoyt race director, Doug Gilliland, and assistant race director, Randy Rechs. The trio of California bar members actually refer to themselves as the "Justice Brothers."
Though he has only participated in three half marathons and one full marathon (last year's Boston), his personal best is no laughing matter as he broke the tape with a very competitive 1:28:31 at last year's San Diego Rock and Roll Half Marathon. He also unleashed the self proclaimed "Gun Show" when he unveiled a set of very impressive fit, toned and muscular biceps covered only by a thin layer of his signature Hoyt patriotic colored tank top.
I asked Hanrahan what went through his mind when he was asked to join the Hoyt team again this year. He chuckled, "Somebody is going to request a recount... but I'm running the Boston Marathon with The Dick and Rick Hoyt! I am also very appreciative to Randy Rechs, who has always been a great mentor and friend to me, and who brought me under his wing to join the team."
Like all of the Team Hoyt runners, Hanrahan takes their "Yes You Can" mantra to heart and uses it as part of the driving force behind his never say die spirit. "I never back down, be it work life or personal life. If I put my mind to something, I can accomplish it. I also never take for granted things I can do that others cannot."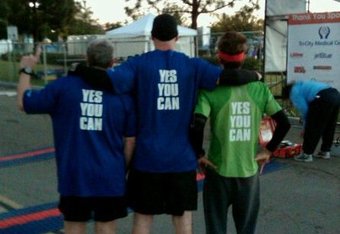 Born and bred in rural Morris Minnesota, a town of slightly greater than 5,000 residents, Hanrahan currently calls San Diego his home. He uses running as a source of tranquility and inspiration and to help him keep balance through the rigors of his daily life as a legal eagle. "I'm fortunate enough to have never really had to overcome many obstacles in my life. I guess I am very fortunate. So when I am running, and I get to a tough spot in my run, whether it be due to distance or hills, I think of those people who can't run, and who would give anything to be suffering the pain I'm feeling at that moment. I push forward for people who are not as fortunate."
"Running keeps me happy. It reduces my stress. It keeps me energized. It's a great release. I try not to think when I'm running. That's the appeal for me." 
The Team Hoyt marathon team is coached by the immortal Uta Pippig, who offers advice, support and training tips via email to the Hoyt team members in the months leading up to the marathon and joins them in person at multiple occasions during the Boston Marathon weekend.
Pippig was the first woman to win three consecutive Boston Marathons. She also claimed three victories at the Berlin Marathon, which included the "Reunification Marathon" in 1990 that spanned from West Berlin through the Brandenburg Gate into East Berlin. Uta's victory in that historic run came just months after she left Communist East Germany to live in the United States.
Her foundation, Take The Magic Step® is an international organization that promotes slow and gradual lifestyle changes. The foundation works closely with individuals, charities and corporations that share the belief that healthier habits lead to happier lives.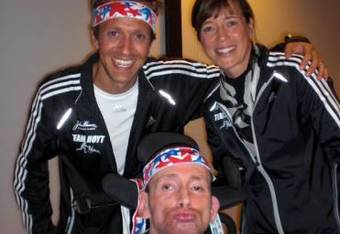 Hanrahan, who met Pippig during last year's Patriots Day event, spoke glowingly when asked what it was like to be coached by the immortal Uta. "I love Uta. Everybody loves Uta. I have never met someone as caring and compassionate as Uta. She really cares about us. People often say to me, with regard to crossing the Boston Marathon finish line, 'That must be such a great sense of accomplishment.' I always say, 'There's only one thing better than crossing the finish line on Boylston... crossing it to a hug from Uta Pippig.' That always gets a smile." 
And smiles is what Hanrahan apparently has packed in his gym bag as he travels from San Diego to Beantown as the 116th Boston Marathon approaches. That and his shades, headband and the "Gun Show." "Dick and Rick are my heroes," he adds. "In my opinion, are two of the greatest athletes to ever grace this earth. The determination they show when competing is unparalleled."
"It's truly an honor to be associated with them and the rest of Team Hoyt. Team Hoyt takes a bunch of strangers, and bonds them together for life. Truly amazing." 
Friends, fans and supporters of Corey Hanrahan can help him achieve his fund raising goal by clicking on his  Team Hoyt Crowdrise page. Last year members of the team combined to raise over $120,000 for the Hoyt Foundation.
Todd Civin is a Senior Writer for Bleacher Report. Unless otherwise noted, all quotes were obtained first-hand.