Alabama vs. Auburn: Game Time, Last-Minute Predictions for Iron Bowl 2011
November 25, 2011
Kevin C. Cox/Getty Images
Rivalry games are always intense, but nothing compares to the Iron Bowl. A whole state is divided, as the Alabama Crimson Tide look to get revenge on the Auburn Tigers. 
While Auburn has owned Alabama in the last decade going 7-3, it's the Crimson Tide who are on the rise and ready to take care of business. 
Everyone hopes this game will be just as crazy or even crazier than last year, but that will be tough to top. Insane comebacks are unlucky since no one of Cam Newton's ability is on the field. 
Expect a hard-fought game that will be decided in the fourth quarter. 
With that said, let's take a look at some specifics of the 2011 Iron Bowl. 
When: Saturday, Nov. 26, at 3:30 p.m. ET 
Where: Jordan-Hare Stadium, Auburn, AL
Watch: CBS
Spread 
The Crimson Tide are favored at -21, which is entirely too high. Since this is a huge rivalry game, the Tigers will be prepared to play. Yes, Alabama's defense is extremely good, but it's not going to blow Auburn out of the water. 
Over/Under 
The over/under is set at 47, and I don't see it going over. While both teams are capable of scoring at will, the defense will prevail and prevent this from being a high-scoring affair. 
Key Injuries 
For Alabama, according to USA Today, WR Darius Hanks (ankle) and OL Barrett Jones (ankle) are probable. DB Will Lowery (knee) is out for the season after tearing his ACL last week.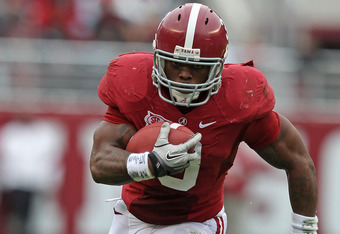 Mike Zarrilli/Getty Images
For Auburn, according to USA Today, OL Brandon Mosley (knee), LB LaDarius Owens (foot) and OLD Ed Christian (back) are all questionable. 
BCS/Top 25 Implications 
The Crimson Tide are currently ranked No. 2 in the nation, and a win on Saturday would make them locks for a BCS bowl and keep them in the hunt for the BCS title game. A loss would put a dagger through the hearts of many, as Alabama's season would be ruined. 
The Tigers, on the other hand, are somehow still ranked at No. 24 even though they have four losses. A win would give them a great boost in the polls, and a chance at a much better bowl game. 
Keys to Alabama Win 
With the No. 1 defense in the nation, the Crimson Tide have to make sure they act like that on Saturday. Should they slip up at all, the Tigers will make them pay. 
Stopping Michael Dyer is key for Alabama, as well as maintaining a strong run game with Trent Richardson. The Heisman hopeful has to dominate against the Crimson Tide's most hated rivals, or else it will be a long night for Alabama.
Keys to Auburn Win
This season hasn't been quite what the Tigers had hoped, but all will be forgiven if they beat Alabama. Shutting down Richardson is a must because of his ability to make big plays and chew the clock up all game long. 
Auburn must also play mistake-free football. Eliminating turnovers is key, as it will prevent the Crimson Tide from running away with this game. 
Prediction 
The Tigers will battle hard at the start, but the Crimson Tide will pull away in the fourth quarter. Alabama's defense is too strong to allow Auburn to get the upset win this Saturday.
Alabama 28, Auburn 17