Red Wings vs. Bruins: Nicklas Lidstrom Making His Case as Best Defenseman Ever
November 25, 2011
Dave Sandford/Getty Images
Detroit Red Wings captain Nicklas Lidstrom is one of the greatest NHL players ever, and on Friday, he will play against the defending Stanley Cup champion Boston Bruins, whose fans stand firm on their belief that Bobby Orr is the greatest defenseman hockey has ever seen.
Lidstrom is making his case to be considered the greatest defenseman of all time, and it's a pretty strong one. 
"I don't think there's any question he's in that conversation, no question," Orr told ESPN.com in December of 2010. "I mean, you talk about longevity, he's 40, and putting the numbers that he puts up. The success that team has had is mainly because of his play; it's been incredible. He's a class individual. Never heard a bad word about the man. And he plays the way he plays. What else can you ask for?"
That's pretty high praise from arguably the game's greatest player, and what Orr said about Lidstrom excelling at age 40 is one of the most impressive parts of his game.
Last season Lidstrom played in all 82 games and was second in points among defenseman with 62 at age 40. His spectacular play earned him his seventh Norris Trophy, an award given to the defenseman who shows the best all-around ability at the position. 
Orr's eight Norris Trophies are the most all time, and Lidstrom has beaten out some amazing defenseman to win the Norris seven times, including helping prevent great players like Scott Stevens from winning the award more than just once.
Lidstrom has not only been a great player defensively, he has been an offensive threat throughout his career, and with the Red Wings struggling in the early part of the season, Lidstrom displayed the leadership and poise to get Detroit back on track.
"What can you say about Nick that hasn't been said?" goaltender Jimmy Howard said via MLive. "One of the best, if not the best all time. We needed a guy to step up and he did. He's our leader and he came up big for us."
Through 20 games this season Lidstrom already has 16 points. People keep wondering when he will slow down, but he shows no signs of regressing from a top defenseman any time soon.
Lidstrom is so focused on the ice and even as an aging player he still sets the example for everyone to follow.
After Red Wings legend Steve Yzerman retired in 2006, a player who was arguably the best captain in NHL history, Lidstrom took over a role that many would not be able to fill. But the Lidstrom star has done a marvelous job leading the Red WIngs as captain.
In 2008, he became the first European captain to ever hoist the Stanley Cup when the Red Wings beat the Pittsburgh Penguins in six games, and it was an honor Lidstrom fully deserved. He's won four Stanley Cups in his career thus far.
To the average fan, it may be hard to see why Lidstrom is considered as a top-three defenseman in NHL history. He won't dazzle you with flashy moves or make you go "WOW" too often, but he consistently plays the game with great precision and does his job almost to perfection.
"We call him the Perfect Human," said Detroit Red Wings teammate Niklas Kronwall in a December 2010 ESPN article. "And there's a reason for it. Whatever he does, he seems to do perfectly, so I think that's a pretty good nickname."
Lidstrom plays with all the fundamental skills needed to be successful and makes all the small plays that affect the larger picture.
His attention to detail and hand-eye coordination are amazing, allowing him to make very few mistakes.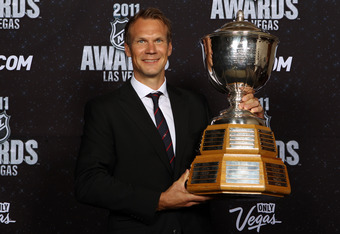 Bruce Bennett/Getty Images
Why does Lidstrom rarely make a mistake? For starters, he positions himself so well on the ice at all times. He knows where he needs to be to make a play for his team. His extraordinary hockey IQ allows him to think one step ahead of his opponents, and because of this he knows where the next pass should go or where he needs to be to stop an opponent's rush up the ice.
Lidstrom does not have the flashy brilliance that Orr had, but his play is just as effective. He won't fill a SportsCenter top-10 highlight reel, but he will lead you to big playoff victories.
While we wait for Lidstrom's skills to lessen with age, he will just be playing amazing defense and winning games for the Detroit Red Wings—two things he does better than most who have ever played the sport.
For updates on all NHL news throughout the season, follow Nick Goss on Twitter. Follow @NicholasGoss35
Nicholas Goss is a Boston Bruins featured columnist for Bleacher Report and was the organization's on-site reporter for the 2011 Stanley Cup Finals in Boston.