Thanksgiving Wrap-Up: Packers vs. Lions
November 24, 2011
Gregory Shamus/Getty Images
The much anticipated matchup between the undefeated Packers and upstart Detroit Lions proved to be only half a game's worth of substance. 
The Detroit Lions did well to contain the explosive Packer offense through the first two quarters; however, the Lions also did well to contain themselves.  
Several penalties stalled the Lions' drives in the first half which proved to be too much for the underdogs to overcome.  Unfortunately, early in the second half, things unraveled for the Lions, and Green Bay rolled to their 11th victory of the season.  
Despite numerous self-inflicted wounds, the Lions found themselves down only 7-0 at halftime in their biggest game in nearly a decade.  But before long, their defensive leader lost his cool, got ejected, yada yada yada, and the Packers went on to win easily in the second half.  
As a life-long Packers fan who witnessed the early '90s where the "upstart" Packers had trouble surpassing the "veteran" Cowboys, and also a younger Aaron Rodgers-led Packers encountered their own hurdles on their way to a 2010 championship, I can't help but be reminded of those teams when watching the Detroit Lions. 
For weeks we Packers fans have heard about how good the Lions are and how much trouble they cause their opponents.  While, the defending Superbowl champs continued to beat every opponent they faced. 
Sure, Megatron has put up huge numbers and garnered headlines while much has been said about how poorly the Packers defense has played so far this season. 
But after the first game in the Thanksgiving trifecta, it wasn't talent or playmakers that were being discussed; it was penalties.  Most notably an ejection-prompting penalty by the Lions' #1 defender Ndamukong Suh.  Suh's actions really showed a lack of maturity and intelligence for a player who was expected to be a future star of the NFL.  
In a 7-0 game, he lost his cool and found himself ejected with nearly one-half of the game to play.  
Over the years, I've always had a soft spot for the Detroit Lions.  I liked Billy Sim,  Barry Sanders, Bennie Blades and that really tough S.O.B LB from Ohio State, among others.  Wayne Fontes was a likable coach, and you could always root for the Lions as a fellow NFC Central/North team.  At least more so than those dang Bears or Vikings.  
But their quick rise to mediocrity, and the attention that goes with it, has seemingly turned the Lions into one of the teams I most love to hate presently.  Basically starting with head coach Jim Schwartz's huge over-reaction to Jim Harbaugh's exuberance following the 49ers' huge upset victory a few weeks back, I really started to consider these Lions poor winners and losers.
I suppose it is simply a reflection of their head coach, who again today was on display as being very emotional when things weren't going his way.  I guess the phrase "lead by example" couldn't be more true in Jim Schwartz's case, and the reflection his team provides of their coach.   
I'll never forget what Barry Sanders (probably the best running back talent-wise I'll ever see) when asked about his lack of celebration following TD's, said: "Act like you've been there before."
That would be my advice to these Detroit Lions.  Green Bay Packers coach Mike McCarthy has always said one of the biggest challenges to face his team (even before the Superbowl victory) is handling success.  It seems the Lions' first taste of success in several years hasn't been handled very well.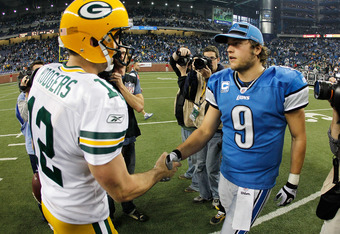 Gregory Shamus/Getty Images
I was expecting the Lions to give the Packers a good game today and prepared myself mentally for a Lions' victory.  Unfortunately, only one team today was ready to play 60 minutes.  Kudos to the Packers for keeping their cool and getting the job done on the road in a tough environment.
The Lions will be a .500 or better team for years to come, but today, the more mature team won.
I thought this would be their toughest test for the remainder of the season, perhaps it will be the Giants next week as the quest for 19-0 perfection continues.
Happy Thanksgiving.