Why Bobby Valentine Is the Right Choice for the Boston Red Sox
November 25, 2011
Jamie Squire/Getty Images
In the wake of a completely inexcusable September collapse, the Boston Red Sox continue to search for answers. When it comes to the managerial void left by former manager Terry Francona, ownership is still on the look-out for the solution.
Bobby Valentine is the right man to fill that void.
At 61 years old, Valentine brings a fire and a passion that is just what the doctor ordered for the Red Sox clubhouse.
His experience and motivation will create the stabilized atmosphere that Boston's players need to succeed. He has several qualities as a manager and a baseball mind that separate him from all other viable candidates in the sweepstakes to become manager of the Boston Red Sox.
Under Terry Francona, Red Sox Nation saw their squad put forth lifeless efforts. They saw team chemistry at a mere fraction of the level we've seen from Sox teams in the past decade. They saw undisciplined baseball and a lack of focus in some of the most critical moments.
Maybe it was as simple as Francona running his course in Boston. Maybe adversity in his own life brought his managing down. Whatever the case, change was needed.
Bobby Valentine is a manager that will not tolerate a lifeless effort. His team will play with fire. When he enters the clubhouse at Fenway Park, there will be absolutely no questioning who the boss is.
The Red Sox roster is loaded with veterans, many of which have fairly large egos. There was speculation that the tenured players such as Josh Beckett, David Ortiz, and Jason Varitek formed cliques in the clubhouse and failed to embrace the newcomers like Carl Crawford and Adrian Gonzalez.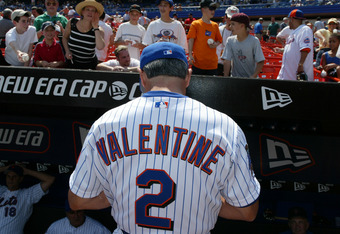 Al Bello/Getty Images
They didn't care for each other above all else. They weren't willing to put everything on the line for the guy next to them. They may have trotted out as the nine best players every night, but they certainly didn't come together as the best nine.
Bobby Valentine has the credentials to salvage this exact situation.
Valentine has coached in a large media market, nearly winning a world series with the New York Mets. One of the toughest markets to play or coach in, Boston is a setting that will command mental toughness and experience from whichever manager they decide to hire. Bobby V is one guy who can handle that pressure.
He has spent time coaching in Japan, winning both the Japan Series and the Asia Series in 2005 as the skipper for the Chiba Lotte Marines. This experience may serve him well not only in scouting international players and building that area of the Red Sox organization, but also in potentially salvaging some of the shipwreck of an experiment that was Daisuke Matsuzaka.
Valentine will implement a discipline in the locker room that is absolutely needed on a team that became complacent in the 2011 season. More importantly than anything else, Boston needs a manager that will burst onto the scene and wake up the sleeping giants. This roster is loaded with gifted talent, and they need a leader to bring that talent out of hibernation.
He's a man with lots of personality and lots of motivation. He has been offered managerial positions in the past few years, but Bobby V is only looking for a job that gives him a chance to accomplish his lifelong dream—finally holding that World Series Trophy above his head.
Boston is the team that gives him that opportunity. He knows it. He wants it. And the Red Sox—if they come back to reality—should understand that he's the perfect fit.
Be sure to follow Derek Robinson on Twitter. @DRobMachine