Hokie Hype Machine?
November 24, 2011
Kevin C. Cox/Getty Images
Virginia Tech has quietly snuck its way into the top five of the BCS standings, much to the dismay of Stanford coach David Shaw and ESPN analyst Kirk Herbstreit. The Hokies aren't being talked about much, but any talks surrounding the team have been negative.
When speaking about the Hokies, Herbstreit stated, "I love Frank Beamer and his staff and his team, but who have they beaten to deserve to be up at No. 4 in the coaches' poll?" The answer to that rhetorical question is Georgia Tech, but the Yellow Jackets are only ranked 23rd in the BCS.
Virginia Tech's only other marquee game came against Clemson in October. The Hokies lost that one by a score of 23-3. To lose by that much at home is an embarrassment, but this isn't that team. Logan Thomas has gotten better every week and has shown that his arm and his legs can be lethal to opposing defenses. David Wilson is leading the nation in rushing, and the defense has played exceptionally well despite a rash of injuries to starters.
It is obvious that Herbstreit hasn't taken notice or just doesn't care about this turnaround. He isn't alone in his complaints about the BCS or the Hokies for that matter, but some of his arguments don't make sense. The analyst argued that coaches don't research other teams for the Coaches' Poll saying that, "it's amazing to me how many people just look at the scores, and if you lose, you drop, and if you win, no matter who you play, no matter what the score is, you move up."
My question to Kirk is, how else are you supposed to judge teams other then wins and losses? A two-loss Oregon team doesn't deserve to be ahead of one-loss Virginia Tech. You have to win games, losses against good opponents shouldn't help your cause more than a win over a poor opponent. You have to win games you are supposed to (something teams like Oregon and Oklahoma haven't done).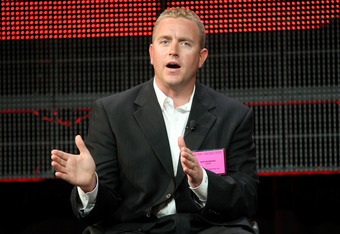 Frederick M. Brown/Getty Images
It is easy to say that one team is better than another, even if there is a difference in the loss column, but it is a lot harder to find solid support for it. If teams don't play each other then it is hard to say who is the better team (one of the best arguments for a playoff). Virginia Tech won't play Oregon or Oklahoma so the only way to try to put them in the same ranking system is by looking at wins and losses.
Stanford's coach also has beef with the Hokies being in the top five of the BCS (Stanford is ranked sixth), but he gave a different reason for his outrage. His argument involved common opponents, specifically Duke. Stanford beat Duke 44-10 early this season, while Tech beat them 14-10. It is a good argument, but holes can be poked into it.
Stanford doesn't play the Blue Devils every year like Virginia Tech does. Virginia Tech hasn't changed its offense in more than a decade (to the dismay of fans), which gives Duke a better gameplan every year. Duke is a three-win team, but if you look at them in ACC play they have played everyone tough (with the exception of FSU and Miami).
Shaw also pointed out the difference between Stanford and Virginia Tech's losses, "Well first off, who decides what the quality wins are and secondly, how does a quality or non-quality loss affect people? Whereas we lost to a very good Oregon team ranked No. 10, (Virginia Tech) lost to a team ranked No. 17 (Clemson). I don't get it."
Clemson was a top 10 team last week. The Tigers have three big wins this season against Auburn, Florida State and Virginia Tech. Stanford's big win came against USC. They can also argue that the game against Washington falls into that category, but the Huskies are a 6-5 team now. So at this point both Virginia Tech and Stanford have one big win this season, and both lost to good teams at home by large margins.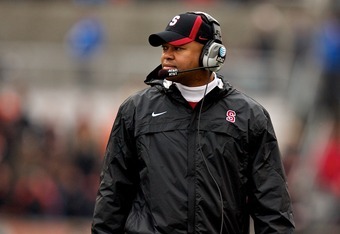 Craig Mitchelldyer/Getty Images
The difference between Stanford and Virginia Tech is in the conference and not the opponents. The Pac-12 and the ACC aren't the SEC, yet people want to place the Pac-12 miles above the Atlantic Coast Conference.
The best argument Shaw could have made would have been to bring up last season's Orange Bowl game between the Cardinal and Hokies. Stanford blew the Hokies out of Miami, but these are two different teams. Stanford no longer has Jim Harbaugh at the helm and the Hokies offense depends on Logan Thomas rather than Tyrod Taylor. Who knows how a game between these two would go this year.
The reason that the Hokies are ranked higher than Stanford or any other one-loss team (Oklahoma State excluded) is that Frank Beamer's squad knows how to exploit one of the BCS's biggest problems; it is better to lose a game early than it is to lose late. It is better to lose early in the season because it gives the team a chance to claw its way back up the standings. Losing late doesn't give a team that chance.
The Hokies haven't had much hype surrounding them this season, and these venomous talks about them may actually be playing into their success. Frank Beamer hasn't had much success in big bowl games, but the best comes out in VPI when its back is against the wall.
Virginia Tech seemed beyond repair in early 1995 when they lost its first two games, but the Hokies turned it around and went through the rest of the season unscathed; including a beat down of No. 9 Texas in the Sugar Bowl. The Hokies followed this same formula last season; they lost to Boise State and James Madison to start the season and then reeled off 11 straight victories before the Orange Bowl debacle.
Now that the Hokies are in the Top 5 of the BCS giving them an outside shot at getting to the National Championship Game in New Orleans, Virginia Tech may have two chances to prove the naysayers wrong. Their first chance will be on Saturday when they play the Virginia Cavaliers (No. 25 in the AP Poll) for the Coastal Division title.
If they can defeat the Cavaliers, then they will have a rematch with No. 17-ranked Clemson in the ACC Championship Game. A win over the Tigers would give the Virginia Tech its second consecutive ACC title and an automatic berth in the Orange Bowl, but the Hokies want more than that. Frank Beamer wants to fill that empty trophy case.
The Hokies need a lot of help if that is going to happen. They need Oklahoma to beat Oklahoma State and Auburn to upset Alabama. The eyes of the Nation are slowly making their way to Blacksburg, but the question now is can the Hokies silence the naysayers and defend their ranking?