Fiorentina: The Future of Riccardo Montolivo?
November 24, 2011
Gabriele Maltinti/Getty Images
Perhaps as early as next month we will have a more clear understanding of where star Fiorentina midfielder Riccardo Montolivo will be playing next season.
Then again, Montolivo may not even have to wait until next season as the Tuscan side may elect to get whatever it can in return before his contract runs out in the summer, after which he can leave for nothing.
Montolivo, who will be 27 in January, is most likely headed to AC Milan. He grew in the Lombardy region of Italy and it certainly would make sense for him to go back to his home region.
Another possible destination is Juventus, which is looking for more star power, even though it figures to be more of a seller than a buyer in January.
Lastly, Bayern Munich is a side that could get into the mix. In the past, Fiorentina has stated it would sell Montolivo to another Italian club.
Montolivo has German citizenship through his mother, who was born there. He also speaks German as a result.
Given that AC Milan and Juventus are the most likely destinations, it is easy to see how he could fit in with either squad.
But ultimately he appears to be the better fit for AC Milan.
Juventus would have more options to offer if it wanted to make a trade for Montolivo.
One player it would likely offer is former Fiorentina midfielder Michele Pazienza, who is a solid, but not spectacular backup center midfielder.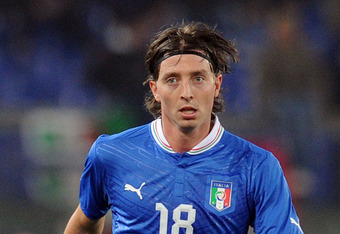 Giuseppe Bellini/Getty Images
Perhaps the Bianconeri could even insert veteran forward Luca Toni in to make the deal sweeter. Toni, like Pazienza, would be making a return to Florence. He would give Fiorentina someone to backup Alberto Gilardino.
If Montolivo ended up with Juventus, he would likely play in a 4-2-3-1 system, in which he could be the center man in the group of three, that would include Mirko Vucinic on the left and a handful of candidates for the right side. Alessandro Matri is the starting center forward and Andrea Pirlo and Claudio Marchisio are clearly the two defensive midfielders in this setup.
But this doesn't appear to be the best choice because in the summer, chances are Juventus will be bringing back Sebastian Giovinco after two seasons on loan at Parma.
Giovinco has shown that he now deserves a starting spot. This would make things more complicated.
If Montolivo goes to AC Milan, he will fit in better. Although Kevin Prince Boateng has shown flashes of being a star, Montolivo is clearly an upgrade in the attacking midfield position. Montolivo also has characteristics similar to veteran Clarence Seedorf, who is still going strong at 35, but ultimately must be replaced.
Montolivo has been playing in front of the defense with Fiorentina, which is what Pirlo once did for the Rossoneri.
That job now has been done by committee with Mark Van Bommel, Seedorf, Alberto Aquilani and Massimo Ambrosini playing in that role.  Van Bommel, Seedorf and Ambrosini are all well into their mid 30s and none are guaranteed to remain beyond this season.
Because there are many players over 30, the Rossoneri do not have as much to offer in terms of a trade.
Certainly currently injured midfielder Mathieu Flamini, who will also be a free agent in the summer, is someone AC Milan would be willing to part with. He would give Fiorentina a solid midfielder, even if he is not as talented as Montolivo.
Flamini does bring a huge contract with him, which could be a stumbling block. Perhaps AC Milan can agree to continue to make that payment to the French player who has an Italian father.
If Montolivo comes on board, look for an exciting AC Milan to get even stronger.