WWE Proclamation: "Superstar" vs. "Wrestler," the Forbidden Truth
November 25, 2011
My quest for art in World Wrestling Entertainment continues as I hit another fork in the road with a certain aspect often overlooked. Ironically enough, CM Punk highlighted on this subject just last week on Raw.
In today's WWE, the athletes are looked at as sports entertainers instead of their technical job title, professional wrestlers. It seems an impasse has occurred and the year 2011 has struck tenfold. The WWE Universe or more notable, "the fans," gravitate towards guys like CM Punk because he is real.
What you see is what you get is the common term Punk stands by with an iron fist. He isn't Oz or Vinnie Vegas, just CM Punk. To be quite honest, his ring-name might as well be Phil Brooks.
This is indeed the Reality Era and the first part of that phrase rings true to today's wrestling world. Below each name is their Twitter account name. Half of the advertisements are involved with social media.
That is where you get a term like sports entertainer, due to their ability to entertain you. In a world where political correctness dominates the human vocabulary, nothing is upfront and in your face.
With all of that said, since characters like Stone Cold Steve Austin and CM Punk only come around every so often, precautions must be in place so they can survive. I don't consider either of these men to be sports entertainers.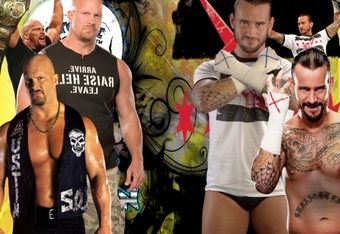 Those two gladiators are professional wrestlers. What exactly is the difference between the two terms?
Well, unlike the title of this piece, I can tell you.
A professional wrestler is somebody who puts his or her body on the line every night in order to entertain the fans. Shawn Michaels, Undertaker, Stone Cold and Punk are the most obvious choices.
A sports entertainer is someone that wrestles in the world of professional wrestling but concentrates more on the entertainment side of the equation.
If I were able to walk up to Dusty Rhodes and Lou Thesz and call them sports entertainers, I'm sure my opinion would be short-lived after a speech from the two Hall of Famers. Art is not about entertaining the masses on a canvas.
Art is supposed to be from the heart and soul of somebody who enjoys their craft. A passion, if you will, defines professional wrestling. In the ears of a civilian, an entertainer is Justin Bieber, the Black Eyed Peas, Elvis, Criss Angel and the list keeps on going.
A professional wrestler has a different connotation. Not only are the occupations very different, somehow they are intertwined into a mega-job, one that has been formed for the past seven years by the "upper management stooge."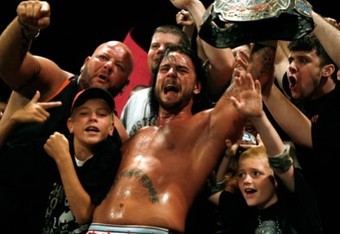 My attempt is to not sound like the "rebel rouser" Punk is, but I'm only trying to make a valid point. In the world of big business, one capitalist must cater to the masses.
The masses are the WWE Universe. To try and indulge each and every one of those is not an easy task. Plain and simple, things have certainly changed and no one man can take on such a daunting task.
In pieces done by those who have great insight (RiZE and Chinmay), the WWE superpower must evolve with the times. Granted, it might not be a fan favorite; sometimes it is the best move to make. Not everyone sees professional wrestling as an art form.
Then again, what exactly is art? If that answer isn't clear, then what are professional wrestlers and sports entertainers?
It's a wide scale of enormous proportions. From a guy or girl who wants to wrestle for the love and passion it brings and to the people who do it for the money, that is the forbidden truth.
CM Punk said it better than anyone:
I think it's because I'm real. Inside and outside of the ring, what you see is what you get. I'm CM Punk. I'm not trying to be something I'm not. I'm not trying to lie to the people or be fake. I'm not trying to be some crazy, outlandish character. I'm real and they appreciate that. Everything I say, it comes from the heart. It's all real.
That, my friends...is the forbidden truth.
Thank you all for taking the time to read this. Make sure to follow @BITWderekdunn on Twitter, as he came up with the title of this piece. 
It really means a lot and I hope that I have engaged an opinion from all of you. Take care and have a great evening.
Professional wrestling is an art. That is the truth.