25 Lessons UFC Could Learn from WWE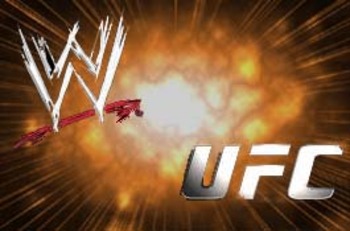 UFC seems to be cutting into WWE's market, no matter how much Vince McMahon wants to tell himself that they are not competitors.
UFC has been rising fast in recent years, but the more popular they get, the more their flaws become noticed.
Believe it or not, wrestling used to be a legitimate, 100 percent athletic competition. Now, that was years and years and years ago, but over those years it has evolved into what is now "sports entertainment."
WWE is still, however, the biggest company in the sports fighting/entertainment realm, and UFC can learn a thing or two (there are 25 in this slideshow, actually) from WWE.
Weekly Primtime TV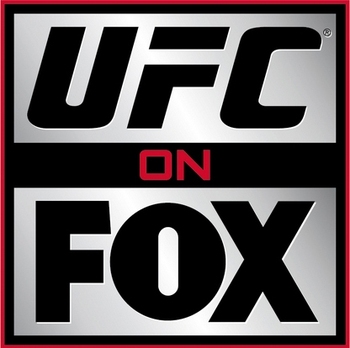 UFC has a deal with Fox now, which is obviously a huge step in the right direction. That said, UFC does not have a weekly TV show featuring their biggest talents.
That's not to say the UFC main-eventers need to fight every week, that is, of course, not possible, but having a show other than The Ultimate Fighter would help build pay-per-views and get casual fans more into the product.
Tag Teams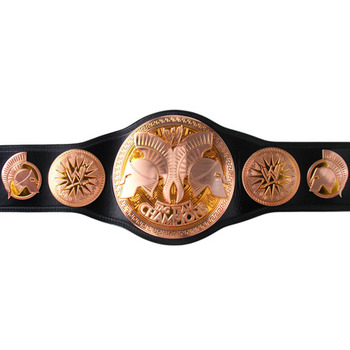 Unorthodox, yes. But would it be interesting? Probably. A tag-team division in the UFC would pump new life into what is pretty much the same thing over and over again.
Tag-team fighting can be great and if the UFC experimented with it, and it took off, it could be great.
Divas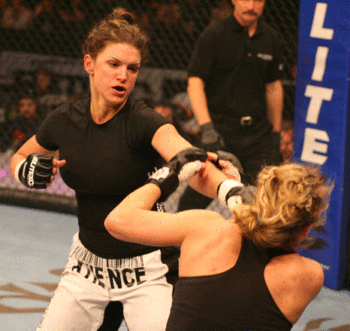 Women's MMA is not a new concept. But UFC has yet to use women in any capacity at all, aside from the ring girls.
Square Ring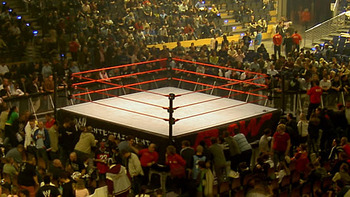 The octagon has become almost sacred to UFC fans. It's what sets the UFC apart from every other fighting league.
But did they ever to stop think there might be a reason every single other fighting league uses a square ring?
A square ring is a classic look that almost adds a sense of legitimacy to what happens inside of it. Don't take my word for it, ask Hulk Hogan, whose first order of business in TNA was making the ring a square.
The octagon is nice, but a square ring could possibly be a step in the right direction.
Less Weight Classes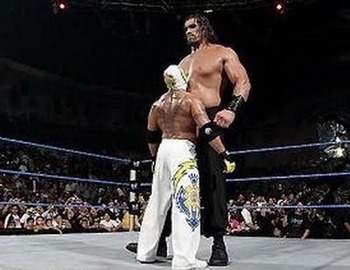 Weight classes are obviously an intricate part of a legitimate fighting league, but the UFC has a few too many. Consolidating their seven weight classes down to five would be a nice move and would open up the possibility for new matchups.
Number of Championships
This goes along with the idea of consolidating weight classes. The less weight classes, the less championships. That, in turn, gives the existing championships more prestige.
Ring Sponsors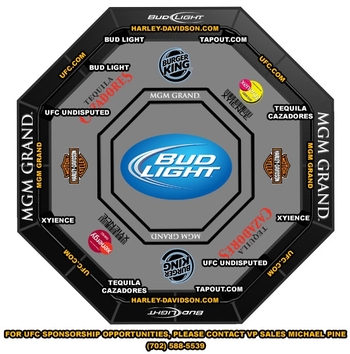 Something just looks gawky about having a giant Bud Light advertisement plastered on the ring mat. And then having 10 more ads on every part of the octagon.
WWE used to have them, but they have since been eliminated and it gives the ring, which is where the entire show takes place, a nice, clean look.
Stables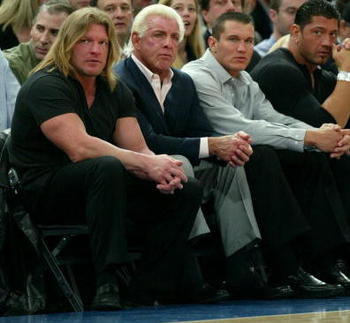 Tag teams were already mentioned, but stables are different. Stables would be groups of fighters who have aligned with each other, although they don't necessarily need to fight with each other.
It would add some depth to rivalries in the UFC that would make the product more intriguing overall. Whose to say that if someone turns on an ally, that wouldn't make a great main event?
House Shows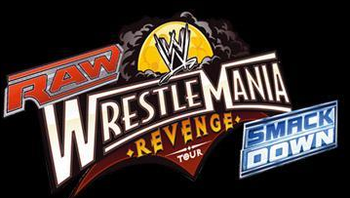 WWE is able to give fans the opportunity to see live events, as they travel every single week. UFC doesn't do that, but if they did, it would give the fans a great experience and they would become more loyal to the product. Again, because the fighting is legitimate, Brock Lesnar would not be one to fight at a "house show," but lower-card talents would be able to drive the event.
Ticket Prices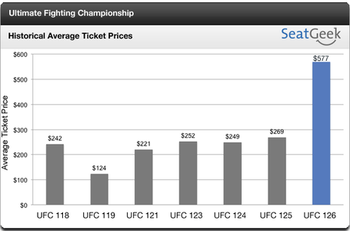 WWE markets itself as the "best value in entertainment." It may be arguable, but can anyone really say that $20 for a ticket is a bad deal?
UFC ticket prices, on the other hand, are through the roof and that can turn off fans who want to see events live.
Going International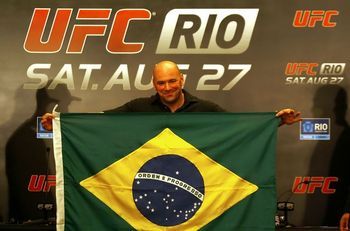 Going international is less of a feature and more of a business expansion; however, it can prove to be a great move for any company. UFC doesn't completely ignore its international fanbase and events are sometimes held outside of the United States. However, UFC currently does not focus many resources on international business, but WWE has a multitude of international offices that prove to be beneficial.
The Cage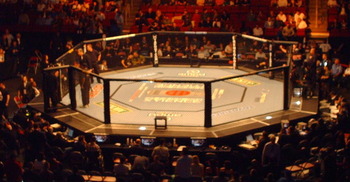 Like the octagon, the cage has become a staple in the UFC. But what is wrong with ropes? The cage can cause injuries and those would otherwise be avoided. There is, however, the argument that without the cage, fighters could "escape" and ditch the match.
Going Public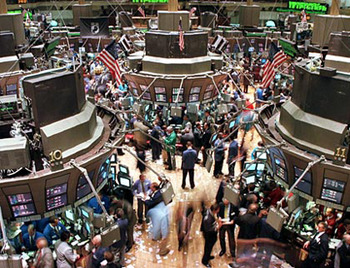 Going public is big step for any company. When WWE went public, it was huge for wrestling and represented not only a huge step for WWE and Vince McMahon, but for the whole wrestling industry.
UFC going public would be able to generate new business credibility for an organization that is now viewed by non-fans as big buys beating each other.
More Merchandise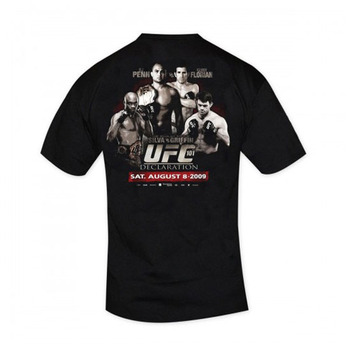 Yes, the UFC has a ton of merchandise, but WWE has more. Much, much more, and it's a big money maker.
UFC should reevaluate their current merchandise plan and offer more of everything to their fans.
Fan Events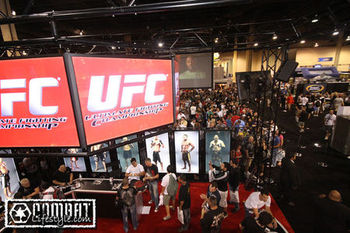 WWE is one of the best companies in the world when it comes to getting the fans involved in what it going on. Everything from autograph signings to WrestleMania AXXESS generates an extreme amount of interest in diehard fans.
UFC has done this with their fan expo; however, in terms of truly getting behind it and not just throwing an event together to offer something would prove to be a good move for UFC.
Flagship Event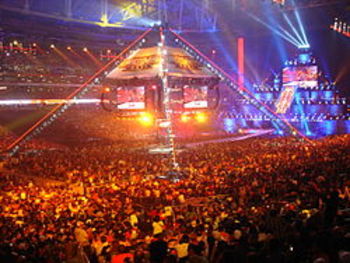 WrestleMania is the pinnacle of all things wrestling. It's what the entire year revolves around and what everything leads up to. Every sport has one event that is the be-all, end-all, whether it be the World Series, Superbowl or WrestleMania.
UFC is clearly lacking one flagship event. Establishing one should very much be a priority of Dana White.
Storylines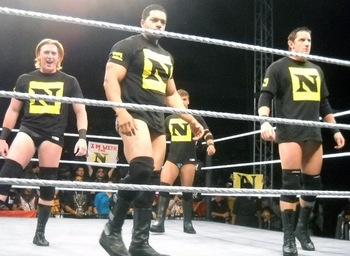 The Nexus storyline was WWE's lifeline through all of 2010
WWE is very good at dragging out rivalries and storylines over the course of a few months and multiple events. This, in turn, keeps the fans very engaged in the the product.
UFC is able to hook the fans; however, most fights are one-offs and rematches are usually just that, one more of the same fight.
Stipulation Matches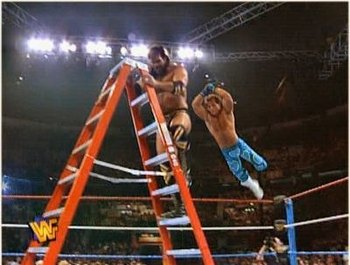 Needless to say, UFC fighters cannot hold hardcore matches that see them beat each other with trashcans and kendo sticks; however, introducing a new match style or two wouldn't hurt UFC's product.
Hall of Fame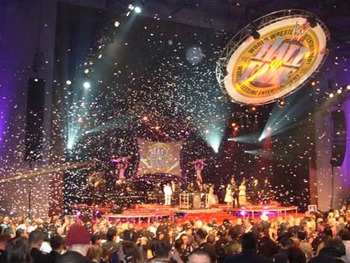 A real Hall of Fame. Not necessarily a building, but a real Hall of Fame that sees a class get inducted each year instead of just throwing a guy in there when deemed necessary.
WWE's Hall of Fame induction ceremony is one of the biggest nights of the year, and one would assume the UFC would benefit from one also.
Fighter Entrances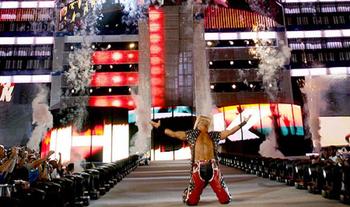 There's something exciting about the entrances in WWE. They are over the top and elaborate but fun to watch.
UFC is following in the footsteps of boxing and having fighters simply walk to the ring with some music. Building an entrance set and having the fighters showboat a little on their way to the ring would be a nice addition.
Celebrity Involvement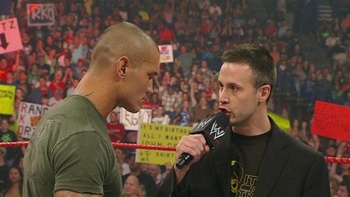 UFC has its fair share of celebrities shown on camera sitting ringside at events, but WWE actually gets celebrities involved with the events.
While having Raw guest hosts wasn't exactly one of WWE's best decisions, getting A-listers involved with Raw adds some depth to the show and can draw new viewers to tune in.
Fighter Personas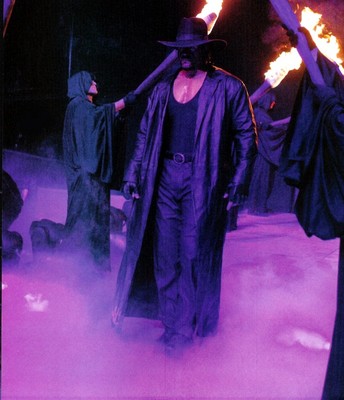 Giving the fighters larger-than-life personas can give the fights themselves more depth. WWE has taken that to the extreme with gimmicks being sometimes outlandish, but the UFC can make their fighters more intriguing to fans by promoting them in the same way WWE promotes their wrestlers, as "superstars" who are larger than life.
Use the Internet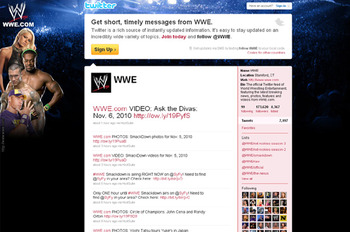 WWE has seriously jumped on the social media bandwagon. They promote wrestler Twitter accounts with onscreen graphics, post "Did You Know" facts about Facebook likes and in their own right have a formidable .com division.
UFC does use some of the Internet's resources, but they should take a look at what WWE is doing and take a page out of their book.
Push a Poster Boy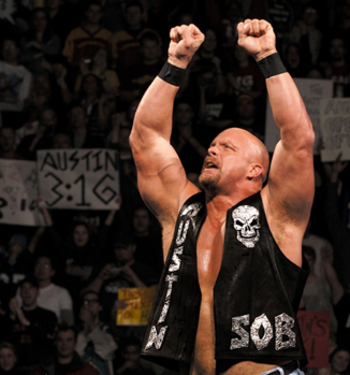 Every era in WWE can be defined by one wrestler, a poster boy, if you will. From Steve Austin to John Cena, there has always been one face synonymous with wrestling.
UFC should choose one fighter to elevate to a level of their own and make him the new face of MMA. While fans will always have their personal favorites, every sport always has that elite athlete who defines an era.
Get Involved with WWE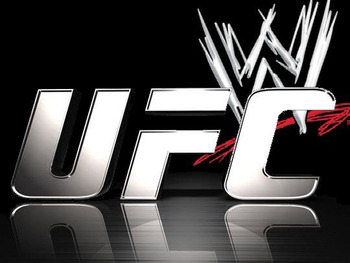 This one isn't what UFC should learn from WWE, but how UFC should capitalize on WWE.
Vince McMahon is known to have at least a diplomatic relationship with Dana White as they have both said they have met with each other. But what does that even mean? After all, even Nixon met Brezhnev at the height of the Cold War.
Dana White should establish a partnership with WWE and, Vince McMahon willing, the two companies can volley off each other's success. Acknowledge that they are offering two different products to the same market and try to capitalize on that.
While the likelihood of that happening is slim, it seems as though it would be a smart move for both companies.
Keep Reading