The Natural Order of Things: College Football Continues to Reset
November 24, 2011
There are some certain unquestionable laws of nature, so implicit that even a child is aware of them and doesn't question them. Laws such as water is wet, delivery food is always cold, and regardless of which line you get in, it's always the slowest. Of course, many other such laws exist as well, but here is the most inalienable law: Oklahoma State does not belong in the National Championship Game.
The 2nd ranked Okie Lite Cowboys got punched in the mouth in Ames, Iowa, in a Friday night brawl and didn't know what to do. The guy who punched them looked like a Trojan and kind of played like a Trojan.
That must have confused the easily confusable squad from Stillwater, thinking their flight took them to Southern California and not the corn state. But in Iowa they were, and lose they did, in a double OT thriller (of course, the word "thriller" used here is a euphemism for "hilarious"). 
While we're in the Sooner state: Oklahoma 31, Baylor 38. A.k.a. Big Game Bob choking yet another (marginally) big game that laid on a clear path to the national title. Sounds about right—the natural order of things.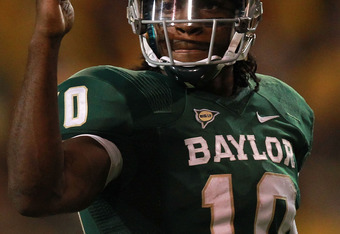 Ronald Martinez/Getty Images
USC beating Oregon is status quo, except this is Lane Kiffin USC vs. Chip Kelly Oregon, and that is an Oregon team not losing to USC. Not today, not ever. Chaos.
LSU, Bama and Arkansas are one, two and three. The SEC west crowd will be (is) unbearably smug, but you can't fault them for it. Any other division in football would be too—if only any other division had half the talent of the SEC West. Good luck next year Aggies. Smug.
But just when you come to terms with it all, another weekend of football rolls around.
Want to throw a kink in the natural order of things?  How about Arkansas beating LSU on Saturday?  Now wouldn't that be something. Insert three-way-ties rules a la Big 12 on 2009, except this one will likely be decided by a 6-3 game between LSU and Bama where nary a touchdown was scored.
How's that for deciding the top team in the country, regardless of what the BCS, AP, or any other poll decides? Of course, Georgia could throw in the biggest monkey wrench of them all, but even I can't stop laughing at the thought. 
Contrarian views take Arkansas this weekend. Oh, wouldn't it be fun, but the mad hatter isn't going to lose this one, not at home—despite his best attempts to mismanage the clock, going for two when the score is tied and spiking the ball as the clock runs out.  He shall try, his assistants will overcome, LSU will win.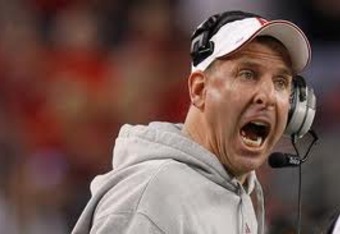 Baylor is doing a really great job of making me eat my words this year.  Yeah, you're 4-3 in conference play, but when you only had 18 conference wins in 1995, that's a pretty big deal. An even bigger deal is dismantling the No. 5 team in the country in prime time.
Hopefully that win is no longer on their minds as Texas Tech is more than capable of dealing a slice or two of humble pie over Thanksgiving weekend.
Unranked Texas A&M is favored by eight over No. 25 Texas (go figure) in a most common scenario where rankings are more a popularity contest than a true depiction of where a team lies in the overall football landscape.  Well-talented but under-performing teams keep being favored yet keep losing. 
Now subtract two running backs from the TAMU stable (or kennel as the case may be).  A seemingly solid Thanksgiving Day of taking Texas to town is now a huge question mark where the 12th man is TAMU's biggest weapon and their coaching staff their worst enemy.
Nebraska left the Big 12 in a huff, fed up with the favoritism given to Texas and Oklahoma.  They're always being treated as the red-headed stepchild of the conference, and understandably so.  Why would Pelini even consider the fact that his mediocre team might be, well, mediocre?
It'll be different in the Big 10.  They won't play favorites there! They'll just beat out butts week in and week out—kind of reminds you of the Big 12, doesn't it Bo?  Iowa wins just because it'll be fun.
Alabama is favored by 21 over Auburn in this year's Iron Bowl. Sounds awfully generous, even for a rivalry game, and by generous I mean Alabama should win that game by 40—and they just might.
Not too much hype around the Civil War this year. Oregon State has been less than impressive and Oregon is licking its wounds from their loss at home to USC.  Rivalry games are always just that, but I wouldn't be surprised if Oregon exorcises some demons Saturday afternoon—and it's going to be fun to watch.