Vanderbilt Basketball: Can the Commodores Survive the Non-Conference Schedule?
November 24, 2011
Joe Robbins/Getty Images
The start of the season hasn't exactly been smooth sailing for the Vanderbilt Commodores, despite their preseason No. 7 ranking.
After their surprise loss to Cleveland State, the Commodores fell all the way outside the Top 20, but have since reeled off three-straight wins.
Even though the Commodores have hardly looked like a Top 10 team, it's important to realize how much the Commodores have challenged themselves in their non-conference schedule.
Cleveland State is one of the up and coming mid-majors in college basketball, and is right on the doorstep of the Top 25 at the moment.
Then the Commodores took on three teams who have a great shot at making the NCAA Tournament, in Bucknell, NC State and Oregon State.
Finally the Commodores will get their first cream puff of the season with Monmouth coming into Memorial Gym, but after that the schedule gets even tougher, with games against No. 12 Xavier and No. 7 Louisville.
If the Commodores can just win one of those two games, then they'll be sitting pretty until the SEC schedule begins, which will be as tough as it's been in quite a while.
This isn't even mentioning the emergence of Belmont and Middle Tennessee State as viable contenders in their respective conferences as well.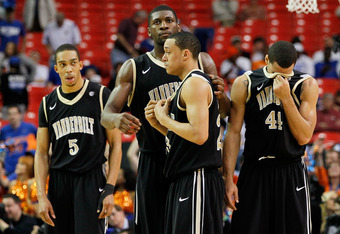 Kevin C. Cox/Getty Images
In other words, the Commodores will be tested by a conference favorite in nearly every game over the next month.
All of this is coming without Festus Ezeli, who is arguably one of their most important players. He provides for good rebounding numbers and a strong inside presence on defense. He's also a nightmare for teams looking to stay out of foul trouble.
But Ezeli is still expected to miss about another month before he can even think about returning to the lineup.
If the Commodores can figure out a way to survive this challenging non-conference slate, then they'll set themselves up for a great seed in the NCAA Tournament with plenty of quality wins.
However, if they limp into SEC play with four or five losses, then it could mean NIT time for a team that some people said could make a run at the Final Four.
The answer probably lies somewhere in between. This team is immensely talented and has a ton of veteran leadership, starting with Brad Tinsley at the point guard position.
Tinsley hit the game-winner against Oregon State, and is a vital piece in whether or not the Commodores can rack up a few quality wins in the non-conference schedule.
If Tinsley can run the offense effectively, then that will go a long way towards giving the Commodores a chance in every game they play in.
As tough as the non-conference schedule is, this will do nothing but help the Commodores in the long run if they make the NCAA Tournament, which they most likely will.
They'll be battle tested, and should be playing their best basketball in March after going through this gauntlet of a schedule.