Iowa Football: Key Matchups When the Hawks Play Nebraska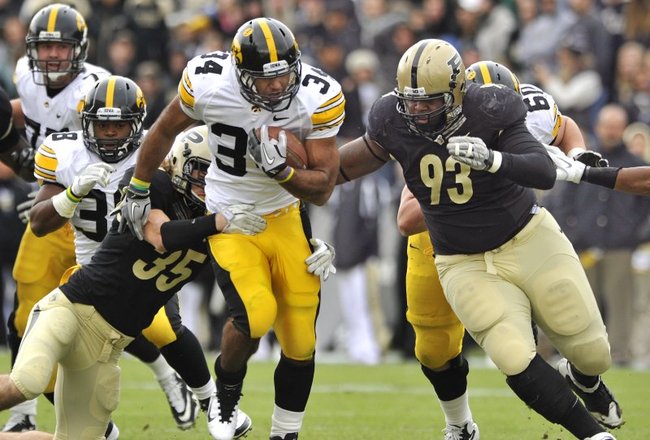 Iowa is 7-4. Nebraska is 8-3.
Iowa fans wanted more for their team, but they can hardly complain given that it is a rebuilding year, and the Hawks are now in a position to win eight games.
Meanwhile, Nebraska fans wanted to come into the Big Ten and dominate. It has hardly worked out that way, as the Cornhusker defense—or Blackshirts—have been worse than Iowa's D, which has been the worst Hawkeye defense since Kirk Ferentz took over in 1999.
Still, the Huskers sit at eight wins with a chance to win nine and go to a respectable New Year's Day bowl game. If the Hawks were sitting in Nebraska's position, I suspect Iowa fans would be ecstatic.
Nevertheless, this game has turned out to have all the makings of what a rivalry game should have.
There are no conference or divisional championships on the line, but the Hawks could go 8-4 and have a good shot at the Outback Bowl if they win. It may not seem like much, but it is a world away from 7-5 and the Meineke Car Care of Texas Bowl.
On the other hand, Nebraska could finish 9-3 and wind up in the Capital One Bowl, despite a down defensive year.
Speaking as an Iowa fan, a win in Lincoln could go a long way towards washing away the failures of the last two years.
Marvin McNutt vs. Alfonzo Dennard
Nebraska cornerback Alfonzo Dennard has not had the senior season he would have liked to have.
He missed the first three games with a leg injury and has been trying to get fully healthy since returning. He has yet to record an interception and has only had five pass break-ups.
However, he is still projected to go in the first round of the NFL Draft, and he is still the best cornerback Marvin McNutt and the Hawkeyes will see all season.
McNutt did pretty well against the second-best cornerback he faced this season—MSU's Johnny Adams—recording nine catches for 101 yards. On the other hand, against the Spartans, McNutt failed to record a touchdown catch and had his lowest yards-per-reception average of the season.
As has been the case all year, the Hawkeyes will look to get the ball into the hands of their best receiver, and he will have to deliver.
That means he has to make every routine catch as well as the big plays.
Keenan Davis vs. Health and Andrew Green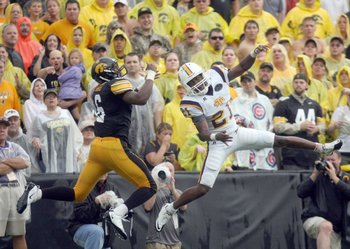 Part of the reason Dennard's stats have been down is because opposing teams have avoided his side of the field. Instead, they have picked on the other cornerback position, which has not had a great season.
Over the course of 2011, Nebraska has played four different cornerbacks opposite Dennard. The Huskers have finally settled on sophomore Andrew Green for the past four games, but predictably, he has been the focus of opposing offensive coordinators.
This is where Keenan Davis has to step up.
Davis has been hampered by an ankle injury since the Indiana game. He missed the contest against Minnesota and looked limited in the games against Michigan, Michigan State and Purdue.
The Hawkeyes need McNutt to step up, but Davis will have the more favorable matchup, and he will have to exploit it.
Moreover, Iowa's other two key pass catchers—Kevonte Martin-Manley and C.J. Fiedorowicz—also need to do enough to keep the safeties focus off McNutt.
James Vandenberg vs. Patience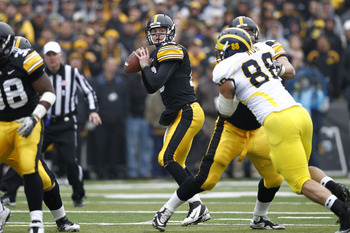 Hawkeye quarterback James Vandenberg is going to have to exercise patience against Nebraska, as the Huskers run a scheme similar to Iowa in that they protect against the big play and create pressure with their front four.
In fact, Nebraska defensive linemen account for 81.25 percent of the team's 16 sacks.
The only two Big Ten teams that have similarly defensive line-heavy sack numbers are Wisconsin (78.3 percent) and Iowa (78.9 percent).
All other Big Ten teams are 71 percent or below.
In short, JVB has to look to his underneath receivers. He will have to drive the field and remain content to look for five yard outs instead of game breaking plays.
The last time he was asked to do that—Penn State—didn't go so well, as he had his worst game of the season. Of course, Penn State has a better defense than Nebraska.
Iowa vs. Nebraska Special Teams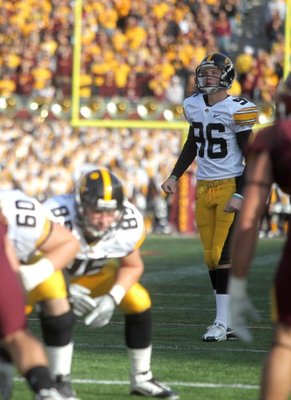 Nebraska's scoring defense is eighth in the Big Ten. Iowa's is seventh.
Nebraska's scoring offense third in the Big Ten, but it's one-dimensional. Iowa's scoring offense is fourth and has solid balance. Moreover, NU's conference-only scoring offense is ranked sixth. Iowa's is fifth.
Nevertheless, Nebraska is 8-3, while Iowa is 7-4 despite Nebraska having a tougher schedule than the Hawks.
What gives?
Special teams.
The Huskers have the second best field goal kicking unit and kickoff return team in the conference. They also have the best punt coverage team and have only allowed opponents to convert 57.1 percent of their field goal attempts.
On top of that, the Cornhuskers haven't missed an extra point, they have the third best kickoff touchback percentage in the conference and they are sixth in punt returns.
The only flaw on the Huskers special teams are the coverage units, both of which rank at or near the bottom of the conference.
On the other hand, outside of punt coverage, Iowa special teams haven't been so hot.
I won't go into details, except to say that special teams is an area of great concern against Nebraska.
Ameer Abdullah vs. Iowa Kickoff and Punt Coverage
More specifically, true freshman Ameer Abdullah has been a sensation on returns.
He is seventh in the country in kickoff returns, averaging 29.96 YPR.
As the Hawks are unlikely to bury many kickoffs in the end zone—they are 102nd in the country in kickoff touchback percentage—the coverage teams will have to step up.
Rex Burkhead vs. Iowa's Linebackers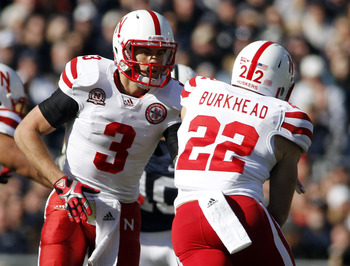 Justin K. Aller/Getty Images
Nobody will mistake Rex Burkhead for Barry Sanders or Adrian Peterson.
He is not terribly fast, explosive or big, and he will get picked very late in the 2013 NFL Draft (Burkhead is a junior), if he gets picked at all.
Yet, Burkhead gets the job done.
He is fourth in the conference in rushing with 1,108 yards—good for 4.99 YPC—to go along with a conference second-best 14 touchdowns.
Given Burkhead's physical limitations, he is not going to break many big runs. Instead, he will carry the mail and get a solid five YPC.
The Iowa front seven, and particularly the linebackers, have to make sure to wrap Burkhead up and finish his runs at first contact. They cannot allow him to run through tackles and manage five YPC all game.
It is no coincidence that in all three of the Huskers' losses, Burkhead was limited to fewer than 100 yards and only four YPC.
Taylor Martinez vs. Contain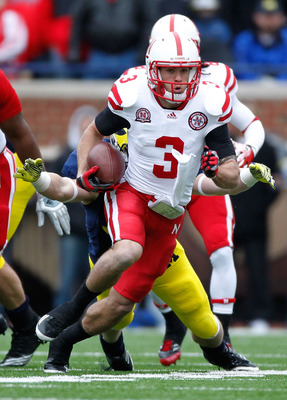 Gregory Shamus/Getty Images
Taylor Martinez is the second-most productive rushing quarterback in a conference full of rushing quarterbacks.
Thus far this season, he has 817 yards for 4.83 YPC and nine touchdowns.
Meanwhile, the Iowa front seven have had issues containing mobile quarterbacks. The Hawks have done better lately, but they still had issues cleaning up Purdue's Robert Marve and Caleb TerBush, neither of who is anywhere near as dangerous a runner as T-Magic.
One way or the other, the Hawkeyes will have to stop the Cornhusker rushing attack via both Martinez and Burkhead. If they don't do that, they stand no chance of winning.
Taylor Martinez vs. Iowa's Coverage
Gregory Shamus/Getty Images
As dangerous as Martinez is when he tucks the ball and runs, he is a lousy passer.
Look at the photo accompanying this slide. He has not yet released the ball, yet it is obvious how flawed his mechanics are.
Furthermore, Martinez has the third-worst passer efficiency rating of the nine Big Ten quarterbacks that have enough attempts to qualify for conference leader statistics. The only two worse than him are Penn State's Matt McGloin and Minnesota's Marqueis Gray, neither of who can hit the side of a barn (except against Iowa, it would seem).
Ultimately, beating Nebraska is a very simple formula.
Squash the Cornhusker running attack and force Martinez into long third downs.
Marcus Coker vs. Fatigue and the Nebraska Front Seven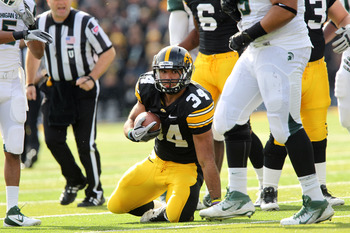 Reese Strickland/Getty Images
Nebraska has held only two of its Big Ten opponents to less than 150 yards on the ground. Those two opponents—Michigan State and Minnesota—are two of the three worst rushing teams in the Big Ten (YPC). The Huskers haven't played the worst rushing team in the conference: Indiana.
On the other hand, the stats are slightly deceptive, because NU has held its last three opponents—Michigan, Penn State and Northwestern—to a lower YPC than their season averages. The Wolverines were held to almost two YPC less than their season average
As it happens, Iowa is the second-to-last rushing offense in the conference in terms of yards. However, the Hawks are seventh in YPC and fifth in conference YPC.
In short, Iowa can move the ball on the ground.
The issue is that Mika'il McCall has been suspended for a game and Jordan Canzeri has a hamstring injury.
Consequently, the fortunes of the running game will likely be put entirely on sophomore Marcus Coker's shoulders. He has handled this onus so far this season—he leads the Big Ten and is sixth in the country in rushing attempts—but he was noticeably fatigued towards the end of the Purdue game.
Furthermore, as the Iowa-Nebraska game is on a Friday, Coker will have one less day of rest than he is used to.
Iowa vs. Red Zone Conversions and Blown Opportunities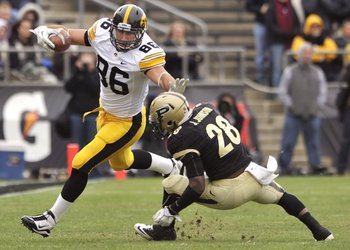 This may be a bit reactionary, as it goes without saying Iowa, or any team, has to take advantage of its opportunities.
Nevertheless, the Hawks have been a pathetic 12-of-18 (66.67 percent) in red zone conversions over the last four games.
Mike Meyer has made only two of his last six field goal attempts.
The Hawkeyes got away with a lot of sloppy play against the Boilers, as it seemed Purdue was just as intent as Iowa to squander its chances.
This cannot happen against Nebraska.
When the Hawks are in the red zone, they have to score. When Nebraska turns the ball over, Iowa has to put points on the board.
Five Keys to an Iowa Win
1. Shut down the Husker running game on first and second down.
This will force Martinez into obvious passing downs.
2. Pressure Martinez on third and long and force him to make plays with his arm.
He cannot yet beat teams with his arm. Iowa cannot give him that opportunity.
3. JVB has to take what he is given.
Nebraska is not going to give Iowa many big plays. In effect, JVB and his offense have to drive the field.
4. Contain the Nebraska special teams.
On paper, it is obvious how much of an advantage the Huskers have in this area. The Hawks probably won't shut them down, but they have to contain them and not allow the special teams to determine the winner.
5. Play with emotion.
Kirk Ferentz has been accused of failing to pump his teams up for big games. I don't agree with this, but looking back at the Minnesota game, it was evident that Iowa didn't show up to play. This is a big one. Iowa has to come to win.

Keep Reading

Iowa Hawkeyes Football: Like this team?