2012 NFL Draft: Forget Andrew Luck; Miami's Man Is Robert Griffin III
November 23, 2011
Ronald Martinez/Getty Images
For much of this NFL season, Miami Dolphins fans have been hoping for losses to get the top draft pick next season. The man everyone wants them to pick is Stanford Cardinal quarterback Andrew Luck. He will be a hell of an NFL quarterback, but Baylor's Robert Griffin III has a skill set that may have never been seen in the NFL.
Traditionally, quarterbacks can do one of two things.
They are good runners and make for good spread quarterbacks in college. Many of these guys don't make it in the NFL. Mike Vick and Cam Newton appear to be two exceptions. With that said, both are phenomenal players, but neither will ever be a top passer in the NFL the way that guys like Brady and Rogers are.
The other type of quarterback is the traditional NFL pocket passer. These guys are more prevalent at the professional level, but not many have the speed to break long runs.
Griffin has the potential to do everything on the football field. If he reaches that potential, he could become the most dynamic player that the league has ever seen.
Griffin has turned into a great passer. He's accurate and has no problems with release or throwing on the run. He has good arm strength and will be able to complete all passes at the NFL level. He's above 72 percent in college, which is a very good number.
His speed is off the charts. In high school, RG3 broke hurdles records. In college, he's still at the top NCAA level. Griffin was even invited to Olympic trials for hurdles, and made it to the semifinals. He's incredibly fast and will be able to outrun almost every single player, even at the NFL level.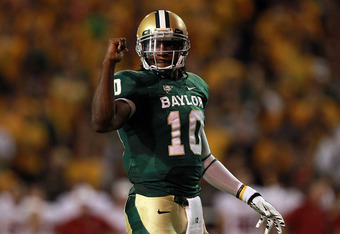 Ronald Martinez/Getty Images
It's no secret the Dolphins need a quarterback. Matt Moore has been good recently, but everyone knows he's not the long-term answer. Quarterback is priority No. 1 for the 'Fins in next year's draft.
It looks like the Colts are the worst team in the NFL, and I doubt they'll be able to beat anyone for the rest of the season. They will get Andrew Luck.
A pocket passer like Matt Barkley or Landry Jones would be a great pick for the Dolphins, but I want to see something more exciting.
The possibilities that the Dolphins would have with a player like Robert Griffin III would be endless. Miami has many dynamic players already, most notably Brandon Marshall, Reggie Bush and Daniel Thomas. I'd love to see some of the formations Miami could run with the personnel they would have.
Last week against then-No. 5 Oklahoma, Griffin led the underdog Baylor Bears to a gigantic victory. He threw for 479 yards and four touchdowns, completing over 60 percent of his passes. He ran for another 72 yards. He had no interceptions.
If you haven't seen RG3 in action, then you are missing out on watching one of the best players college football has seen in a long time. The Miami Dolphins are a quarterback away from being a perennial playoff team; Griffin could be the long-term answer for a team ready to have a breakout season.