BYU to the Big East: Why Any Deal Is Now Officially Dead
November 23, 2011
According to numerous college football writers' Twitter feeds as well as the Associated Press, the negotiations between BYU and the Big East have hit an insurmountable impasse.
Big East officials will now start actively pursuing a relationship with San Diego State for football only, with the Aztecs reportedly hoping to relocate their other athletic teams to the Big West, similar to what Hawaii did a year ago when it left the WAC for the MWC in football only.
It looked like BYU and the Big East had an agreement in principle late last week, but some last-minute demands from BYU Board of Trustee members made making such a deal impossible, according to Dick Harmon of the Salt Lake City Deseret News.
Probably the biggest kicker in the negotiations was a possible "satisfaction" exit clause that would have allowed BYU to leave the alignment in as few as two years.
This final demand clearly demonstrates that BYU is more interested in other leagues. The Big 12 still hasn't said an official "No" and/or "Never" to BYU, and it is still confronted with demands by most of its member institutions to return to 12 members.
As I've attempted to point out over the past 15 months since BYU announced its breakaway from the MWC, joining a BCS-AQ power conference would be a difficult proposition given the feelings of a few of these trustees or overseers who come from the Council of the Twelve and First Presidency of the LDS Church.
This group is made up mostly of Utah, BYU and Utah State graduates, many of who have advanced degrees from academically high-ranking institutions (Harvard, Stanford, etc.). Similarly, two former BYU presidents are included in this group as well as two former BYU-Idaho presidents.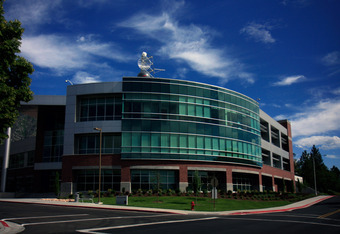 While most are very interested in BYU football and the exposure it brings to the LDS Church, I've been told (by some fairly high sources whom I'd rather not identify in a public forum) that there is at least one who doesn't support the football program and feels strongly that BYU should drop it entirely. This, without question, makes such negotiations with Board of Trustee input extremely difficult for BYU compared to other institutions.
What killed BYU in its efforts last month to gain an invitation to the Big 12 was media partners not liking the strict "no Sunday play" policy LDS Church rules dictate with respect to its other sports. Most substantiated rumors put this on FOX-TV sports, since their billion dollar second tier rights deal with the Big 12 would inhibit them from moving the Big 12 basketball postseason tournament back to a Sunday finale.
This is without a doubt frustrating for BYU fans, but equally if not more frustrating for BYU administrators, namely BYU president Cecil O. Samuelson and athletic director Tom Holmoe. The two have devoted numerous telephone, email and meeting hours to the Big East negotiations since late last summer when news of the Texas A&M talks with the SEC broke.
It's evident that both Samuelson and Holmoe know that football independence, despite the ESPN deal being in place for another seven years, can just as easily lead to the irrelevance that remaining in the MWC would have brought. It won't work and will only put the BYU program at an increasing disadvantage in the years ahead.
There is still a significant amount of realignment ahead that could easily involve BYU. Stay tuned and be patient is the only advice I can give BYU fans and administrators on this one.