Toronto Maple Leafs Player Profile: Carl Gunnarsson
November 23, 2011
Nick Laham/Getty Images
The Toronto Maple Leafs are off to a hot start in the NHL regular season. GM Brian Burke has finally built a team he feels is strong enough to compete in the playoffs. While much of the success has been attributed to top players doing their part, like Phil Kessel and Dion Phaneuf, many of the other Maple Leafs have been overlooked for their key part in the team's success.
To begin what I hope to be a long line of Toronto Maple Leafs player profiles, is a look at defenseman Carl Gunnarsson and his contributions thus far.
Carl Gunnarsson is a Swedish-born Leafs draft pick, taken in the seventh round (194th pick) back in the 2007 draft. Completely overlooked, Gunnarsson had not even been playing in the top leagues in Sweden when he was drafted. Until basically last year, he was not even looked at as a legitimate prospect to fill a spot in the future with the Leafs.
For a guy who is playing top defensive pairing minutes, little is he talked about. Quietly, he goes about his business playing beside one of the riskier and trickier partners you could have in the NHL (Dion Phaneuf). At 6-foot-2, 200 pounds, he isn't a physical specimen. No bone-crunching hits. You never see Bobby Orr-like breaks from the back, or any goals from the guy. But, in my mind, he has been the Toronto Maple Leafs' best defenseman this season.
Gunnarsson was born in Orebro, Sweden and started playing hockey the right way–playing on an outdoor rink, as that was the only one available to the younger age groups. As detailed by The Hockey News, Gunnarsson began playing as a goalie along with being a defenseman. He says this made him a better player as he was made aware of all aspects of the game, and as a defenseman he has the ability to play every role in the game today. Gunnarsson always believed he had a future in professional hockey, even when the odds were against him.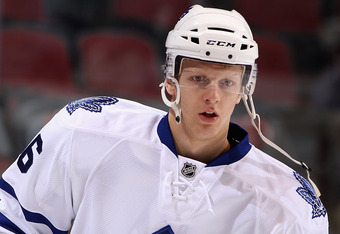 Christian Petersen/Getty Images
The break came when the Leafs traded Francois Beauchemin to the Anaheim Ducks, and Tomas Kaberle to the Boston Bruins last year. This opened up ample ice time for the 25-year-old to get minutes in important situations. Before this he had simply made the team and gone about his business on a losing squad. Playing upwards of 20 minutes a game, Gunnarsson delivered solid play, leading the coaching staff to give him time on the Power Play. And boy did he look the part.
His play is calm and collected, as Gunnarsson is rarely caught out of position and never makes mistakes. Defensively he is invisible, which is a good thing (other then making hits). You never want to hear a defenseman's name when the other team has the puck (again excluding big hits), as it never is a good thing. He never gives up easy chances and always plays good hockey along the boards. Gunnarsson lacks a physicality to his game, yet still dominates board play. He is in great shape and is way stronger then he appears as he uses body positioning rather then aggression to play. He is a lot like Maple Leaf forward Nikolai Kulemin, who is the same in this regard. Just watch the next game with Gunnarsson playing against the boards. He dominates this area of the ice.  
Offensively, Carl Gunnarsson has developed into a solid distributor, having a good vision to select passes. He never takes any chances with high-risk plays, rather sticking to the simple pass. One could argue that as he develops into an even bigger part of the offense, he will need to start taking more risks, but for now this play is great for Leaf hockey. As far as his shot is concerned, he doesn't have anything spectacular, but changes it up to keep the defense on its toes. Every so often he snaps shots quickly from the point, which creates chances in front or trickle in. Gunnarsson plays well off the side of Dion Phaneuf, letting the Maple Leafs captain play his game, while also supporting him when needed. Gunnarsson provides all the support for when Phaneuf is caught up in play, which happens far too often.  
Overall, he is a Jack-of-all-trades type defenseman. He can be used in every situation, and this past summer signed for a very reasonable $1,325,000 for the next two seasons. You're getting a whole lot for that little sum of money in LeafsLand. 
Carl Gunnarsson is worth a lot on the open market. Many speculations were made about why he was playing on the Leafs top defensive pairing (potential showcase for a deal), the real reason is simple. The kid is quality. Management knows it. The NHL knows it, and I bet he knows it himself. Still, he quietly goes about his business, giving very calm and modest interviews, while showing up every day to play.
He is the real reason why this team is fairing so well in the NHL. The top guys on this team are expected to perform night in and night out. They are paid big bucks to do so. When the other guys step up, provide depth and unity, that is when your team is successful. This team is relying on guys like Gunnarsson to step up and be an important part of the team's success. The only way the team will sustain its current success is if these guys keep it up.
After an in-depth look at the quiet Leafs defenseman, it's pretty clear he is a stud. Watch for Carl Gunnarsson's next game and trust me when I say, he will never make a mistake.