Tennessee Vols Football: Previewing the Kentucky Game
November 23, 2011
Sam Greenwood/Getty Images
The Vols are in the win column in the SEC for the first time since they beat Kentucky in November 2010. Tennessee (5-6), ever thankful for its annual two-game finish of Vanderbilt and Kentucky, has a chance to become bowl eligible with a win over the Wildcats (4-7). Having another month of football for this young team would be incredible for Derek Dooley and his coaching staff. 
For the last 26 seasons the Vols have counted on Kentucky for a late season win. With the Wildcats officially out of a bowl for the first time in six years, one would think the young Vols can count on extending that streak to 27 in a row over the Wildcats. 
If we've learned anything about these Vols, however, it's that you really cannot count on too much from them. Sure, Tennessee defeated Vanderbilt last week. But its other four wins have come against the likes of FCS power Montana, the MAC's Buffalo Bulls, Middle Tennessee State of the Sun Belt, and Cincinnati of the Big East. 
The only area these Vols have counted on this season has been injuries. Dooley and staff have had to deal with injuries to three of their best players—Herman Lathers, Justin Hunter and Tyler Bray. 
In this Thanksgiving season, Vols fans everywhere should be thankful for Bray's return at quarterback last week. For without him the Commodores would have likely left Neyland Stadium victorious. 
The Vols opened as a seven-point favorite over Kentucky. Here's what should happen in Lexington this weekend. 
When the Vols have the ball
As we all noticed last week, Tennessee's offense with Tyler Bray at 60 percent health is still much better than the Vols offense without the sophomore quarterback. 
You can expect Bray and the Vols to pick up right where they left off last week. And with another week to heal, Bray should be even better than he was last week. 
Statistically, Kentucky's defense isn't anywhere near the same category as the Vanderbilt D that the Vols faced last week. The Wildcat defense does feature linebacker Danny Trevathan, who is coming off a 17 tackle performance against Georgia last weekend. 
Tennessee will attempt to establish a run game against Kentucky's weak run defense (ranked No. 100 nationally and 11th in the SEC). Tauren Poole and Rajion Neal looked stout against Vanderbilt at times last week and the offensive line had one of its better games against the 'Dores. So, maybe, just maybe this Vols running game is on the verge of breaking out. 
It will be a steady dose of Tyler Bray and Da'Rick Rogers that will help the Vols put up big time points against a suspect, at best, Kentucky defense. 
When the 'Cats have the ball
Offensively, Kentucky has been nothing special this season. After losing over 90 percent of its production from last season (Randall Cobb, Derrick Locke and Mike Hartline), the Wildcats have struggled mightily.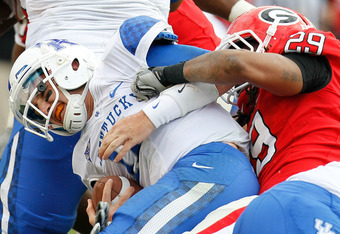 Kevin C. Cox/Getty Images
Kentucky is averaging just 16 points per game and ranks last or next to last in every offensive category in the SEC. 
Freshman quarterback Maxwell Smith has performed a little better than junior Morgan Newton, but neither have done anything worth writing home about. 
The only team running the ball worse than Kentucky this season is Tennessee. 
With the Vols defense turning up the heat last weekend, you can expect much more of the same against a much more inept Kentucky offense. 
What will happen in Lexington
The Vols should have little trouble covering the seven-point spread against the Wildcats. Tennessee owns Kentucky and that 26-year streak should be extended to 27 this weekend. 
The Wildcats usually find a way to make this a pretty good game and that could very well happen again Saturday. Given the utter ineptitude of Kentucky's offense and its iffy defense, however, Tyler Bray and company should have little trouble with the 'Cats. 
Prediction: Tennessee 34-14