BCS Predictions: 4 Things That Must Happen for Michigan to Receive a BCS Bid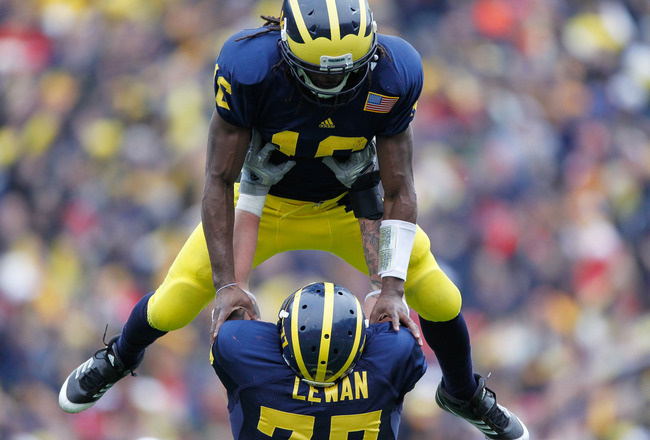 Gregory Shamus/Getty Images
The Michigan Wolverines continue their some what remarkable season under first year head coach, Brady Hoke, when they take on the Ohio State Buckeyes this weekend.
For all intents and purposes, Michigan is out of the Big Ten title race because of their loss to Michigan State.
Yet thanks to the marvelous system called the Bowl Championship Series, Michigan still has an outside chance at receiving an at large BCS bid.
Upon reading that statement, most fans may scratch their heads and ask me if I am looking at the right Michigan football season.
But the BCS, the same system that has seemingly robbed Michigan of bigger bowl games in the past, is giving Michigan a second chance at life so to speak.
After Michigan's disappointing 24-16 loss at Iowa, most people wrote off Michigan as yet another pretender in the growing collection of college football pretenders.
But a 45-17 throttling of the Nebraska Cornhuskers last week has reopened Michigan's chances via their 15th overall ranking in the week 13 BCS Standings.
But an "At Large" BCS bid will not come easily for Michigan.
Here are four things that must happen for Michigan to go to receive that at large bid.
1. Michigan Beats Ohio State (Duh)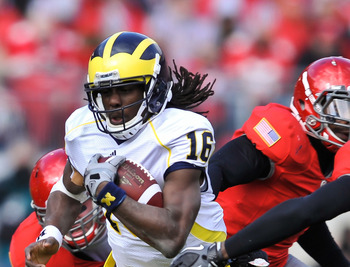 Jamie Sabau/Getty Images
Needless to say, Ohio State has been hit hard with their recent sanctions. The Buckeyes currently hold a 6-5 record with three and four losses in the Big Ten Conference.
Having said that, Ohio State is still a very dangerous team.
Their defense ranks 14th overall in points against, and they average almost 200 yards rushing per game.
Combine that with Michigan's occasionally susceptible secondary in terms of defending the pass, and Michigan could be facing an up hill battle on Saturday.
Another reason Ohio State is not a write off win (although some may say otherwise) is the fact that they have Michigan's number over the past decade. Nine wins (counting the win that was vacated last year) for the Buckeyes, and just one win for the Wolverines.
That has to change for Michigan's pipe dream of a BCS at large bid to find fulfillment.
Michigan must come up with a big win on Saturday and beat that team from Ohio for the first time since 2003.
2. Michigan State Needs Win Big in the B1G Championship Game

Mark A. Cunningham/Getty Images
Michigan State will likely beat Northwestern, and I do not see them losing to Penn State, but if they played Wisconsin, I could see them losing this time around.
On the BCS website, it states that "No conference may place more than two teams in the BCS games, unless the conference has two teams in the National Championship Game, and neither team is its champion."
Understanding that then would lead me as a Michigan fan to be in a tough spot: rooting for Sparty.
Michigan State is currently the only team above Michigan in the BCS rankings from the B1G, and a Michigan State demolition win in the B1G championship game would really do wonders to boost Michigan as that second team out of the B1G.
As of right now, Michigan State, Penn State, and Wisconsin are the only three teams who are left in contention for B1G championship.
The Spartans have already punched their ticket from the Legends division, while Wisconsin and Penn State meet Saturday to settle the Leaders division in Wisconsin's Camp Randall Stadium.
So with either Penn State or Wisconsin losing on Saturday, that means a Michigan State win in the B1G championship game would keep Michigan as that second team out of the B1G.
http:/camp/www.bcsfootball.org/
3. South Carolina Needs to Lose to No. 17 Clemson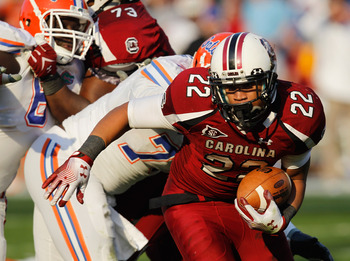 Streeter Lecka/Getty Images
South Carolina's defense has kept it in games this season. Boasting a respectable 19.4 points per game against on defense, South Carolina has limited SEC opponents to 16 points or fewer since their 45-42 win over Georgia in September.
The Gamecocks go up against a Clemson Tigers team that is still smarting from a loss to unranked North Carolina State last week.
Clemson will be looking to get back in the BCS picture themselves with a win over South Carolina this week.
The Tigers are also playing the Gamecocks at home this weekend and the last time South Carolina played a ranked team on the road, it was a 44-28 loss to then seventh ranked Arkansas.
Clemson may not have what it takes offensively to beat South Carolina, but I think that Clemson could pull out a win if their offense can find any sort of rhythm against the Gamecocks.
This is because South Carolina has no passing offense to speak of.
A ratio of 14 touchdown passes to 15 interceptions raises eye brows for a team ranked so high at 12 in the BCS standings.
Michigan needs a South Carolina loss to move back into contention for an at large bid.
Per the BCS website regarding at large qualification:
"An at-large team is any Football Bowl Subdivision team that is bowl-eligible and meets the following requirements: a) Has won at least nine regular-season games, and b) Is among the top 14 teams in the final BCS Standings."
Michigan already has nine wins, but a spot in the top 14 of the BCS is still up for debate.
A South Carolina loss would drastically improve the Wolverines chances of "at large" qualification.
4. Georgia Needs to Lose One of Their Final Two Games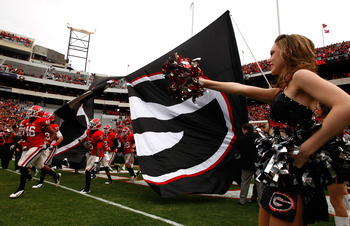 Kevin C. Cox/Getty Images
The 13th-ranked Georgia Bulldogs have reeled off nine wins in a row after starting the season with back-to-back losses.
Bulldogs' QB Aaron Murray has really come into his own this season, throwing 28 touchdown passes to only nine interceptions.
But Murray looked less than stellar last week in a 19-10 win against Kentucky. He was only able to put the ball in the end zone once, and Georgia led at one point 12-10, on four field goals.
Georgia's defense, which saved them the game against Kentucky, will be tested early and often by Georgia Tech's rushing attack.
The Yellow Jackets of Georgia Tech boast the nation's second most prolific rushing attack at 323.5 yards per game. They also have the 17th best scoring offense at 36.5 points per game, but are allowing 25.3 points per game.
A Georgia loss to the Yellow Jackets, or to the LSU Tigers in the SEC title game, would allow Michigan to move past Georgia for that elusive top 14 spot in the BCS rankings.
Even if Georgia only lost to LSU, it still might be enough to move Michigan past Georgia.
Odds of This All Happening?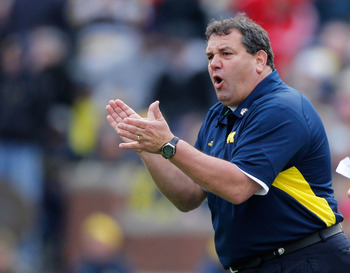 Gregory Shamus/Getty Images
If Michigan is to make this BCS at large bid dream happen, they have to start by taking care of the Ohio State Buckeyes on Saturday.
Saturday will mark 2,926 days since Michigan last celebrated a victory over Ohio State.
Michigan could also get some help if either South Carolina or Georgia loses on Saturday.
Having both the Bulldogs and Gamecocks lose would ultimately put Michigan in a prime position to take home an at large bid.
So what are the odds?
I'd give it 15:1 odds that Michigan makes a BCS game.
Not too far out of the picture, but for the moment, just out of reach.
Beat that team from Ohio, and then we will see where Michigan sits in the BCS.
Follow Isaac on Twitter for more article updates.
Keep Reading

Michigan Wolverines Football: Like this team?