Georgia vs. Georgia Tech: Are the Dawgs the Most Hated Team in Sports?
November 22, 2011
Vincent Laforet/Getty Images
For Georgia Bulldogs fans—or SEC fans in general for that matter—the word "rivalry" doesn't necessarily speak to one game.
"Rivalry" might better be defined as the frictional force that exists in any college football town, on any Saturday in the southeastern U.S.
SEC football and "rivalry" might just be interchangeable terms.
But if we want to nitpick, there's two rivalries Georgia fans can claim are the most important: one is called (or, was called) the "World's Largest Outdoor Cocktail Party;" the other is known as "Clean, Old Fashioned Hate."
The latter being the annual game between Georgia and Georgia Tech; the former being the tussle in Jacksonville between Georgia and Florida.
Take a second to observe those titles. What's the blatant difference?
One says party. The other says hate. Polarizing terms, don't you think? That's because one title identifies with SEC culture, while the other, well, doesn't.
Every season, win or lose, Georgia fans can enjoy the pageantry, passion and festivities of SEC football. But when Thanksgiving rolls around, the Dawgs in all of us get caught off guard.
Nothing is more of a disturbance to the equilibrium of Georgia football than the annual bombardment of hate that spews from the teeth of the Gold- and White-clad citizens of the state.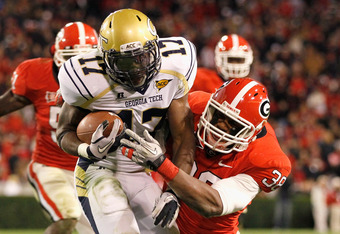 Kevin C. Cox/Getty Images
The Georgia-Georgia Tech rivalry is, in fact, hate. We really are stretching it when we call it "clean."
No team hates the other more than Georgia Tech hates Georgia. Period. Maybe not in any other American sport.
Give me the Yankees-Red Sox, Packers-Bears and Ohio State-Michigan rivalry advocates, and I'll give you a Tech fan that can make your hate feel like the cold side of your softest pillow.
Wear Red and Black to Atlanta on Saturday and you will be getting stares from the locals that might even convince you that you need to be exorcised. 
The Georgia-Georgia Tech rivalry, for the existence of a better term, is definitely downright nasty, maybe old-fashioned, hate.
Here is where things are different, and maybe a little odd: this rivalry might also be the most one-sided rivalry in sports. Not from a series standpoint, but from a feelings standpoint.
Sure, Georgia doesn't like Georgia Tech, but the differences between what "rivalry" means for Georgia fans regarding Florida, South Carolina, Auburn and Tennessee, and what "rivalry" means regarding Georgia Tech are staggering.
When you arrive at a tailgate for a Georgia-Auburn game, you might just feel like you're hanging out with a bunch of cousins. Even though you might absolutely despise the men wearing the blue and orange uniforms on the field, there's no doubt it's all just fun and games. Everyone has a pretty good time.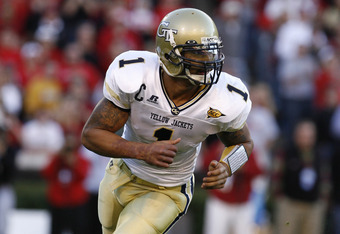 Mike Zarrilli/Getty Images
But, when you go to Georgia Tech you become a target. You become evil. You become the bane of every Georgia Tech fan's existence.
Why is that?
Should we hate Georgia Tech for it?
I'm here to argue: No, we shouldn't.
I thoroughly enjoy it. I even more thoroughly appreciate it. It's hands down one of the most unique rivalries in sports, and I might even go as far to say none of us, red, black, gold or white, understand that enough.
What makes the rivalry so unique is the vast differences in the culture of the two schools.
Georgia Tech fans have been fed the "Hate Georgia" kool-aid for so long that they have lost a sense of neutrality, if you will, when it comes to the University of Georgia.
How many Georgia Tech fans do you know that will try, over and over, to convince you that Georgia actually is a bad academic school?
How many Tech fans do you know that will try, over and over, to try to convince you that Georgia actually does have one of the most inept head coaches around?
How many Tech fans might try to convince you that Georgia's players actually are a bunch of prima donnas?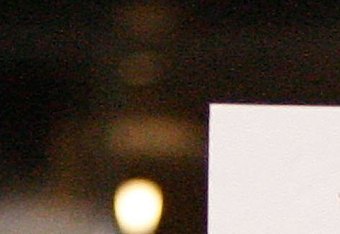 Kevin C. Cox/Getty Images
On the other hand, Georgia fans, despite considering Georgia Tech a rival, really don't invest the same amount of interest in the series.
The SEC schedule is always more important and, by the end of the year, the Dawgs usually have bigger fish to fry than those pesky Yellow Jackets, but the Yellow Jackets will always refuse to let us believe the former.
Even Georgia Tech's head coach, Paul Johnson, might be the epitome of the culture.
He has once claimed beating Georgia was the number one goal in the season. He even said, after a game a few years ago, that all Georgia Tech fans should "punch" Georgia fans "in the face."
Tech fans continue to demonize Mark Richt, who for all purposes might be one of the classiest coaches in football.
It's like the two cultures aren't even on the same plane; that, for the first 11 weeks of the year, Georgia Tech doesn't exist to Georgia.
Then, all of a sudden the Yellow Jackets emerge and begin their best attempts at stepping on the heels of every Dawg they can run down.
There will never be peace between the two teams, but even more, there might not even be peace for the respective fanbases.
That, my Bulldog friends, is what makes beating Georgia Tech seemingly every year so, so sweet. Almost as sweet as the "sugar falling out of the sky" (that one is for you, Munson).
So, to every Georgia fan that might complain about the nagging existence of the Techies: don't retaliate. Enjoy it. Embrace what truly is a great rivalry.
It might not be clean. It might not be old-fashioned, but it is hate.
The purest form of hate in sports.