MLB Trade Rumors: Matt Garza & Difference-Making SPs Who Will Be Dealt
November 22, 2011
Denis Poroy/Getty Images
The MLB Hot Stove season has seen a few moves go down in the last few weeks but nothing substantial to really get fans excited. All of that will change as the calendar flips to December and the winter meetings take place. 
Despite teams being able to sign free agents right now, none of the real action starts until all the general managers, agents and players get together in a hotel and start negotiating trades and contracts in person. 
With that in mind, there are a few high-quality starting pitchers that have been put on the trade market and can be had if the price is right. With the free agent pitching market being so thin, the best chance teams have to make a splash is via trade. 
Here are three potential difference-makers that will be dealt between now and the start of the season. 
Matt Garza, Chicago Cubs
The lovable losers from Chicago are likely to be doing a lot of housecleaning this season as the Theo Epstein-Jed Hoyer regime tries to reload a system low on high-impact talent.
Garza is their best bargaining chip because he is coming off the best season of his career—197 strikeouts in 198 innings, 3.32 ERA, 3.19 xFIP—and the team seems intent on making shrewd moves if it means getting better for the future.
If ever there was an ideal time to move Garza, this would be it. In addition to the numbers he put up in 2011, he is still cheap and is under control for two more seasons.
The feeling among those in the know will be that Garza does get moved, if not now than before the July 31 trade deadline.
There would be more incentive to move Garza now, because the Cubs' demands are more likely to be met and the team acquiring him would have a two full seasons of control to work with. 
John Danks, Chicago White Sox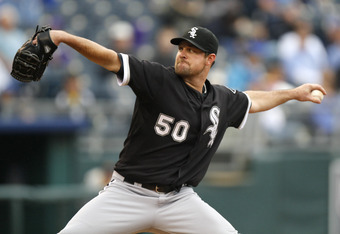 Ed Zurga/Getty Images
Danks being on the trade block is something of a surprise, because he is young (26), cheap (likely to make $7-8 million in arbitration) and has the stuff to be a top-of-the-rotation starter.
Last season was an off-year for Danks, but the numbers suggest that it was more of an anomaly than a sign of things to come.
Danks only threw 170.1 innings, his lowest total since his rookie season in 2007, his batting average on balls in play was the worst of his career (.313) and his ERA was the second-worst of his career (4.33).
That said, he did have the second-highest strikeout rate of his career (7.13/9 IP), lowest walk rate (2.43/9 IP) and his home run rate was right in line with his career averages.
The White Sox are not committed to trading Danks, but teams should have incentive to make a deal for him because he is going to be much cheaper than the best free-agent pitchers and likely more productive. 
Jair Jurrjens, Atlanta Braves
Kevin C. Cox/Getty Images
I am not as high on Jurrjens as others might be, and the package the Braves want for him is too steep.
Sure, he had great peripherals in 2011—2.96 ERA, 1.22 WHIP—but he always gets hurt, and when you look harder at his numbers, you see there is a strong possibility for regression.
Jurrjens has missed significant time the last two seasons due to injuries and he does not have the great stuff that will make him worth the risk.
That said, Jurrjens can be a No. 4 starter in a playoff rotation and there is a lot of value in that. If a few things break right, he could even become a No. 3.
The fact that the Braves go at least eight deep in the rotation right now suggests they can afford to move one of their starters to make room for a younger player—Julio Teheran, Randall Delgado—and the asking price should not be too high.