Arsenal Transfers: 7 Dream Buys for Arsenal Fans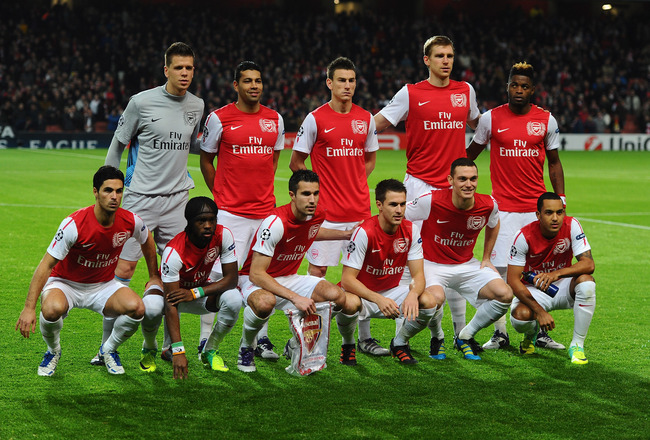 Mike Hewitt/Getty Images
Arsenal have been on a tear as of late.
With their immaculate form both at home and across Europe, they look to have seriously recovered from their season-opening woes that hit them hard.
With that said though, there is always room for improvement, as they are only in seventh place in the table and look to capitalize on progressing to the UEFA Champions League Round of 16.
There are always the realistic players that Arsenal fans have been looking for Arsene Wenger to sign to the club, such as Gary Cahill and Mario Gotze. Both of those players are amazingly talented but they lack that certain cutting edge to them that keeps them from being among the world's elite players, among other things, such as age and the club they are currently with.
Here is a shortlist of players that Arsenal fans may have only associated with the club through their dreams.
Eden Hazard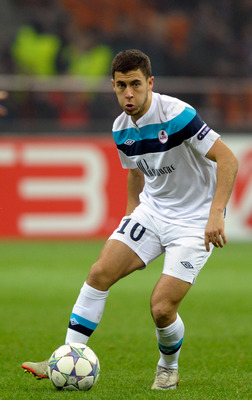 Claudio Villa/Getty Images
Eden Hazard has been a name that has been frequently linked to the Gunners since this past summer.
With his midfield dominance for LOSC Lille in France, being named to the Ligue 1 Team of the Year in back-to-back seasons and being an assist king for the side, his talents have not gone unnoticed.
With larger clubs with deeper pockets knocking on the door of the Belgian, it's looking less and less likely that he will make a move to England, let alone Arsenal.
However, with Arsene Wenger's history of signing players from the premier French league, it could still very much be a real possibility for Arsenal.
Kaká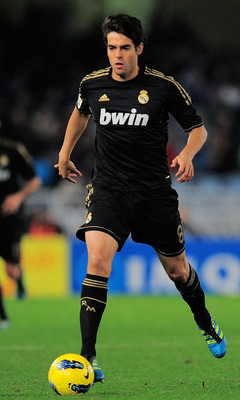 Denis Doyle/Getty Images
This Brazilian maestro would fit wonderfully into the Gunners midfield, as a potential midfield general, directing the flow of the game through the midfield and playing out wide to the speedy Theo Walcott or the brilliant Gervinho.
With his passing finesse and refinement, combined with his ability to shoot and free-kick ability, Kaká would be an excellent addition to Arsene Wenger's recovering Arsenal side, providing a proven internationally experienced player and one of the most hyped players in the world.
This dream signing would come for quite a price, though Arsenal could exchange some of their down-and-out players for the midfield genius of Ricardo Kaká.
Karim Benzema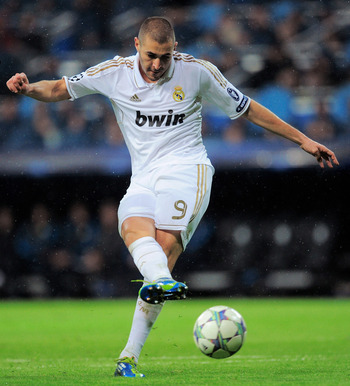 Denis Doyle/Getty Images
Karim Benzema is one of the players that fans of the game have felt has been around for a quite a while, though he is only 23 years old.
This Real Madrid star had his struggles last year to find his form and to find his shooting boots, but such was not the case this year.
With seven goals in the league, Benzema has come back into form for the Real Madrid side, but this French international would look rather good in the Arsenal red and white.
Partnering up with the on-fire Robin van Persie, the Benzema-van Persie partnership would be one of the most productive in English football, with Arsenal's winging forwards feeding the ball in from both sides and incisive passes being played in behind the opposition's back line to the imposing Frenchman and the flying Dutchman to slot in for the Gunners.
Christian Eriksen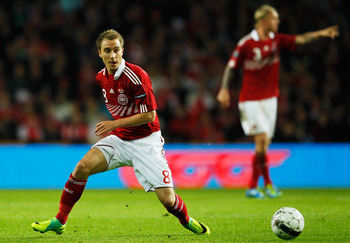 Paul Gilham/Getty Images
This 19-year-old Danish midfield genius would fit wonderfully into the Arsenal side based on meticulous build-up play and incisive passing moves.
Currently playing for Dutch side Ajax, Eriksen is one of the most talked-about and sought-after players in world football, his play really speaking for itself.
As much as this move has been linked with the likes of AC Milan, Liverpool and the inevitable scouts of Arsenal, Eriksen isn't looking for a move from the Netherlands unless Barcelona comes calling.
Gerard Piqué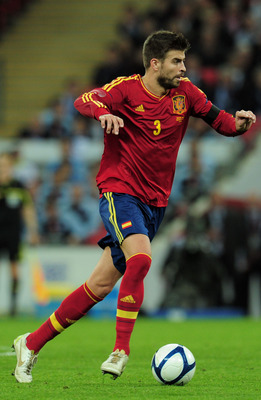 Shaun Botterill/Getty Images
Arsenal's back line has always been subject to skepticism from analysts over the past years, thanks to the various slips and gaffes in the back line, including the streak of own goals allowed at the beginning of this season.
Since that run though, the Gunners have solidified significantly, but there have been various slips keeping Szczesny and the Arsenal back line from retaining clean sheets, as seen this past weekend against Norwich.
Gerard Piqué could help bring a solution to this.
With Vermaelen and Koscielny helping to build a defensive partnership at the back worthy of considerable note, the signing of this Spanish defensive genius could bring concrete solidarity to the defense.
As a part of the UEFA Champions League winners in Barcelona and the European and World Cup champions in Spain, Piqué would bring in unequivocal experience to an Arsenal defense that is young and looking to progress.
Combined with his height and strong play, Arsenal could re-establish themselves as a defensive powerhouse, like they were in the days of Tony Adams and the Old Guard.
Wesley Sneijder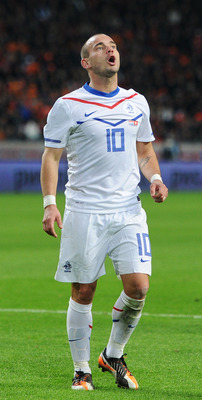 Jasper Juinen/Getty Images
Wesley Sneijder is one of the names in European football that is synonymous with top-level play and amazing performances.
This Dutchman would fit very well into the Gunners' passing system and would provide that extra edge and prong to an Arsenal attack that lacks that deadly bite at times.
With his experience and natural talent on the ball, Arsenal could really prove to be a major force in world football with Sneijder, combined with the newly found depth in midfield with the talents of Mikel Arteta, Yossi Benayoun, Alexander Song and Jack Wilshere, not to mention the up-and-coming players that will grace the side in the months and years to come.
Lionel Messi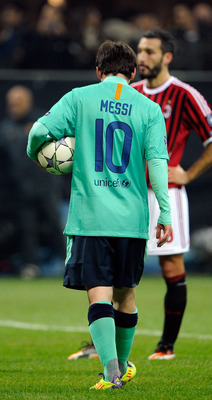 Claudio Villa/Getty Images
Lionel Messi is, arguably, the best player in world football.
Having been bred into a system that runs immaculate passing plays and attacking moves, Messi could provide that speed and deadliness to an attacking force that sometimes lacks just that.
With the likes of Andrei Arshavin and Marouane Chamakh being busts for the Gunners, Messi could partner up with Robin van Persie to really destroy opponents with ridiculous plays and eye-catching football, living in the name of the beautiful game.
Some will call into question his proving of himself in England or at the international level, having faltered as a player for his home nation of Argentina, but what better way to prove himself as a world player than to join a side that plays much in the style of his compatriots at Barcelona?
That is something that Arsenal fans could look forward to.
Honorable Mentions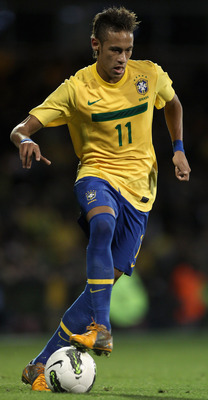 Clive Rose/Getty Images
For honorable mentions, there are a few players that made the list, but are just outside of the ideals of Arsenal:
Kevin-Prince Boateng, for his midfield size and strength.
Gareth Bale, for his pace on the wing.
Neymar, for his on-the-ball technical genius.
M'Baye Niang, for his natural talent and long-term promise after starting so young.
Moussa Sow, for his natural striking ability as a forward.
Mario Goetze, for his midfield passing ability and future promise.
Keep Reading

Arsenal: Like this team?