Where Will Jared Jeffries Play Come the 2011-12 NBA Season?
November 22, 2011
Elsa/Getty Images

One veteran forward who can be had through free agency is former New York Knick Jared Jeffries, who has been effective in a reserve role. The 6'11" forward has shown that he is a better defensive matchup due to his ability to defend at multiple positions (partially due to his height) depending upon the various matchups. Currently an unrestricted free agent, Jeffries has had two separate stints with the New York Knicks.

After spending two successful years playing college basketball at Indiana University, including making it to the championship game as a sophomore, Jeffries was drafted by the Washington Wizards in the first round of the 2002 NBA Draft. However, Jeffries was not a scorer but rather more of an all-around player who took care of the intangibles. Jeffries spent three years with the Wizards, where he averaged a career-high 6.8 points per game during the 2004-05 NBA season.

The New York Knicks signed Jeffries to a five-year, $30 million offer sheet during the summer of 2006 in order to add a player who could play and defend multiple positions. The Wizards declined to match the offer, officially making Jeffries a Knick. After having an "average" stint with the Wizards, Jeffries was sought by New York due to his defensive abilities.
As time went on, Jeffries saw his scoring average dip, and was used mainly for defensive purposes. Injuries also took a toll on the forward, and he missed games at times. However, the Knicks traded Jeffries (when he was entering the final year of his original five-year contract) to the Houston Rockets in the Tracy McGrady trade. The Rockets looked to bring in expiring contracts for McGrady, and Jeffries was the perfect candidate.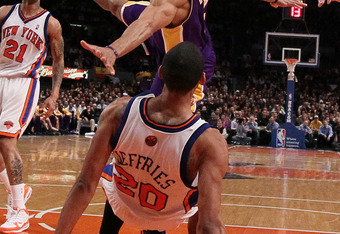 Al Bello/Getty Images
In Houston, Jeffries was being shopped, although he received playing time and more minutes than he did in New York due to the Rockets' lack of frontcourt depth. The Rockets were looking to make some other moves in order to free up some space on their roster. As a result, Jeffries was eventually bought out and released by Houston towards the end of February.
The Knicks sent Russian center Timofey Mozgov to Denver to acquire Carmelo Anthony, and were looking for a short-term fix. Jeffries is a familiar player to the team, so he re-signed with New York for the remainder of the 2010-11 NBA season and was going to become an unrestricted free agent at the end of the season.
Jeffries will be entering his 10th NBA season and could be a great pickup for a team seeking frontcourt depth that won't break the bank. Jeffries can have a longer NBA career if he is able to stay healthy and play for a minimum or the veteran's minimum contract (as determined by the collective bargaining agreement). It will be interesting to see what effect the negotiations will have on the veteran NBA players.