UCLA Bruins vs. USC Trojans: Game Preview and Prediction
November 22, 2011
Jeff Gross/Getty Images
The No. 10* USC Trojans (9-2, 6-2 Pac-12) host the UCLA Bruins (6-5, 5-3 Pac-12) on Saturday, November 26.
USC leads the series 45-28-7 dating to 1929, and the Trojans are 13-6-2 when ranked and playing an unranked Bruin team.
Perhaps the biggest challenge will be for the USC players to maintain their focus after the great 38-35 victory over then No. 4* Oregon (9-2, 7-1 Pac-12) last Saturday night, and this will be another step in their learning process.
UCLA beat the Colorado Buffaloes (2-10, 1-7 Pac-12) 45-6 and has won three of its last four games, including those against the California Golden Bears (6-5, 3-5 Pac-12) and Arizona State Sun Devils (6-5,4-4 Pac-12).
The Bruins are playing their best football of the year.
This cross-town rivalry game is always difficult to predict. UCLA has played well enough to have a chance, and USC has played poorly enough (against Arizona State) this season to lose when it should not.
Make no mistake. If USC is not up for this game and does not play its best, UCLA could win it.  All it takes is some turnovers and unfavorable officials' calls at the wrong time.
College football is full of upsets, especially in this series.
USC has earned at least a share of the Pac-12 South Division first place but will retain sole possession of the top spot with a victory over UCLA.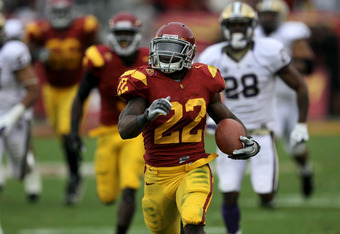 Stephen Dunn/Getty Images
Here is the weekly USC media release for the game.
Key Stats Comparison
| | | | | |
| --- | --- | --- | --- | --- |
| Category | USC | Ranking | ULCA | Ranking |
| Rushing Offense (Yards) | 163.8 |  53 | 199.6 |  28 |
| Passing Offense (Yards) | 282.5 |  23 | 194.3 |  90 |
| Total Offense (Yards | 446.3 |  30 | 393.8 |  56 |
| Scoring Offense (Points) |  34.5 |  23 |  25.3 |  76 |
| Passing Efficiency (Percent) | 155.6 |  16 | 139.8 |  44 |
| Third Down Conversions (Percent) |  47.2 |  23 |  36.7 |  97 |
| Red Zone Conversions (TDs) |  58.3 |  81 |  64.0 | T-72 |
| Sacks allowed (Number) |  0.64 |   3 |   1.45 |  38 |
| Rushing Defense (Yards) | 110.3 |  16 | 180.8 |  82 |
| Pass Defense (Yards) | 263.6 | 100 | 216.6 |  53 |
| Total Defense (Yards) | 373.8 |  53 | 397.4 |  74 |
| Scoring Defense (Points) |  25.7 |  58 |  29.1 |  81 |
| Sacks (Number) |   2.36 |  28 |   1.09 | 111 |
| Tackles for Loss (Number) |   5.09 |  82 |   4.55 | T-101 |
| Net Punting (Yards/Punt) |  36.2 |  67 |  38.2 |  31 |
| Punt Returns (Yards) |   9.5 |  42 |   3.3 | 114 |
| Kickoff Returns (Yards) |  20.7 |  75 |  21.2 |  71 |
| FG Success (Percent) |  88.2 |  T-2 |  66.7 | T-71 |
| Turnover Margin |  -0.18 | T-73 |  -0.09 |  63 |
| Penalties |  49.8 |  61 |  65.1 | T-106 |
Keys to USC Victory
The stats show that USC has a better offense, defense and special teams than UCLA.
Forget all that in a rivalry game.
All that matters is who shows up to play and win.
Both teams are playing their best football of the season. So, this game will come down to execution, and if the Trojans play the way they are capable, the Bruins will have little chance.
The Trojans want to finish off the season with a Top-10 ranking and a win over UCLA to continue the momentum going into next season.
A victory over the Bruins would get them the 10 wins that were not deemed possible this season by most due to the inexperienced team. USC has had eight 10-win or more seasons in the last 10 years.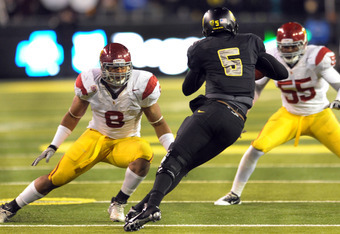 Steve Dykes/Getty Images
A loss to the Bruins would end the season on a sour note and hurt recruiting. No USC player wants to lose to UCLA, and especially not this year.
The USC offense led by junior QB Matt Barkley (273-of-404, 68%, 33 TD, 7 INT, 155.6 rating) should take care of business by maintaining a balanced attack. Drives need to be maintained, including third-down conversions and scoring TDs in the red zone.
Barkley's big-game performances against Stanford and Oregon have put him into the Heisman Trophy race, and his stats are comparable to Trojan Heisman QBs Carson Palmer and Matt Leinart.
However, Barkley has played with a much less experienced offense than Palmer or Leinart, which made his job more difficult and his leadership more important.
His main weapons are WRs sophomore Robert Woods (99 receptions, 1,179 yards, 13 TD) and freshman Marqise Lee (60 receptions, 919 yards, 9 TD) and RBs junior Curtis McNeal (133 carries, 881 yards, 5 TD) and senior Marc Tyler (116 carries, 488 yards, 5 TD).
Woods (ankle, shoulder) was so banged up after the Oregon game that he could barely get dressed. He didn't practice the week before that game. Woods is four receptions from the USC and Pac-12 single season records for catches.
Fullback seniors Rhett Ellison and Ross Cumming left the Oregon game injured but are expected to play against UCLA.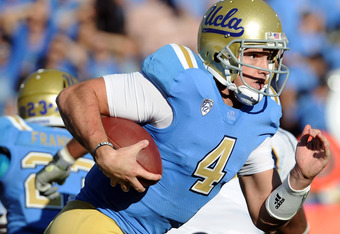 Harry How/Getty Images
The Trojan defense also had players leave the game due to injuries, including LBs RS freshman Dion Bailey and freshman Lamar Dawson, senior DT Christian Tupou and junior safety Drew McAllister. They are also expected to play against UCLA.
Defensive leaders are preseason All-American safety T.J. McDonald, Pac-12 sack leader junior DE Nick Perry, sophomore CB Nickell Robey and freshmen LBs Bailey and Hayes Pullard. PK Andrei Heidari is one of the best kickers in the nation.
If the Trojans swarm to the ball with the speed that they showed against Oregon and tackle well, they will be able to stop the UCLA offense. They must contain the run, and that will impact the UCLA passing and force mistakes.
Special teams is ready for another great game, and since it is the last game, this would be a good time to put it all together.
Here are the USC offense and defense depth charts for the UCLA game, courtesy of The Orange County Register.
Keys to UCLA Victory
The strange UCLA season has had many highs and lows. Coach Rick Neuheisel's future may be judged on the results of this game.
The mid-season disaster at Arizona was almost enough to send him packing, but since then, the Bruins have risen up to make this game meaningful.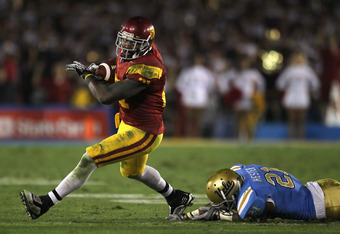 Jeff Gross/Getty Images
If the Bruins beat USC, they are the undisputed champions of the Pac-12 South. A loss would need the help of losses by Utah (7-4, 4-4 Pac-12) and Arizona State on Friday.
Hard to believe that a team with four Pac-12 losses may make it into the "Pac-11" championship game, but that is what happens due to the NCAA ban on USC this season.
So, the Bruins have a lot at stake besides city bragging rights, and so does their coach.
UCLA junior QB Kevin Prince (78-of-136, 57%, 8 TD, 6 INT, 142.2 rating; 78 carries, 390 yards) can run well enough to be dangerous to a USC team that may leave the middle open.
He played his best all-around game against Colorado last Saturday.
The running pair of junior Johnathan Franklin (141 carries, 857 yards, 5 TDs) and 240-pound senior Derrick Coleman (124 carries, 639 yards, 11 TDs) can also chew up some yardage. Franklin broke free for a 59-yard TD in last year's USC game and had more than 100 yards before halftime.
While the Bruins do not have a strong passing attack, they can be effective with top targets WRs 6'5" senior Nelson Rosario (48 receptions, 890 yards, 2 TD) and sophomore Shaquelle Evans (16 receptions, 267 yards, 2 TD), and junior 6'8" TE Joseph Fauria (27 receptions, 356 yards, 6 TD).
MLB Patrick Larimore is the top Bruin tackler, and other leading defensive players include junior CB Aaron Hester and LBs freshman Eric Kendricks and senior Sean Westgate. Westgate (head) is questionable on the injury report after starting 23 consecutive games.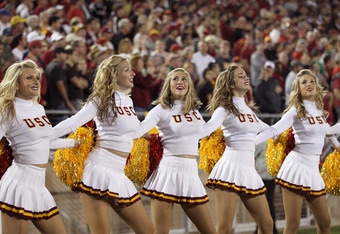 Ezra Shaw/Getty Images
The Bruins have to play aggressively on defense and hope for turnovers. They need to keep the Trojans from scoring TDs in the red zone, and use their kicking game to put USC in bad field position.
The Trojans have a lot of offensive weapons and the Kiffin play-calling has been very effective, so this is going to be difficult unless the USC offense makes mistakes.
The UCLA special teams will need to play better than they have in most games.
Prediction
USC opened as a 16-point favorite.
It won't be that close.
This is the last game for the USC seniors, and they have had too much taken away from them to let this game slip away.
UCLA has beaten USC only once in the past 12 meetings and hasn't won at the Coliseum since 1997.
The Trojans will win and LEAVE NO DOUBT about their momentum heading into 2012.
USC 41, UCLA 17 
Catch the nationally televised game on FSN this Saturday at 7:00 p.m. PT, if you can't make it in person. Announcers are Craig Bolerjack, Joel Klatt and Petros Papadakis.
Trojan and Bruin fans can help make the holiday season special for our Los Angeles community. Check out this video, and bring a gift to the game or make a donation at kiffskids.org/
*Week 13 AP ranking