Detroit Lions, the BCS and Other Things to Be Thankful For
November 21, 2011
Leon Halip/Getty Images
In keeping with the Thanksgiving spirit, here is my list of things from the sports world for which we should all be thankful.
1. The Detroit Lions on Thanksgiving. This is a tradition that dates back to the Lions' first year in Detroit in 1934. During the Lions' run of futility of the last few years there was talk of taking the game elsewhere. Thankfully, the NFL added a game on Thanksgiving night instead. The Packers-Lions game this week will be meaningful for both teams for the first time in a long while.
2. Watching a Dodgers game with Vin Scully announcing. He is truly a Hall-of-Fame broadcaster, and probably the greatest baseball announcer of all time.
3. The BCS. While the complex formula of the BCS may be hated and complained about from Boise to Washington, D.C., it does what it is supposed to do—match up the No. 1 and No. 2 college football teams in a championship game. Love it or hate it, it is the reason we pay attention to teams like TCU, Houston or Boise State.
4. The NCAA Basketball Tournament. Only the Super Bowl gets more attention than this three- week playoff that annually gives us some of the most dramatic finishes in any sport.
5. The Cincinnati Bengals. I'm thankful for what they are proving this year. They have proved that a team can cut ties with disgruntled veterans such as Chad Ochocinco and Carson Palmer—that they weren't winning with—start over with new blood, and win.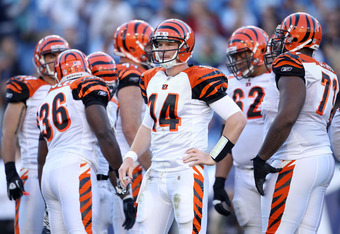 Andy Lyons/Getty Images
6. The speed and pace of a baseball game. No time clock, no delay of game penalties and no fake injuries to stop play late in a game
7. Small college football. There is always a great atmosphere, smaller crowds and easier parking. Bonus: if the game isn't televised, there is a quicker pace to the game.
8. Satellite, DVR and mobile Internet. Three of the greatest inventions of our lifetimes allow us to see any game, anywhere at anytime.
9. College football games on Thanksgiving weekend. Some of the best in-state and regional rivalries will be played this weekend, with LSU-Arkansas being this week's Game of the Century.
10. Everyone of you who took the time to read this. Without you, it all means nothing. Happy Thanksgiving!