Rich Rodriguez to Arizona: Greg Byrne's Choice Unlikely to Be Popular in Tucson
November 21, 2011
Arizona athletic director Greg Byrne made his stance blatantly clear upon starting the search for the school's next football coach: 
If a candidate Byrne was seriously considering for the vacancy was leaked by any means before officially being announced, that man was no longer in the running.
"If it gets out at all, he will no longer be a candidate. I'm committed to that," Byrne said shortly after firing former coach Mike Stoops, according to the Arizona Daily Star.
On Monday afternoon, CBS' Bruce Feldman posted a message via Twitter that claimed sources informed him that Rich Rodriguez was going to be named the next coach in Tucson some time "in the next 48 hours."
Over an hour after Feldman's note, Byrne tweeted the picture above, sealing the deal publicly.
According to several sources, Rich Rod is set to be announced in a press conference at noon on Tuesday.
That's right, the same Rich Rod whose tenure at Michigan was ended in embarrassment, riddled with NCAA infractions and heavy losses. His reputation turned upside down.
You hear that?
That's the sound of weeping, face palms and windows being punched across the Tucson Metro area. 
If Byrne was willing to stick to his guns, the fact that Rodriguez's name was floated to the national media as the man prior to the AD's official statement should have taken him out of consideration.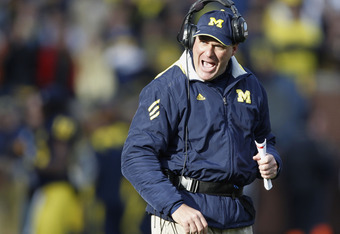 Gregory Shamus/Getty Images
The Arizona AD's veil of secrecy was notoriously difficult to penetrate, as noted here from the Arizona Daily Star's Greg Hansen: 
Byrne is a step ahead of those bloggers and assorted rumor-chasers who will attempt to follow his movements until he hires a new football coach. His lips are sealed. If anyone tells you Chris Petersen or Mike Leach is the top choice to replace Stoops, it's a pure guess.

Byrne told me that he won't even give that information to his wife, Regina, and that if any coach he talks to leaks the information, he will be eliminated.
Arizona fans, at least the vast bulk of those this writer talked to, were praying for a fleeting hour that Byrne wasn't posing when he said that a leak would spell the end of any possible coach's candidacy. 
But the picture above, straight from Byrne himself, makes things official, and will, at least temporarily, make Byrne unpopular in Southern Arizona.
Everything about Rodriguez screams strange choice.
He's spent his entire coaching career on the East Coast or in the Midwest, very occasionally snaring a recruit from the West Coast (Tate Forcier, for one, and that ended in a transfer). But Rodriguez's roots are absolutely not in Southern California or Texas, Arizona's recruiting hotbeds.
As Patrick Finley of the Arizona Daily Star pointed out, he's never been a head coach of a team west of Iowa.
The man was a winner at West Virginia, going 60-26 in his seasons there, winning the Sugar Bowl in 2005. He produced NFL ballers such as Chris Henry, Steve Slaton and Pat White in his tenure, and he was regularly in the hunt for BCS games in the football weakling that is the Big East.
But he showed a massive lack of loyalty to his alma mater by jetting for the Michigan opening before even coaching the Fiesta Bowl.
And his time with the Wolverines was a total failure.
Rodriguez went 15-22 as the head of one of America's leading football programs before being fired, also stirring controversy by conducting excessive workouts, leading to an NCAA investigation. This piece from Sports Illustrated highlights those issues.
It's one thing that Rodriguez broke the rules in regards to working out over the limit. But the fact those extra workouts paid no dividends, and that he largely did nothing useful with the No. 8-ranked recruiting class he compiled in 2009 with the Wolverines, is means for doubt.
With all of the other baggage-free candidates in the mix (Kevin Sumlin, Mike Bellotti, Larry Fedora), coaches that Tucson would've been willing to rally behind, the Rodriguez selection just seems bizarre.
Arizona landed a guy who was deemed the opposite of a community builder by one of his former Michigan players, Justin Boren, who once said Rodriguez's program in Ann Arbor lacked family values. That resulted in his transfer.
Rodriguez's reputation needs a complete makeover, not exactly the clean slate Arizona fans were anticipating after getting rid of a coach who never made healthy strides in becoming a part of the family.
The track record of winning is there, however, and Arizona fans will gladly fall in love with Rodriguez if he can recreate what he did in Morgantown, W.V.
And if he can somehow bring Arizona to the Rose Bowl for the first time ever, the promised land for Pac-12 schools, then Byrne will also maintain his status as a rising star in the college AD ranks.